June 22 1999



Oni

The Konoko "naked" or "clothed" debate finally comes to a close. Read about it on theOni site.

Marathon

The Story page has some great news on updates. Who says Marathon is dead? Although it's been a while, the updates listed today should be a great help to all those that are versed in Forge.

The Scenario News and Recruits were updated very, very late last night. So, if you missed it, I thought I would go ahead and post the links again.

Myth

Some great Myth updates today. The Myth 2 for Linux is now in beta testing, go read all about it.

Oni

Pages are added that house the Oni art and some of the Oni screenshots. Make sure to take a look.

Myth

We now have a new Myth maintainer. You will probably be hearing more about this from our great PR man, Gary Simmons. It was tough with all the applicants we received, but, I feel we got a good maintainer. Be looking for updates again at the Myth site.



June 21 1999



Oni

The readers speak out conerning the Konoko Chase #2 and MacGamer.com. Be sure to check out the HL Server, some good files uploaded today.

Marathon

Marathon Scenario News updated tonight. A Marathon Infinity conversion...Legos??

The Marathon Recruits has two new scenarios looking for helpers... maps, sprites, and beta-testers. If you can help, jump on over!

Oni

New pages added today along with some pretty interesting updates. A naked Konoko? Two Konoko mp3's? Lots to talk about today on the forums.

Marathon

The Story page today has some great updates. Take a look.



June 20 1999

Oni

Some niceupdates along with another magazine ad. Forgot to add this into the regular update today. Jennifer Ho has some interesting remarks again concerning Oni.
Off Topic
Tonight a very good movie on TNT will be airing. I know this has nothing to do with Bungie, but, it does have a lot to do with Macintosh and Windows. The Pirates of Silicon Valley air's tonight at 8pm (cst) 9pm (est). A good reason to watch the tube!
PID
Loren Petrich has uploaded some PID documents at the (Oni) Bungie.org HL Server. These will enable you to read the map files, etc.
hl.bungie.org 164.58.172.181
Marathon
The Marathon Story Page is posting some cool news about Oni. I really don't understand why people are not writing into Oni with Oni news, but, at least Oni stuff is coming in. Well worth the read.
Myth
Still looking for a Myth maintainer. Let us know if you are interested.

June 19 1999

Marathon

TheMarathon Story Page has reported today concerning some Oni news. There is also an update that is quite unique. Is Bungie going to the Blammo code now? Is this taking the place of "Blam"?

The Marathon VidMaster page has been updated. What, and people say these are "old" games?

Blam

The forums atBlam are getting pretty "hot". Bungie.com is even posting and in a nice way suggesting that my news post the other day is, well, jump over and read for yourself.

PID


More and cool elements are updated to thePID Sector Level Diagram.

Myth

The Mill has some new films, but, they are all corrupted. Make sure that if you are using QT 4 that you upload with the correct pref's. "Automatic" doesn't cut it sometimes.

Oni

The first 8 archive pages have been added tooni.bungie.org. Along with some cool news.

June 18, 1999

Oni at bungie.com

The Oni site at bungie got an overhaul today. Pretty nice, some interesting facts along with a couple of new shots, etc.

Oni at bungie.org

Again the Alien Pipes. No, not really, but IMHO, it sure looks close. Take a look.

PID

Happy Happy, Carnage Carnage. Remember this level? You had to get past all four rooms. How many of us tried to keep going back and found the doors locked? : (

Censorship? You be the judge.

Marathon

Marathon Story page expands on Robert Blake.

The Marathon Orphanage has received a bunch of new files. All the categories are starting to fill in. If you need or want to donate any files, make sure you visit this site.

Scenario news updated. Welcome back Rugger. OR, should we say Mr. Rugger? Whichever, congratulations!!!

Myth

A couple of updates and additions to theMill. A pretty big update to a solo file. Make sure you are on a fast connection, it's a large file.

Myth at bungie. org is still looking for a maintainer. I have received some emails, but, we are still taking more emails. If you are interested, let us know.

I won't be making any decisions till next week.

June 17 1999



P I D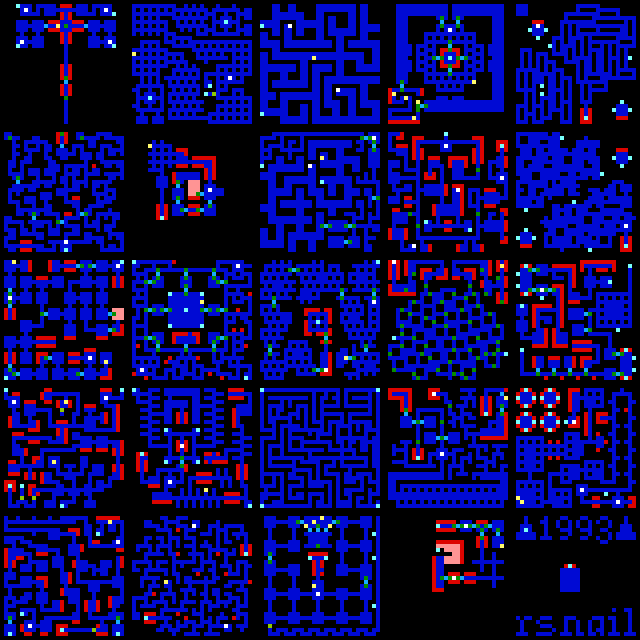 For many years, Hamish and myself have been trying to get the PID Editor from Bungie. Matt Soell worked very hard in trying to retrieve it, but, as it stands today, it is still lost.

The PID Page today shows us a "visual" representation of what the levels look like thanks to Loren Petrich. It's probably best to jump over, since I am giving away some of the details.

Oni

I decided to go ahead and put the main page up today. The other pages will be coming within the next 24 to 48 hours. I apologize for the four week downtime, but, it turns out that it was in some ways a good thing. In my attempt to put everything back together I came "back" across many items that I forgot that I had archived. So, in some strange type of way, you will get to see some of these images that date all the way back to E3 in 1998.

June 16 1999



B L A M

Hot Blam News.
One of our Bungie Org spies today was out in California and was lucky enough to be in the right place at the right time. This bungie org spy reports that while he was at Sony Studios, he was invited to witness a brand new iMac commercial that was being recorded. The director in charge asked him to please leave the studio and he asked why, he was then told that it was because of some "secret" software that was being used.

Our bungie.org spy then just happened to look at the directors clipboard, and, on the top was the word "B L A M".

Here is the report reprinted:

I happened to be at Sony Studios today with a relative of mine. We walked into a commercial that was being taped featuring the iMac. I was then told that I would have to leave. I asked why, and they said it was for new software that was secret, but they could tell me it was a game. I was then able to look on his clipboard, (they guy telling me I couldn't come in), it said Blam!

What do you think. New Apple commercial with Blam being played?

June 15 1999



Marathon

Some pretty big updates today! The real source of some of the most famous Marathon sayings are exposed, or, maybe revealed.

PID

A couple of updates in the last two days, but the biggest one ties in with the above. Make sure to voice your opinion on how all this ties in.

Myth

Our last two updates from our Myth maintainer, Pie. We are still looking for a Myth maintainer for here at bungie.org. Benefits include a free meal, compliments of the bungie org crew. A new car., compliments Bungie Software and 7 copies of Marathon 1. : )

The Mill has many new files, but two are well worth your attention. These files just might receive the biggest number of downloads yet.