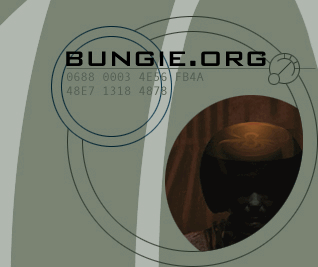 Bungie.org public forums:

Out and about at Bungie.org:

[3815967]



bs | halo | oni | phoenix | ? | marathon | myth | pathways


not the sharpest tack on the chair

---
April 2001 Archived News
Mon, April 30, 2001 5:44 AM
Exploding Clowns?


Bungie at Sakura-Con!

Over the weekend Bungie made an appearance at Sakura-Con, an Anime event in Seattle. A reader sent our site BS a report on the event. Check it out at Bungie Sightings!

Fri, April 27, 2001 11:05 AM
*cue music* Breah the walls DOOOOOWN!


updated

Announcing Bungie Fanfest V.

Full details are available at Bungie Sightings. Here's a quickie: Bungie Fanfest V is set for May 16, from 7pm-9pm. The event will be held in the Carousel Ballroom at the DoubleTree Guest Suites Hotel in Santa Monica, CA, located at 1707 Fourth Street. Admission will be $7.00.

Stay tuned to Bungie Sightings as more details emerge on this event!

Marathon

Get the latest episodes of The Bungie Show over at Marathon's Story, along with today's hottest news: ydnar strikes again, and just how old is Marathon? Oh wait... not that Marathon.

Work continues on the new 3D-enhanced Aleph One.... for the latest progress update, visit Marathon Open Source.

In case you haven't seen it yet, be sure to check out the new Fan Art page at Marathon Resurrection-- I believe this is one of the first real Marathon fan art pages on our site!

Myth

Some of the first new screenshots of Myth III: The Wolf Age have appeared on the Internet-- check 'em out at our Myth site. These screens look much better than I had expected; absolutely delicious!

Oni

Another new contest! Find out how you can win an Oni shirt at Oni Central.

Halo

Just what is that on the Bungie webcam? Take part in the blazing discussion over at HBO and make your own judgments... and while you're there, be sure to pick up the latest new Halo wallpapers. This is shome really wild shtuff!

Wed, April 25, 2001 2:13 PM
Free! Free at last!


Marathon

A lot of reader-submitted stuff today at Marathon's Story; looking at Marathon (duh), Damage Incorporatedm the Latin abbreviation PFHOR and Halo.

Halo

More wallpaper at HBO.

Tue, April 24, 2001 2:38 PM
Thursday my room is ripped apart.


Have you been watching the Bungie webcam lately? You should. Never know what you might see...

Marathon

A brand new version of Aleph One for Windows users is out, you can get it from Marathon Open Source (where else?).

More Marathon in Damage Incorporated, as well as ponderings on our favourite alien and time lapse movies of the Bungie webcam at Marathon's Story.

Halo

Make sure you buy the current copy of Next Generation magazine for some Halo goodness. Scans will go up once the magazine is not on stands anymore. HBO has other news too!

Mon, April 23, 2001 12:55 PM
My world smells good enough to eat


Marathon

A new website for a new Marathon level editor is up and Marathon Open Source has the details. Check out those cool shots on the right bar... wow.

Damage Incorporated, one of three games that used the Marathon 2 engines has some interesting connections to Marathon. How many can you find? Also, check out more on the Pfhor using human-like AR's. All at Marathon's Story today.

Myth

Myth 2 and bungie.net get praised, Myth@Bungie.org has the news.

Halo

It's wallpaper season at HBO, take a look and see if any of the new creations tickle your fancy.

Sun, April 22, 2001 1:12 PM
In the year 2525...


I rest today, check back tomorrow for news updates at bungie.org!

Sat, April 21, 2001 2:48 PM
How many Emcee's must get dissed?


Hey, looks like someone is updating this page regularly again... guess the aliens were tired of experimenting with me and set me free.

Marathon

Mars Needs Women and do you need a Trilogy Box? Check Marathon's Story.

Halo

More fan creations... and Louis is leaving the fort to Wirehead, Ding and Crux. There goes the website...

Fri, April 20, 2001 9:09 PM
deus ex machina


Rob McLees and Lorraine Reyes are getting married and bungie.org wishes them all the best and hope they will have a great wedding!

Marathon

More info on the "real bridge" image found at Marathon Open Source. Finally something useful being done for Aleph One...

Tycho, sevens... the usual aura of mystery in Marathon detailed at Marathon's Story.

Myth

Myth 3 developer Mumbo Jumbo opens their site and new Myth 2 solo maps. Myth@Bungie.org has the details.

Halo

Even though Matt let us know about a lack of an update this week, HBO did eventually get one... from Marty "Mullet" O'Donnell. Check it out!

Thu, April 19, 2001 2:33 PM
Stacy! likes it.


Pathways Into Darkness

The site's on a roll with updates lately, check out all the stuff, including some interesting discoveries at pid.bungie.org!

Marathon

Marathon Open Source has news of Pfhortran, more on a new level editor, and a very interesting screenshot in the top right corner (which is explained here).

Doug Zartman spottings, eBay extravaganza, numbers and the usual package of the intriguing and perhaps confusing at Marathon's Story.

Myth

Two Mythmaster Central updates at Myth@Bungie.org!

Halo

A lot of new fan art, no new Halo update this Friday and much much more at HBO.

Mon, April 16, 2001 6:28 PM
And the caissons go rolling along...


Pathways Into Darkness

One of 500... snapped up at eBay. Read the details on the Pathways Into Darkness page. (Say... doesn't... never mind.)

Marathon

5 new submissions to the Archives - oodles and oodles of net goodness. (Map Roulette? Goodness.) Hey, and that Petri guy has a submission in there - watch he doesn't win the next Map of the Month with that!

Whoa... bowl us over with a Kookaburra feather - the Physics Model Archive has been updated. Go check 'em out!

Myth

Half of TFL - Wolfpack is well on its way to winning the MythMasters' Challenge. Read all about it at Myth@bungie.org!

Halo

Funky reviews, SETI stats, searchable updates... the HBO boys continue to fill up that page. They seem to be having memory problems these days, though...

Fri, April 13, 2001 3:28 PM
These pipes..... are CLEAN....


Took a while, but you can finally search old news - the search link is in the navbar to the left. See what interesting tidbits you can turn up!

Pathways Into Darkness

OH MY GOD, Bungie removed a screenshot from their Pathways into Darkness page! WHY?! WHY?! Our boys at PIDBO ask the tough questions.

Marathon

New Marathon-related polls and a stirring discussion concerning the identity of the Jjaro-- could they be AIs? Read for yourself at Marathon's Story.

One of the lesser-known, upcoming Marathon scenarios gets a site overhaul, and Scenario News has the lowdown. In addition, the site has a new feature - searching. You can now search the full database for specific terms. (The scenario buttons still work as before, so if you want all info on Cerberus, for example, you'd hit the rivet next to 'Marathon Cerberus' in the left table... but if you remember a phrase, and can't find it, the new search box is the way to go.)

Cranberry and Blueberry come together in a remarkably fruity combination-- appropriate, then, that the new application now runs under Mac OS X. Pick it up over at Marathon Open Source.

Killing Time, a Big House Inmate, gets an update... nothing major, but it's official - KT will be Aleph One only. Go read the details at the KT site.

Oni

OniShots announces a new contest! Those of you who got shafted in the last OniShots contest have another chance at stardom. Visit the OniShots Contest Page for the full details.

Halo

Numerous new Halo previews (both true and... false?) abound at HBO today. Check it out-- and while you're there, take a look at the latest fan-created concept art. An insight?

Wed, April 11, 2001 3:42 PM
Marathon! Duhnuduhnuduhnu


Pathways Into Darkness

More sevens at Pathways Into Darkness - posted on the seventh, no less!

Marathon

A new version of Aleph One for MacOS 9 was posted a few days ago - we missed it. Check the Open Source page for details.

The ScenarioNews page has cleared out its mail backlog (sorry about that, folks) - it's pretty up-to-date now, and even has a couple of older months added to the database (now goes back to October 1, 1999). Search function coming soon - with all the action going on in the scenario field, it's a good time to become reacquainted with the page!

The Archives have been brought up to parity with the Lh'owon Ar'kives - always good to know there are multiple places to go for the latest files. Six new maps were added today (plus one a few days ago... a total of seven).

Myth

A fix for you Myth net junkies, and some new Myth III gossip, all your favorite Myth site. Stop on by!

Halo

HBO is hopping with new theories and rampant speculation (marathon-related, to boot!)... and there's news of a dead Xbox wannabe. Nice change from the heavy Bungie Webcam coverage of the last couple of days.


Mon, April 9, 2001 7:55 AM
Cortana revisited


Marathon

The Cortana letters get looked over again and more references to ancient authors are discovered. Oh, and someone's taken a look at a sack and said "nice work!"

You can find the above at the Marathon Story Page

It's early, so keep in mind Hamish might update at least two more times today :-)

Sun, April 8, 2001 12:29 AM
LA Confidential


Halo

The weekly Matt Soell Halo Update has been added to our Halo Update Database. Check it out at halo.bungie.org! Nifty talk about grenades, yummy!

Bungie Sightings

Thinking of attending the gamer-iffic E3 Expo next month? If so, head on over to Bungie Sightings and fill out a short questionnaire. If enough people sign up, there's a good chance Bungie Fanfest V will be held at or near the expo! Rumors abound that the lucky attendees will get to play Halo!

Sat, April 7, 2001 2:22 PM
Naturelle Eau De Source


Have you been trying to get onto hl.bungie.org? Well, recently the server changed ip due to switching from cable to DSL. For now, please use 216.2.223.39 to connect to the server until the DNS change is fully propagated.

Thu, April 5, 2001 3:01 AM
Up All Night


Bungie Sightings

Bungie Sightings has been updated with some very nice scans of a recent Halo feature in Next Generation Magazine. For those of you who can't purchase the magazine, you can download the scans at Bungie Sightings. Featured within are new screenshots of Halo in action, along with some of the newest information on the game. As if that weren't enough, Freewill drops the bomb on everyone's favorite webmonkey. Check it out now!

Wed, April 4, 2001 9:16 PM
Kick it up another notch! *CHOP*


Pimps at Sea

The first bit of Pimps at Sea fan artwork drops anchor at our Pimps at Sea site. And shiver me timbers, it's a good one! On a related note... anyone care to help think up a name for Bungie.org's Pimps at Sea site? Pimp Harbor? The Five-Dollar Wench? Trinidaddy West? Let us know.

Marathon

Unhealthy newshounds post a healthy news update at Scenario News. A new scenario on the horizon, Marathon to Aleph status update, and the guys at Gates of Fenris update their website yet again while stlil forgetting to release their scenario. Check it out!

Marathon Resurrection is back on the air with a full site update. If you haven't yet discovered this Marathon to Unreal Tournament conversion, now's a good time to check it out. The rule of the Bungie community: When you have nothing to say, spew forth something that sounds like it came from one of Marathon's terminals...

Myth

A sizable update today at our Myth site -- the Myth III team is talking again in preparation for the E3 media blitz. Go check it out!

Oni

No, folks, it wasn't an April Fools' joke. Oni Central continues to report the first news of the upcoming sequel to Oni. Today's update contains a brief tidbit on the new game's engine, as well as the status of an E3 showing for the game.

Halo

The PC version of Halo gets cancelled again... according to EBWorld.com... and once again, along comes Bungie to debunk the rumor. Now accepting bets on the likelihood of another online retailer deciding that Halo really is cancelled within the next two weeks. I'd wager a hefty sum, but when gambling, "Put it all on 23 Red!". Head on over to HBO for all today's Halo news.

Mon, April 2, 2001 2:40 PM
Here ya go Mr. McMahon, have another "Bud"...


Pimps at Sea

AAAAAAAARRRRRRRRGH!! Our peg-legged pavilion of information on Bungie's latest game, Pimps at Sea, is now live! Not much there, but visit anyway.

Marathon

Marathon Open Source posts a screenshot of Navigation Services at work in Aleph One-- a feature set to debut in an upcoming release of everyone's favorite open-source Spazeroid application. Stay tuned to Marathon Open Source for the latest.

Mac OS X users: Score a cool new Marathon icon set for your Aqualicious OS at Marathon's Story. Shlurp!

Whoops; we missed this somehow... Our boy RiscIt updates Marathon Arena with a brief tidbit-- new content, new news, in the next few weeks? Sounds delicious!

Say hello to the latest addition to The Big House: Alexienth! One of the more impressive upcoming scenarios goes fully Aleph One and if you haven't checked it out yet, you definitely should. There is a(n outdated) demo available, as well, for those of you who have already finished Rubicon.

Myth

Big news today at our Myth site: A demo of Jinn, the long, long, long-awaited total conversion for Myth, is now available for download from The Mill. This sucker's about as A-list as Myth scenarios get, so if you have Myth, you must have this demo.

Halo

This week's Post-Carnage Report for the Halo SETI Marines is now available at HBO. Rally the men, men!

Sun, April 1, 2001 12:40 PM
Where are you my little sweetheart, I am finding you...


Bonjour, bonjour! It is ze April Fool's Day and I am ze biggest of fools at ze Bungie.org, so I have been asked to write to-day's very special up-date. I hope you all enjoy!

Marathon

Ze beautiful horse, she is Durandal after all, ah? Marat'on's Story is re-porting all ze news... ah ah; what is zat logo?!

EART'-QUAKE!! A QUAKING of ze eart'!! Zomet'ing fish-like is afoot at ze Marat'on Open Zource...

Oni

Ze sequel to Oni, she is on ze vay? Oni Central says yes, in-deed-- you must be off to reading zis now, yes!

Halo

Zere zeems to be some-t'ing different about ze HBO to-day, but ah, j'ai la difficulté placer mon doigt sur lui... Ah, but what exciting news, ah? Ze Halo demo, she has been releas-ed, and Monsieur Fries babbles about ze evil CATS... "Toute votre base sont appartiennent à nous!" Hee hee hee!