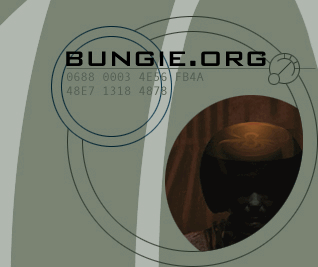 Bungie.org public forums:

Out and about at Bungie.org:

[3815969]



bs | halo | oni | phoenix | ? | marathon | myth | pathways


satchel charges make great whoopee cushions!

---
April 2002 Archived News
Sat, April 27, 2002 2:38 AM
...pleased to meet you... wish I weren't so lame...


Marathon

A real blast from the past hits Marathon's Story as some new information about Bungie's early days comes to light at last.

Myth

The phoenix that is Myth rises anew with the unleashing of PlayMyth. Let's hear it for open source...

Oni

"Delta team, come in. Any sign of him?" "Nothing yet. Over." "Roger, maintain your position. Over and out."

"Captain, is this all really necessary?" "These are our orders, that's all I need." "But what if it really is alive?" "That's enough, private!"

Halo

It is a good day to die at Halo.bungie.org as the funny deaths archive hits the Web, Halo hits Japan, the Tips'n'Tricks queue hits empty, and the forum-goers start hitting each other with blunt objects in a desperate attempt to escape the flood of peeps-related posts. All in a day's work at Halo.bungie.org!

Wed, April 24, 2002 8:32 AM
So how do I get to that theater anyway?


Marathon

Marathon is still going strong as the Archives get some new stuff, some scenariosnear release, and Marathon's Story looks into blue beams and artistry.

Myth

The slack of Bungie.net keeps on getting picked up by new sites, and with them come new tournaments. Get the lowdown at Myth@Bungie.org.

Halo

Halo.bungie.org has all the usual stuff: Fan fiction, movies, and... action figures?! Hey, at least they aren't made out of marshmellow...

Sun, April 21, 2002 2:04 AM
Elastic tubes and pots and pans, bits and pieces and the magic formula...


Marathon

"It's alive!!!" "Hey, how'd he get in here?!" "IT'S ALIVE!!! IT'S ALIVE, I SAY!" "Somebody call security!" "IT'S ALL ALIVE! EVERYTHING! MWAHAHAHAHAHA!" "Hold him down, I'll get his legs!"

Myth

The haX0ring of the Bungie.net Metaserver continues, as reported by Myth@Bungie.org. So does the haX0ring of Myth III, for that matter.

Halo

The fan stuff just keeps on rolling, as art and fiction and movies and more hit Halo.bungie.org.

Thu, April 18, 2002 4:22 PM
Meow!


Marathon

Formal updates have slowed, but the Story Page Forum is still alive and kicking it old sk00l with scenario history, yet more Bungie auctions, and... Doom?! NOOOOO...

Halo

Halo.bungie.org rolls out their new Movies section. Maybe we should replace the Slashdot effect with the HaloMovie Effect? Meanwhile, there's the usual tons of fan fiction, glowing Halo reviews, and anti-videogame ranting.

Mon, April 15, 2002 11:22 PM
Noo now stow stabewhoo!


Marathon

Marathon's Auctions diversifies into clothing and Halo as the forum-goers explore Marathon trendsetters and digital color technology.

Myth

Myth@Bungie.org reports on tournaments, street brawls, and William Henry Harrison's Myth site.

Halo

PDF/HTML GDC PPTs! OMG. But seriously folks, there's also a ton of the usual fan fiction, stylish death, sound effects, haunted caves, and computer release date trolling at Halo.bungie.org.

Sat, April 13, 2002 10:02 PM
Probably the same reason as the pants.


Myth

It's about time some plugins for Myth 3 arrived, and there they are at Myth@Bungie.org!

Halo

Would someone please explain to me why marshmellow peeps are so funny? Seriously...

Thu, April 11, 2002 2:00 PM
Look for our Seal of Authenticity™


Marathon

The Marathon world refuses to go quietly into the night as Orbital Arm re-awakens, Durandal invades the Playstation universe, and the Bungie secondhand market continues to grow.

Myth

Bungie.org Flashback Week continues as Myth@Bungie.org discovers that ancient sites lives again.

Halo

!tuo ti kcehC .looc os dnuos setilE eht ekam ot dog dnuos eht ytraM yb desu seuqinhcet terces eht derevocsid evah ew ,tsal gnol tA

Mon, April 8, 2002 1:57 PM
Viva! Viva! La revolution!


Marathon

"C'mon, please?" "Absolutely not." "Look, we're sorry we haven't used you in months, but this situation requires your special skills." "No, I can't, I already told you" "All right then, it looks like your mind is made up. Sorry to trouble you." "Are you sure you won't, boss?" "Those days are over, Igor. We have to move on." "Well someone's got to do it." "Oh, knock yourself out. I'll be in the lab." "IT LIVES.... eh. It's just not the same any more."

Myth

Go read about some fun MYth sites, then get your r4nk on in Marius.net at Myth@Bungie.org.

Halo

Jeff Green would like to be called a moron, but he'll have to get in line.Meanwhile, Halo sets some more sales records, more man-babies are conceived, and more movies are released, all in a day's work at Halo.bungie.org.

Fri, April 5, 2002 8:40 PM
Close the world, open the n(e)xt.


Marathon

Hey, man, wanna buy a used Bungie game? First one's free! C'mon, all the cool kids are playing it...

The haX0ring of Aleph One continues with a new map editor update.

Myth

Myth@Bungie.org keeps their finger on the pulse of public opinion with some third-party input on Myth III. What, no Digimon porn?

Halo

Whoa. That armor looked so cool I picked up a third gun! Wait, what? Oh, just go to Halo.bungie.org

Mon, April 1, 2002 5:25 PM
THERE'S A SPIDER ON YOUR BACK!


At last, at long last, the Bungie Store is open! I've already pre-ordered Pimps At Sea!

Marathon

Marathon's Story points out that some people have too much time on their hands. Strange, there's nothing even remotely untrue about that...

Myth

Myth@Bungie.org thinks Pimps at Sea is a joke. That guy must be new around here...

Halo

"CORTAAAAAAANA!!! Jenkins is throwing spitballs at me!" "Jenkins, cut it out." "But he called me a poopoo head!" "Just STOPPIT!" "Ha-ha, Cortana yelled at you-OW!" "That does it, both of you to the Captain's office, right now!"