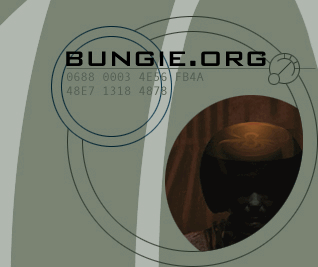 Bungie.org public forums:

Out and about at Bungie.org:

[3837686]



bs | halo | oni | phoenix | ? | marathon | myth | pathways


bringing Doom to its knees, one grenade hop at a time

---
December 2000 Archived News
Sun, December 31, 2000 8:26 pm
Now, in the quantum moment before the closure, when all become one...


This will be the final news post for the year 2000. As the new year approaches, Bungie.org would like to wish all of you a very Happy New Year. Exercise restraint, drive safely, and above all, never stop firing!

It has certainly been an eventful year. In what was perhaps the most monumental event in Bungie's history, Bungie Software was purchased by Microsoft, and became Bungie Studios. The most recent Halo trailer, unveiled at this year's E3 expo, sparked quite a bit of interest in Halo-- the game even got a mention in Newsweek! The long-awaited Oni demo was released for both Macintosh and PC. Pierre arrived-- and escaped... and, Letters to the Webmaster was updated-- twice! But, what was your favorite Bungie moment of the past year? We'd like to know. So, be sure to send us a brief email and let us know. And have a happy New Year!

Marathon

Nathan Bitner drops some interesting information around the Web, and Marathon's Story does a bit of examination... Also, be sure to let Hamish know if you happened to spot the 1777th voter in Bungie.net's latest poll.

Myth

The ever-popular WWII plugin for Myth gets a mention in PC Gamer magazine. Our Myth site has more information.

Halo

A slight correction to a previously-posted Halo theory today at HBO. What do you think?

Sat, December 30, 2000 1:50 pm
Otakon, this is bad...


Bungie.org would like to take this opportunity to bid welcome to our newest site: OniRes-- a very nicely-done Oni resource site. Currently available on the site are modified scripts for the Oni demo that allow everything from being able to fight Muro to removing Shinatama, and even a new script that allows you to fight robot droids all you want. Visit OniRes today!

Marathon

The Truth About Death in Marathon-- today at the Story page... "I see similacrums-- walking around like regular people!" Also, Myth is again voted one of the most influential games of all time in a new article.

Halo

Another Halo site gets another redesign and HBO does another update. In another news item, another fan sends in another Halo desktop.

Fri, December 29, 2000 6:13 pm
www.www.www


Marathon

The Wave Motion Cannon, discovered at last! Only... it's not in Marathon. Nevertheless you can read all about it at Marathon's Story, inspiration for the popular game show, Who Wants to Be a Mjolnir Mark IV Cyborg?

Oni

The Oni reviews are beginning to trickle in... two new reviews today including one from PC Gamer UK. Head to Oni Central for more on this and news of a new Oni resource website.

Halo

A slight downgrade in Xbox hardware specs today at HBO. Next week: live photos of Claude's cattle prod.

Thu, December 28, 2000 11:06 pm
Maybe I'll be reborn as a flower... wouldn't that be nice, Laura?


Myth

What do Dwarves, Wights, and Trow have to do with Spice, Worms, and lots of whispering? Find out today on our Myth site...

Oni

Just when you thought it was over, here comes... another Oni demo (for PC), containing a new level. Apparently, the new level also works with the Mac Oni demo. Oni Central takes a look.

Halo

Even more fascinating Xbox information-- now with video! But perhaps more interesting is some revelation on how long ambient life has been in Halo-- longer than most of us thought. It certainly got more detailed, didn't it? Read all about it at HBO.

Wed, December 27, 2000 8:23 pm
I think you miscounted. I only see four of you.


Welcome back! We hope you all enjoyed the Christmas holidays. Our site's many forums are moving to a new machine; while the URL for each respective forum may not change, you may not be able to post to some of our forums until your local Internet provider makes a note of the new machine's Internet address. This should all clear up soon.

Marathon

New Marathon netmaps today over at the Marathon Archives. Ring in the new year with some serious carnage!

Good God, Scenario News seems to have been updated over the holidays-- and it's quite an update! A new demo is available for the M1 to Infinity project, a long-running scenario redesigns its site (sorta)... get thee to Scenario News for a Santa-sized stockingful of news. ...??

Ho Ho Hamish Sinclair updates Marathon's Story with some cool fan pictures and plenty of speculation about the recently-released Oni demo. Be sure to check out the mighty Battle Cat's Christmas story while you're there.

Oni

In the wake of the recently-released Oni demo, more reviews are popping up around the Web (and more fan art, too!). Oni Central has it all for you-- and a new poll, too.

Halo

What do the Bungie Studios offices and the Microsoft Encarta team offices have in common? As of today, not much; Bungie's on the move. Be sure to stop by HBO for the info (and some pictures), along with more word on the recently-announced European Xbox delay.

Sun, December 24, 2000 4:36 pm
Jingle Bob, Jingle Bob, Jingle all the way...


bungie.org would like to wish everyone a Merry Christmas and hope they have a great time with family and friends!

Fri, December 22, 2000 6:06 pm
Moooooolllasssessss...


Since we are currently providing a mirror for the Mac Oni demo (see below), some areas of Bungie.org may be slow to load for awhile. Please bear with us.

Marathon

Looks like someone got the tag quote from the other day, because today on the Story page: Could there be Marathon connections in Bill and Ted's Excellent Adventure? No, but I think I saw the Marathon symbol in Steel Magnolias...

Following the hand recounts (that joke never gets old), a new winner has been selected at Marathon Map of the Month. Go check it out!

Myth

Following the recent release of the Bushido scenario for Myth comes Dreamseedz, another phat scenario. The full release information is available over at our Myth site.

Oni

The Macintosh version of the Oni demo is now available. Oni Central has word on where you can download it. Currently there are five available download sites for the file (including us); please keep in mind that due to the extremely high demand for this demo, download times will be very slow for awhile, and you may not be able to download the file until the fervor dies down.

Thu, December 21, 2000 11:25 pm
Don't sleep, don't weep...


Marathon

Birthday wishes for our favourite game and IGN chat synopsis at Marathon's Story.

Halo

XBox delay in Europe? That and the IGN chat log at HBO.

Wed, December 20, 2000 8:21 pm



Tonight at 6:00 p.m. Pacific (8:00 Central), Bungie Studios staffers Baron Matt Soell and John Howard will be participating in a chat session at IGN.com. For full details, click here.

Marathon

...and sure enough, here comes our man Hamish with the sevens! Check today's Story page update for the full... uh, story.

Oni

Mac users, get ready-- the Oni demo (Macintosh version) is on the way. Keep your browser tuned to Oni Central for first word as soon as the demo is available.

Halo

More Xbox rumors reported (and squashed) over at HBO. Just how fast is that thing?

Bungie Sightings

It's back, folks. Our man Freewill updates Bungie Sightings with word on the next Bungie Fanfest. Kickoff's nearly a month from now, so be sure to start making your preparations, because this one's looking to be the best Fanfest yet (and that's saying quite a bit)! Full details on this newest Fanfest can be found at Bungie Sightings.

Tue, December 19, 2000 7:00 pm
Sometimes I break out in a coooooold sweat...


Bungie.org would like to welcome our newest hosted site, Marathon: Resurrection-- an ambitious project to convert the original Marathon to the Unreal Tournament engine. Be sure to stop by and visit!

Marathon

"Blam!" references found in the Oni demo... time to start looking for sevens, now. Also, don't forget to head on over to Marathon's Story for information on a new (possibly rigged) poll, and more details on tomorrow night's chat with Baron Matt Soell and John Howard (both of Bungie Studios).

Plenty of cool new stuff today at the Marathon Archives. Head on over and start a-downloadin'...

Oni

Head on over to Oni Central and cast your vote in our latest poll! This one asks the question: "What does your favourite Konoko look like?" How very British of you, Harry...

Halo

Yet another Halo similarity found in Tribes 2. Could this be coincidence or... ?!?! Well, HBO has the details.

Mon, December 18, 2000 10:29 pm
They're Everywhere!


Pathways Into Darkness

A possible revelation of a Seven year old secret? Read on...

Marathon

Number games and music fixes at Marathon's Story.

A new version of Aleph One is up for grabs, as well as Bovine; a Marathon 1 to Aleph One converter. That and more at Marathon Open Source.

Oni

Ever since the Oni demo was released, there has been a huge number of posts at the Oni Central forum. There is also word from Matt Soell on the Macintosh version of the demo.

Sun, December 17, 2000 2:22 pm
Can it be? Has it really arrived?


Oni

The Adrenaline Vault has posted a demo for the PC version of Oni. Oni Central has the full story.

Sat, December 16, 2000 1:50 pm
All we are is dust in the wind, dude.


Oni

Halo news is Oni news today, with members of the Halo team arriving at Bungie HQ in Washington to help out with Halo. What's that crazy David Dunn working on now? bTV 2.0? Finding smaller trash cans? Or creating some of the coolest levels ever seen? Who knows... Get the news from Oni Central and start your own speculation.

Halo

Baron Matt Soell comes through with this week's Halo update, and sure enough, it's at Haloplayers (newly redesigned). You'll definitely want to read this one... Also, HBO brings word of a Microsoft plan allowing the public to beta-test the Xbox. Can you dig it?

Fri, December 15, 2000 8:49 pm
You can't stake your life on a savior machine.


Marathon

The Bungie.net poll which will hence be known as "the Fight Club poll" has ended-- and your winner is... The Mad Irishman! Yes, your Irishman strikes again today with another series of updates over at the Story page. In today's news: Doug Zartman returns in a giant robot, and Baron Matt Soell douses more... rampant speculation.

Could it be? Will TCP/IP networking come to Marathon? Did anyone actually like the movie Innerspace? The Aleph One team addresses the first question today at Marathon Open Source.

Myth

Big Myth news today. First things first... Bushido, the eagerly-anticipated solo scenario for Myth II, has been released. Trust me, folks, you're gonna want this one. Our Myth site has more information about the scenario's release, such as what's included, where you can download it, and word on an upcoming Bushido matchup. ... If that isn't enough for you, another new Myth map has been released, and it's definitely worth a look. Also, in case you're having trouble connecting to Bungie.net, there's a new patch available which may interest you. All the details can be found on our Myth site.

Oni

The 'net is abuzz with editorials on Oni's lack of blood. Whether you agree or disagree with the editorials, though, you'll definitely want to check out Rockstar Games' official Oni website, which went online yesterday. Oni Central has the story.

Halo

Beware false prophets... and content-thieving websites... Ah! Here's some good news: A popular Halo site gets a new, improved forum, and on our own site, three new Halo desktops are available. Get the word-- and the desktops-- at HBO... Just a quick reminder: This week's Halo update should be available tonight-- keep an eye peeled to HBO for the lowdown once the update is sent out (although we're not sure which site will receive it this week).

Wed, December 13, 2000 7:36 pm
I do not t'ink ze wormhole vill be much trouble now...


Marathon

OK, let's get this out of the way: Cortana.org. Discussion. Oh wait, there's already some discussion going over at Marathon's Story-- what a surprise!

Myth

'Tis the season to download a bunch of new Myth maps and plugins. Our Myth site brings yuletide greetings to new WWII maps at The Mill.

Halo

Some new Halo-related wallpaper and more Cortana speculation today at HBO.

Tue, December 12, 2000 10:11 pm
These guys gotta hate me for pointing out typos like this.


Marathon

The latest Bungie.net poll won't last forever, so be sure to head on over now and vote for... uh, someone. In today's Story page update, it looks like The Baron has cast his vote...

Myth

Today's update at our Myth site features "Thr Return of Myth News". You know you want it... Watch this space for more Myth news!

Halo

Cooperative multiplayer in Halo? Bungie isn't talking, but former Halo producer Nathan Bitner (now of Island Four Software) drops a quasi-hint. Read all about it at HBO.

Mon, December 11, 2000 8:52 pm
He who controls the spice, controls the universe!


Marathon

Anyone know of a good place for the Marathon Trilogy box set? Hey, here's one... oh wait, scratch that. Marathon's Story brings word of an upcoming presentation at this year's Game Developers Conference-- "Halo: A Case Study"... featuring speakers Jason Jones and John Howard! What could this presentation entail?

Halo

Looks like a changing of the guard over at one of the larger Halo sites-- and an even larger Halo site looks to be getting this week's Halo update (due Friday). Baron Matt Soell elaborates (kinda) on the aforementioned Jjones appearance at the upcoming Game Developers Conference. Say, Baron, what's this about surfing? Worm-surfing, perhaps? Get it all at HBO (natch).

Sun, December 10, 2000 1:56 pm
Happy Holidays from the Ravenous Bugblatter Beast (now with NURB-based reality shading....)


Marathon

A Fire Upon Marathon's Story, where our fightin' Irishman takes a deeper look at a classic book (ranked #18 at Apple Computer!).

Who said Chuckie had the monopoly on sound file converters? Marathon Open Source brings word of a new program in development that converts M1 sound files to Aleph One format. Go check it out!

Oni

Had enough? Of course not! Oni Central brings word of more new Oni screenshots. Ahh, delightful...

Halo

Need a Halo tip? HBO brings word of a new site dedicated to Halo tips, served medium rare with white wine garlic sauce and a dash of Heinz 57.

Sat, December 9, 2000 11:30 am
An early update? Maybe too early...


Marathon

Who's the true Bungie Webmaster? As always, Marathon's Story holds fast in its quest for the tru7h, this time with commentary from Matt Soell.

Halo

In an odd twist, the latest weekly update from Matt Soell is now available at Battleground: Halo. Plus, more Xbox speculation and information today at HBO.

Fri, December 8, 2000 7:27 pm
Ryudo, you're such an embarassment.


Marathon

Someone's about the get the living crap kicked out of them according to the latest Bungie.net poll-- who's it gonna be? My money was on Hamish until I saw today's Story page update and found out that there's no real difference between one- and two-fisted punching. That's one hand on the combat shotgun, the other smackin' Hamish upside the head! ...Or is it? You know what they say about the fightin' Irish...

More cool stuff gets added to Marathon Open Source's content creation section. Budding scenario designers, make sure to stop by for some helpful tips!

Oni

Oni Central gets a new forum! Now you can keep a profile, and include links at the end of messages. If that isn't enough to draw you in, how about some new Oni screenshots and a new preview?

Halo

Websites. Poland. Desktops. Poland. Flash animations. Poland. Louis Wu heads on vacation to... *cough* Head on over to HBO for all today's news.

Bungie Sightings

Wed, December 6, 2000 5:58 pm
Relax, Nacho my friend; I am not hurt. I am too sneaky!


Marathon

Who is the Bungie Webmaster? Who am I? Who cares? You know you do, so head on over to Marathon's Story right away for more info on this; also, Nathan Bitner goes mad across the Web's many bulletin boards.

Another new Marathon scenario has been announced, and an existing one posts new screenshots, including news of an upcoming demo release. Check it out over at Scenario News.

Myth

You know, we should have a competition to come up with something Myth-related that Daniel Gentry can't do. ...Oh, and look, it's an Aliens scenario for Myth. I wonder if it will be anything like the Aliens scenario for (unmentionable)? If you're interested (and I know you are), get the lowdown on this and more at our Myth site.

Halo

Sites reopening, sites closing, sites being abducted by rampant AIs-- another day, another dollar. Get all your Halo news at HBO.

Tue, December 5, 2000 4:44 am
Read it again, grandpa....


Hey hey hey!

Mikey-San here. Again. (Hey, don't run away!)

If you're a frequenter-person-thingy of the Marathon.org forums, you likely already know we've had a winner in the Bungie.org "We have too many copies of Pathways Into Darkness lying around" contest.

We've had many WRONG answers over the past 10 months, but as I peek into my inbox right now, I see two correct answers. It's tough to decide which to choose, but--wait. No, it isn't. One came in before the other.

Well, with this breakthrough, we'd like to announce the WINNER as Trevor Smith, a suspected spy for the Canadian government. He correctly identified the hexadecimal as the ::drum roll:: first seven sets of hexadecimal from CODE resource ID #7 of the Marathon 1.2 app! (Hey, put down that gun!)

He'll have a copy of PID sent to him by members of the Bungie.org tactical drop team, and you'll get to wonder why you didn't think to open any of the Marathons with ResEdit in the first place, after seeing hexadecimal.

In all seriousness, we at Bungie.org thank everyone who entered and hope the people who didn't enter, burn for eternity.

Mikey-San

Marathon

And just because nobody's said anything about it in the past 3 days, we'd like to point out that the Archives have received a cornucopia of new material, ranging from 6 new SDL-capable solo maps (yes, that means you, Windows users) to a netpack containing 77 (!!) levels! There's even a cool tutorial showing you how to make everything from smashable windows to a working flashlight. What are you waiting for? Start downloading!

Mon, December 4, 2000 7:07 pm
The poison was in both glasses. I'm immune to that poison.


OK. We still haven't received any winning entries in our "Decipher the B.org Hex Code" contest, so Head Contest Boy Michael Watson has dropped yet another hint. This will be the last one; after this it shouldn't be too hard-- then again, Mikey said that when we started this contest in the first place. Decipher the hex code above, send in the winning entry, and you'll win a copy of Pathways Into Darkness!

Marathon

'Tis the season for site redesigns, eh? In the wake of our own recent redesign, Marathon Open Source reorganizes and redecorates (don't worry, no Christmas lights). Head on over to check it out-- and while you're there, be sure and check out the Content Creation section, which contains numerous resources for making Marathon stuff. And what Marathon content creation guide would be complete without the awe-inspiring work of the incomparable Gary L. Simmons, eh? Any page that mentions Gary L. Simmons gets high marks in our book. Yes sir!

Bet you thought we were moving on to the next update, huh? Nope, you gotta hear more about Gary L. Simmons. That Gary, what a guy! Why, I remember one time we were looking for a bottle of Blue Nun down at the local convent--

The remainder of this Marathon update will be brought to you by Supa Phat Baptist.

AWWWW-AIIGHT DAWG, CHECK DIS OUT MARATHON'S STORY GOT DA WORD ON DA BRAND-NEW ISLAND FOUR GAME MAKERZ AN DON'T BE NO HATA', DAWG... WE STRAIGHT WITH MICROSOFT CUZ DEY GOT DEM SEVENS IN DERE ADDRESS SO WE TIGHT WITH DEM LIKE WIF DA LAWD GO READ DAT PAGE AN Y'ALL FIND OUT ALL 'BOUT IT WELL I GOTS TA GO Y'ALL HAVE A MERRY CHRISTMAS

Myth

Could it be? Is the latest Myth scenario from the guys at Creation, "Bushido", truly nearing completion? All signs point to our Myth site where we've got word not only on Bushido but also another scenario in development at Creation.

Oni

You may recall that an Oni comic book is in the works from the guys at Dark Horse. Well, thanks to a watchful reader, Oni Central brings you new information today about the upcoming comic, courtesy of-- again-- the guys at Dark Horse. Say it with me, now...

Halo

Get your Island Four domain names while they're hot! Otherwise you'll have to wait a few years, then start a nonprofit fansite with "islandfour" somewhere in the domain name, and report Island Four news daily, all the while assuring the world that your site is not affiliated with Island Four Entertainment. "So, where do I start?" As always, HBO marks the spot.

Sun, December 3, 2000 2:23 pm
Somethin' weird's goin' on here. Somethin' really weird's goin' on here.


Today's Marathon's Story deserves a mention for a number of reasons unrelated to Marathon. Nathan Bitner, former producer of Bungie's upcoming action game Halo, is forming his own gaming company called Island Four. Here's an excerpt from his announcement:

"I believe this software company, already loaded with several expert and published writers, will move gaming - and perhaps reading - in a direction that it has never taken. I have secured writers because I believe them to be an equally important creative force in this business as are artists and programmers. ... I hope to use both my previous experience as a Producer, Creative Developer, and Level Designer, as well as the contacts I have already made within the industry (especially since I have left Bungie Software Products Corporation). ... Bungie's people, products, and personality were and are spectacular and I choose to emulate that type of outlook, rather than alienate it. The most important part of anyone's job is quite simple: to have fun."

Well put, Nathan. The full text of the announcement is available at Marathon's Story today. Best of luck to you, Nathan; we'll be watching you with growing interest.

Also worth mentioning: Many of our downed sites, such as Orbital Arm and Marathon Arena, are back online. We apologize for the downtime.

Marathon

And with the return of Marathon Arena comes a plethora of cool new stuff! A new screenshot, a new poll, and even some music samples from this cool new project to convert Marathon to Quake III Arena. Check it out!

Now that I have that out of the way... this has to be mentioned. You may remember this tidbit from Saturday's update:

The newest build of Aleph One is available at Marathon Open Source. This one allows levels to begin and end without the teleport effect... and also allows for QuickTime movie playback prior to each level. I can see it now... "Announcing the Half-Life to Marathon project!" This means you, Thomas R.

I was joking. ...Today at Scenario News: Thomas Riisbjerg announces the Half-Life to Marathon project. ...Next time, I'm just not gonna say anything.

Myth

The challenge has been issued. The gauntlet has been thrown down. The glove has been removed from the pocket and smacked upside yo' head. Are you prepared? Check out our Myth site for the full details.

Sat, December 2, 2000 2:52 pm
And now for a different kind of late...


Still can't decipher the hex code above? C'mon, now; there are prizes involved here! All right, all right, we'll give you a clue. ...What? You still don't get it? All right already; here's another clue. Now get out there and solve this sucka!

Marathon

A new interview with a Microsoft spokesman contains some questions and answers about Bungie. What Microsoft games will Bungie bring to the Mac? How about Office Assistant Fighter? I always loved that one... Anyway, Marathon's Story has the word.

Halo

The boys at HBO spot a new Halo preview at CNet's Gamecenter. Too bad CNet doesn't read Microsoft's press releases.