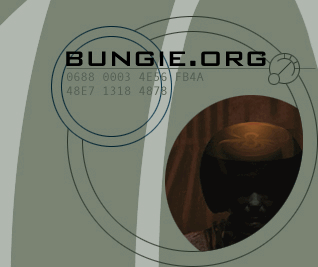 Bungie.org public forums:

Out and about at Bungie.org:

[3815929]



bs | halo | oni | phoenix | ? | marathon | myth | pathways


you're not just reading us for the articles

---
December 2001 Archived News
Sat, December 29, 2001 10:13 AM
Blue Confusion


OK, I lied. Here's the update:

Marathon

Mark Bernal's initials are uncovered! Head to Marathon's Story for all the details.

The Archives received a bunch of new files, too.

Halo

There's no "f" word in Halo, Marty sez so. bunch of new reviews, shots and fan fics hit HBO too.

Sun, December 23, 2001 6:21 PM



bungie.org wishes everyone a Merry Christmas and a happy new year!

(Updates will resume on the 27th)

Sat, December 22, 2001 6:21 PM
Something More Besides You


Pathways Into Darkness

Sounds in Pathways Into Darkness are discussed at pid.bungie.org...

Marathon

It was 7 years ago today that Marathon was unleashed upon the Macintosh crowd. Marathon's Story makes note of this along with other interesting stuff!

Myth

Myth III Mac demo mirrors and a review of Myth III itself. Myth@Bungie.org has the goods.

Oni

New fan art at Oni Central... looks nice!

Halo

Holiday spirit comes into play when looking at the latest art submitted to HBO.

Fri, December 21, 2001 2:04 PM
Speaking confidentally...


Marathon

Hamish ponders Marathon's story and its authorship at Marathon's Story (what repetition!).

Myth

Myth III news galore at Myth@Bungie.org PLUS Myth III demo for the Macintosh has been released! Head to Fileball.net for the download.

Oni

Stuff is returning to Oni Central...

Halo

Reviews, a new poll, a new site, it's all Halo at HBO.


Fri, December 14, 2001 5:51 PM
Another Bungie.Org Flashback Week concludes.


Pathways Into Darkness

The vast Google Groups continue to yield their secrets to our dedicated researchers. The Pathways page's contribution to Flashback Week includes the question of how many points are in the game, and how to use the Yellow Crystal to XOR the dead.

Marathon

Marathon's Story posts a blast from the past in the form of long-hidden Bungie commentary on, what else, Marathon's story.

Myth

The nostalgia continues on Myth@Bungie.org with screenshots of the imminent Classic Map Pack for Myth III. Neato!

Halo

The best Flashback Halo.bungie.org could come up with was a game reviewer who's apparently still living in the past. Darn slackers...

Thu, December 13, 2001 3:01 PM
:(


Marathon

A real blast from the past hits Marathon's Story in the form of the long-awaited return of the DejaNews archives. Secrets abound...

Oh my god! Some scenarios are actually making progress on Scenario News! Beware of low-flying butt monkeys.

Myth

Myth@Bungie.org posts wolfage and more wolfage.

Halo

Apparently someone is really, REALLY bored in class. Halo.bungie.org has the scoop.

Tue, December 11, 2001 2:25 PM
Where did this Dr. Frankenstein stuff come from anyway? Even I don't remember...


Pathways Into Darkness

"IT'S ALIVE, IGOR!" "Death is so cold and lonely..." "Huh? Quit goofing around." "I'm so cold, so cold..." "Look, I know you're not dead, so how about we do this update now?" "Aw, you're no fun any more."

Myth

Oni

Macworld gives Oni some well-deserved mad props. Oni Central has the story. Word.

Halo

The Halo reviews are still pouring in, and so is the fan art and fan fiction. And what's this? A Story Page? All this and more at Halo.bungie.org.

Mon, December 10, 2001 2:03 AM
Does it count as being "up" if you don't remember if you fell asleep?


Marathon

The National Equirer posts some extremely yellow journalism. I don't know about the story itself, but there's definitely something mind-altering over there. And I want some.

Scenario News posts irrefutable proof that Doughnut isn't the only one with access to mind-altering substances.

Halo

When there's something strange, in your Halo game, who you gonna call? GHOST RAMPERS!

Fri, December 7, 2001 12:03 PM
Apparently Aleph One has undergone some major changes...


Myth

The Mac version of Myth III is out there... somewhere... waiting to strike when you least expect it... Myth@Bungie.org keeps tabs on it. Also, there's some new stuff about the relevance of the Celtics to Myth.

Oni

Things may happen soon... maybe.

Halo

"Huhhhh... Halo... reviews... Jason Jones... ehhhh..." "Igor, didn't I tell you to keep the monster away from the web page?" "Yeah, but I think he's perfect for the Forums." "I should install his brain before we try that." "Nah, he'll fit right in as-is..."

Wed, December 5, 2001 8:56 PM
Just another Victim of the Ambient Morality


Marathon

Marathon's Story posts a whole lot of empty space. What's up with that? Oh, and the universe ends.

Halo

"IGOR! Fetch me a loin!" "A what?" "A loin!" "Why?!" "Because Vector40 wants one!" "Who?" "Just shut up and get me that loin." "OK, OK, I'll just pull one off Joe Staten." "No, not a cooked one! I'm going to put it on the monster!" "Oh, aren't we Mr. Picky today." "What did you say??" "Nothing..."

Tue, December 4, 2001 10:31 PM
"'Dorky'? Sounds like YOU need a drink, puny reviewer..."


Marathon

What's this? "Some rather shaky reasoning that has no real evidence in the game"? Am I actually reading Marathon's Story? Wait, never mind, it's just that Mark Levin again.

Halo

Halo.bungie.org horns in on IGN's numbers racket, and finds even more reviews all over the web.


Sun, December 2, 2001 6:23 PM
...quick venge the hotspur here...


Marathon

The intrepid Volunteers continue to poke around Marathon's Story.

New versions of open source stuff have been released at Marathon Open Source, giving you greater freedom to poke around with map editing under OS X.

Halo

We've got to do something about Louis Wu's excess poking. It's a huge distraction and it's starting to get really, really annoying. Guess I'll just have to start locking my office door...

Sat, December 1, 2001 2:45 AM
MEIN FURHER! I CAN WALK!


Marathon

Scenario News reports on the downfall of Vietnam, and the vietnam of Downfall. Or something like that.

More levels are visited by the intrepid Volunteers at A F*cking Doctoral Thesis.

Myth

Vengeance is mine, I will repay, sayeth the lord... Sayeth Iggy Popped as well, on Myth@Bungie.org.

Halo

More and more (and more) sites throw in their two cents on Halo. And there's yet more fan fiction and fan art to enjoy... Geez, you'd think people were busy playing it, but nooo...