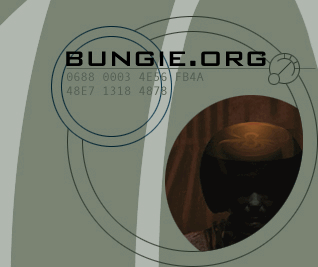 Bungie.org public forums:

Out and about at Bungie.org:

[3815933]



bs | halo | oni | phoenix | ? | marathon | myth | pathways


getting all ZEN in your hostile little FACE

---
December 2002 Archived News
Mon, December 30, 2002 12:42 AM
4:31 AM, March 19th, 1928.


Marathon

Marathon artists... They're everywhere. But I can definitely stand them. Marathon's Story has the (surprise) story.

Halo

Lots of fun stuff on Halo.bungie.org as usual. Eh, so I ran out of stupid jokes to put here.


Thu, December 19, 2002 3:53 PM
People talking in movie shows / People smoking in bed...


Marathon

Seven hundred and sixty one shapeless and mapless corpses of scenarios float inconspicuously around the inside of Bungie.org.  I say that they are inconspicuous because it is their incoherent emails and unworkable designs which demand my attention.  I did this, or I could have stopped it.  Which is it?  It doesn't matter now.

And a new version of Aleph One has been released for the terminally 0ld sk00l people still running OS 9.

Myth

Development on Myth III is proceeding nicely and it will probably be released by... whoa... deja vu.

Halo

Halo.bungie.org keeps the fan fiction and fan art rolling.

Fri, December 13, 2002 3:28 PM
Now where's the hot pink warthog?


Marathon

The Aleph One project heads off in a new direction, focusing on stability and compatibility rather than new features.

Oni

Rumors of Oni Central's death were greatly- OK, maybe just a little bit- exaggerated, as the Imagery section appears.

Halo

...a yak?

Sun, December 8, 2002 3:22 AM
Maybe gnomes have heads...?


Marathon

Bring out your dead! ::DOONK:: Bring out your dead! ::DOONK:: Bring out your dead! ::DOONK::

Myth

Myth@Bungie.org wades through the doldrums with news from PlayMyth and the Clan Plaid network.

Halo

Bring me the head of the yellow banshee! Er, if it even has a head. Maybe the green one has a head.