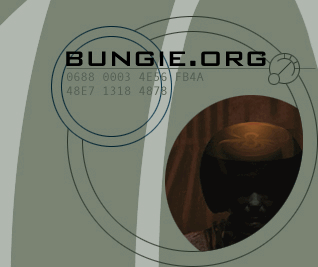 Bungie.org public forums:

Out and about at Bungie.org:

[3815946]



bs | halo | oni | phoenix | ? | marathon | myth | pathways


proud sponsors of realistically proportioned female heroines

---
February 2002 Archived News
Tue, February 26, 2002 12:26 PM
Finally got this computer snuck into the basement...


Marathon

What about Bob?

The haX0ring never stops at Marathon Open Source.

Myth

Where do we go from here? That question has many answers, most of which are posted at Myth@Bungie.org. Reverof Htym.

Halo

The Halo Tips'n'Tricks section is always overflowing with new ways to have fun with the game. Now where's that food nipple I ordered?

Mon, February 25, 2002 1:00 AM
They feel better!


Quick note - Rampancy.net, a long-time Bungie fansite, has not (as it might seem) died recently - they're just having DNS troubles. The servers are fine, and can be reached directly via their IP addresses:

Fri, February 22, 2002 1:28 AM
I Thought I Saw a Banker's Clerk Descending From a Bus


Myth

Myth@Bungie.org continues to add new stuff, or at least they would if you would help them out a bit. C'mon, please? Pretty please? With pus on top?

Halo

Halo.bungie.org gets into the Olympic spirit with Halo tournaments, team hippo hunting, Warthog high jumping, and synchronized grenade tossing.

Tue, February 19, 2002 2:03 AM
Somewhere in the heavens... The hippos are waiting.


Marathon

The Alien Conspiracy (which one?) emerges from the shadows at Marathon's Story. I would have asked Hamish about it, but he mumbled something about being late for an appointment with a rogue star while backing quickly away from me. I don't know if he's hiding something or if he just heard those rumors that have been going around the B.org compound. None of which are true, of course. Honest.

Myth

Rumors of the Myth community's death are greatly exaggerated, as Myth@Bungie.org adds new sections, newsies, content, and footers.

Halo

The Halo community has had its fill of molesting grunts and has moved on to more wholesome pursuits, like skydiving or big game hunting or pyromania or... uh... never mind.

Sat, February 16, 2002 2:28 PM
gone from the plan in a hushed stare my last line written my last thought my own


Marathon

"You ate Moby." "::BUURRP:: No I didn't!"

Celebrate Valentine's day with violent OpenGL-powered death in the latest builds of Aleph One.

Halo

The Count reveals just how lazy he is on Halo.bungie.org. Can't even go back to Friday and copy/paste? Geez...

Fri, February 15, 2002 2:59 PM
Happy Valentine's day! Yeah, it's a day late, whatever.


Marathon

There's some fun stuff about rogue stars on Marathon's Story.

Myth

The Mythers are preparing to bid farewell to their beloved home forever, as the sun collapses in on itself and the lonely marshes fade into the deepening twilight... Wait, wrong game. Anyway, Myth@Bungie.org is on the scene as the Bungie.net Metaserver, home of the Myth community for four long years, heads off to the big reset in the sky. I bid it a fond farewell, although it seems Zandervix is a little sore. You know, they have creams for that...

Halo

Louis Wu has headed off for a well-deserved vacation and left Halo.bungie.org in the capable hands of Count Zero, unchained and let out of the basement for just this special occasion. Now, if you'll excuse me, I have to go hide the sharp objects.

Wed, February 13, 2002 11:18 PM
There's baloney in our slacks.


Marathon

There are still Marathon scenarios under construction! Now I'll have something to look forward to when I get bored with EV:Nova!

Myth

Apparently Myth@Bungie.org needed another site to tell them that they were alive. So that's where all our drugs went...

Oni

A nice bit of detective work nets the first evidence of another Oni game. Bet you never thought financial statements could actually have something cool in them, huh?

Halo

Looks like Louis Wu is really enjoying that thesaurus we got him for Christmas. A bit too much, perhaps, but he still managed to update Halo.bungie.org. Unlike the time we got him some- uh, never mind.

Mon, February 11, 2002 7:51 PM
w00t


Marathon

The Story Page's forum is buzzing with activity, as the scouring of Ebay continues and some new videos surface. Meanwhile, at Marathon Open Source, someone's actually making some progress!

Myth

Tired of writing fan fiction about space marines and aliens? Wanna switch over to non-space non-marines and undead? Myth@Bungie.org sounds the call.

Halo

Power up those plasma beams, let the bodies hit the floor, and dump that Warthog down the Shaft, it's Halo time! Also in today's update, the new "Land on the Overshield" gametype, singing bobs, and as always more fan fiction and Halo videos.

Sat, February 9, 2002 2:22 PM
That poor, homeless CHEESE...


Myth

If we could figure where Dr. Frankenstein is, we could tell you that Myth@Bungie.org is ALIVE, having picked up some new staff and returning to its usual frisky self. The top story is that the Bungie.net metaserver has been shut down and its source has been released. Now you too can cultivate a community of lamers and rank wanks!

Halo

Halo.bungie.org puts up its long-awaited Press Scans archive. And more gameplay tricks and vehicle foolishness.

Thu, February 7, 2002 3:22 PM
You and me / And some Halo / You and MEE-EEEE-EEE...


Pathways Into Darkness

Next time you play Pathways Into Darkness, make sure you pick up the Rare Boxed Copy onthe Ebay level.

Marathon

Those wacky Nar are still up to their zany tricks.

Some big stuff goes down at Marathon Open Source. There's a new build of Aleph One Win32 with an important feature added: It works. And the level editor Pfhorge is coming along nicely. Pretty soon I might have to say "Whoa" about that too.

Halo

The vehicle cramming continues, evidence mounts that Peter Gabriel is a Forerunner, and the Sin-ematiXXX team finally lives up to its name. All this an more on Halo.bungie.org!

Tue, February 5, 2002 7:23 PM
We can make .5 past lightspeed.


Pathways Into Darkness

While I wasn't look, the PID page was updated. You can stop hitting me with that trout now. Seriously.

Marathon

As for the rest of my study, it will have to wait because I hear someone coming and I must not be found.

Myth

Sad news at Myth@Bungie.org as a long-time staffer sort of steps down without being permanently removed by our death squads. Er, he just stepped down. No death squads here. Right.

Halo

Man, that jeep movie... LOL.

Sun, February 3, 2002 2:22 PM
A Lonesome And A Broken Hallelujah


Marathon

Mmm... cranberries. And networking. That's yummy too.

Those damn Nar are still all over the place at Marathon's Story. Somebody get a mop.

And there's still new stuff at the Archives. Reverof Nohtaram.

Myth

A new newsie has shown up at Myth@Bungie.org! As soon as these cops give up on their ridiculous kidnapping accusations, he can get to work.

Halo

There's always something fun to do at Halo.bungie.org. Look at fan creations, port bits of Halo to Counterstrike, post inane questions about the PC version, make movies of doing silly things with vehicles...