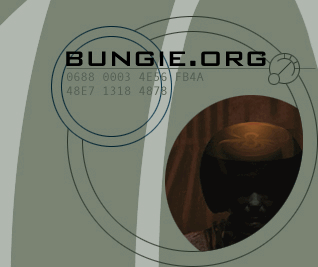 Bungie.org public forums:

Out and about at Bungie.org:

[3815958]



bs | halo | oni | phoenix | ? | marathon | myth | pathways


your one-stop shopping center for bungie news

---
January 2001 Archived News
Tue, January 30, 2001 6:54 am
The Janitor updates this morning..


The Bungie Store has reopened, go order your copy of Oni from there and receive an Oni door poster FREE! Word has it that profits made from Oni sales will go straight back to the community. Oh yeah, be sure to read the FAQ over there.

Marathon

Our favourite number, Seven, pops up again at Marathon's Story. You'll also find stuff on eBay, Cortana and various web pages.

Marathon Open Source has news of new BeOS and Linux builds of Aleph One.

Oni

Oni is now officially released, and you bet Harry is partying his ass off over in Canada. Oni Central has a whole plethora of news and information (including a nifty controls guide), so take a gander!

Pssst! Wanna cheat? Check out OniShots...

Halo

Interesting music discussion at HBO. That and more at yur favourite Halo site.

Sat, January 27, 2001 2:54 pm
DeMia will be handling today's news update.


Marathon

Sign up now to be a Mjolnir Mark IV cyborg-- DeMia can think of a few peoples dat might wanna piece of this. Most of 'em've already seen dis update today, but if ya haven't den ya gonna wanna visit Marathon's Story today for the Low Down.

Oni

It's all about the reviews, baby, and they're flyin' 'cross the 'net today, they is. ...So it's Super Bowl weekend and all, and Harry and DeMia is talkin' and ya know, you can win a copy of Oni! Better than buyin' it, right? I mean, ya save forty some-odd bucks an' all. But if ya don't wanna wait, 'cause DeMia doesn't, ya know, then ya can just download some new tunes from the game. Ya can get the big news roundup over at Oni Central and all.

Hey, wut da...? There's some new scripts an' all at OniRes; DeMia just noticed this, ya know.

Halo

Whooooza! Da Baron (Matt Soell) sends in his latest Halo update and there's a wallopin' ple-thora of Halo newsness to be read today. It's over at HBO; get yer browser a-movin'...

Fri, January 26, 2001 10:25 pm
Now I strike!


The Bungie Store is returning Monday, January 29th! Along with its return comes a special Oni offer! Be sure to check out Oni Central for details.

Wanna play voyeur? Check this out...

Marathon

Marathon-related eBay auctions and Oni codenames are topics at Marathon's Story today.

A new scenario and story of an existing scenario top the neews at Scenario News.

Updates to the Texture Enhancement Project at Marathon Open Source.

Oni

Lots of news at Oni Central, not surprising as Oni's release date is only a few days away, yet some people were already able to buy their own copy. How that happened and more at Oni Central.

Halo

Matt Soell's Halo updates are now searchable at HBO. Nifty.

Wed, January 24, 2001 7:59 pm
Off-kilter.


Marathon

Learn more about addendums toddendu-- *cough* today at the Story page... and witness the ongoing carnage resulting from some Microsoft DNS problems.

Our Mac readers will find a more user-friendly version of the Aleph One manual today at Marathon Open Source, along with some more enhanced textures and even a new application designed to edit the Aleph One scripting language. Cool stuff!

Myth

Happy Anniversary to our own MythMaster Central-- and with another year comes another ungodly Myth accomplishment, caught on film as usual. Get the whole story at our Myth site.

Oni

With the game's release only days away now, even more Oni reviews are popping up around the Internet. And what's this? It seems that Alex Okita (former artist from the Oni team) has updated his website with a ton of cool new info. You can get all the details at Oni Central.

Get the latest scripts for Oni over at OniRes and extend the lifetime and functionality of your Oni demo.

OniShots wants your sneezing Konokos. (No Kleenex, please; just the picture.) Stop by and read today's update for more information.

Halo

Looks like that rumor about the Covenant parachuting into the stadium during the Super Bowl might not have had that ring of truth after all. And could it be that Halo won't be arriving in Europe as quickly as expected? Find out today at HBO.

Tue, January 23, 2001 5:32 am
Sometimes de booll... he weens.


Marathon

Somehow, we let this slip through the cracks... the Archives were updated this weekend, with two new shapes patches and a demo of an upcoming scenario (a demo from a Big House inmate, to be precise). Worth a look!

The Marathon's Story page has been dominated recently by discussions of... coat racks? Huh?

Cryptic messages on the Scenario News page... what's next?

Word from the Marathon: Resurrection team is that there might be a release soon... our fingers are crossed, how about yours?

Myth

The Myth pages are filled with TWA (The Wolf Age) news... but there's a little something about the Bungie Pentathlon in there too. Check it out!

Oni

The Oni news is coming fast and furious these days... web reviews by the handfuls, interviews with team members, it goes on. Stop by Oni Central for your daily dose!

Halo

The big Halo news is the rise (and fall) of another 'PC version is cancelled' rumor - debunked succinctly yesterday by Matt Soell. There's plenty more, though, so visit HBO and catch up on your favorite Covbeaters!

Fri, January 19, 2001 6:08 pm
Two cups of liquid paper, please. No sugar in mine...


Marathon

Quake III? Soldier of Fortune? Kingpin? Hitman: Codename 47? Candyland compared to the gore-filled bloodbath that is... Marathon 2? That's right, Marathon 2-- now with 43% more violence. Today at Marathon's Story: Bungie weighs in-- sorta-- on a new study on video game violence.

Enhance your Aleph One experience even further with more new, higher-quality textures. Get the goods at Marathon Open Source.

And speaking of Aleph One, today's Scenario News update has new information on one of the upcoming Aleph One scenarios.

Myth

Myth fans, be sure to check our Myth site today for word on the latest (and most extensive) Myth III preview. There's something for everyone...

Oni

A new feature at the official Oni site begins today: Learn a new special move each day leading up to Oni's Jan. 29 release date. Visit Oni Central to find out where you should begin.

Halo

Some nice new Halo wallpaper-- quite a bit of it-- is available at HBO. Pick it up and add it to your daily desktop rotation.

Death

Got Death news? Let us know!

Wed, January 17, 2001 7:59 pm
A new, live-action version of The Tick. Get an axe.


Marathon

Fans - 3, Bungie - 0... Marathon's Story investigates reports of errors in Bungie's trivia contest answers. ...Update: Fans - 4, Bungie - 0... A few weeks of studying at the Story page, and you might be qualified for the position of "Bungie historian". ...Update: Fans - 5, Bungie - 0...

The Marathon Physics Model Archive (snicker) appears to have been updated.

Myth

Myth III... it's everywhere! A new preview of Myth III is online, the official Myth III site is online, and there's even a trailer of Myth III online! For the full story, be sure to hit our Myth site.

Halo

We've all seen what Halo's gorgeous terrain engine can produce-- but, uh, how does it do it? For the technical answer (or something resembling it), head on over to HBO; we hav linkz.

Tue, January 16, 2001 9:06 pm
Do you feel lucky, punk?


The current Bungie.net Quick Poll has been up for a month now, and almost 3000 people have voted, rating their knowledge of Bungie trivia. Time to put your money where your mouth is... Take the Bungie Fan Trivia Contest for yourself! (No, there aren't any more prizes... but if the results are interesting, we'll make 'em public.) No cheating, now...

Mon, January 15, 2001 4:15 pm
Happy birthday to the late Martin Luther King, Jr.


Marathon

Those of you with the latest version of Aleph One (on Macintosh) will want to stop by Marathon Open Source today. New, high-resolution textures will help make Marathon even more beautiful than ever.

Enhance your Marathonin' with the latest maps over at the Marathon Archives. Two netpacks for Infinity and one netpack for RED-- all good stuff!

More information on the connections between the works of Larry Niven and the Marathon storyline today at Marathon's Story; also, learn how you can play LAN Marathon without cables. And no, this doesn't mean there's a GameBoy Color version on the way.

Myth

Filmz. Filmz. We hav filmz. YeAH we hav Filmz. You're definitely going to want to check out Mythmaster Central today on our Myth site.

Oni

New scripts and updated scripts today at OniRes-- you gotta want it...

Halo

PC users: Want the latest Halo screensaver? It's over at HBO, but you'll have to brave the new, ultra-depressing Halo SETI Marine stats.

Bungie Sightings

The first part of Freewill's Fanfest report is now available at Bungie Sightings. This here's some mighty good readin', folks. (I didn't know Andrew Meggs was on the Myth III team...)

Sat, January 13, 2001 1:33 pm
Are you one, Herbert? ...I am not Herbert.


Myth

If not for Myth III, this would be odd timing indeed-- but a new Myth site has popped onto the Internet and our own Myth site has all the information.

Oni

Now what could the Oni team be doing? Some preliminary information about what they're up to was revealed at last night's Fanfest and Oni Central has the report. Also: More reasons why you should pre-order Oni from the returning Bungie Store.

Updated scripts are available at OniRes. Now you can enter the last room in the demo! For all the good it'll do ya...

Halo

Fanfest reports abound, and with them comes new Halo information. No new screens (well, new old screens perhaps), no new movies-- but tons of new info... and could it be true? A playable build of Halo coming soon? Find out at HBO.

Fri, January 12, 2001 6:17 pm
All the waiters are cockroaches, including Francois, the headwaiter.


As most of you probably know, the fourth annual Bungie Fanfest is tonight. Complete details of the event are available here. For those of you going to the event, have a wonderful time and be sure to thank Freewill (and the Bungie crew) for working to make the event as fantastic as it's sure to be! For those of you not going to the event, click here.

Marathon

The Road of Dreams is very dangerous now; there's a Fanfest comin'-- but that shouldn't stop you from visiting Marathon's Story today to find out why the dwarrows turned Minneyar into a WSTM combat shotgun-- and more... taste the rainbow of fruit carnage.

Myth

A little bit of old school and a little bit of new school today at our Myth site; check out the latest update to MythMaster Central, and more information added to the Myth III datafile. Someone you know may be on the Myth III team... it could be your dog, it could be your best friend...

Halo

Head on over to HBO today for more evidence on why Halo is already a huge hit overseas-- German Halo sites springing up everywhere!

Thu, January 11, 2001 5:15 pm
It's ten minutes past curfew; why are you still up? ...Hello? Hell-ooo?


Marathon

Mac users: If you haven't updated to the latest version of OpenGL, now would be a good time; Aleph One is bound to run even more smoothly. Read all about it at Marathon Open Source.

Myth

All right. What is known so far about Myth III? Our Myth site presents every bit of information currently known about the game. Read it; you may be surprised how much is in this report that you hadn't even heard about. I know I was...

Oni

Hot on the heels of the recently-completed Oni fan art contest, Gathering of Developers prepares for tonight's launch of their official Oni site. (Gathering of Developers is publishing Oni for Mac/PC.) Get the scoop at Oni Central, as well as word on the latest Oni review.

Halo

Two big fat juicy chunks of information today at HBO. First, Baron Matt Soell answers some preliminary questions prior to this week's Halo update (which will be delivered live at the Fanfest tomorow). Next, some collected information illustrates why Halo will look X-Quisite on the X-Box-- it's all about per-pixel shading, Mr. Cleveland.

Bungie Sightings

The fourth annual Bungie Fanfest is tomorrow-- that's right, tomorrow-- and Freewill has updated Bungie Sightings with more information on the event. If you're planning on going, stop by Bungie Sightings to find out everything about this year's Fanfest-- directions to the event, planned activities, even the planned pizza toppings. ... Oh, and, uh, more news on Myth III.

Wed, January 10, 2001 4:17 pm
Good news, guys-- new forum.


Marathon

Hamish Sinclair's been floating above the floor for three weeks and Marathon's Story has proof. Also find out why you need the new nVidia GeForce 2 MX-- now that's one mean piece of alien-bustin' hardware lovin'!

Oni

Hands-on previews abound for the PS2 version of Oni, and Oni Central has the lowdown, along with word of some new, hi-res screenshots from the final version.

One of our newest hosted sites, OniRes, adds a new forum-- so now all you budding Oni scripters have a gathering place. Also be sure to stop by OniRes today for some updated scripts.

Halo

Face it, folks: Halo isn't on TV yet-- not in California, not in Bangkok. Ah, but will we see it during the Super Bowl?; that's the question... Also at HBO today: more speculation on the Xbox, and a new Halo desktop.

Bungie Sightings

Freewill arrives in Fanfest country-- only two days until the big event! Visit Bungie Sightings for all the information about the event, including date, time, directions, and even a forum.

Tue, January 9, 2001 8:21 pm
Want the Halo E3 trailer on DVD? Buy a SuperDrive.


Marathon

Going to the Fanfest this Friday? You'd better be prepared; as seen at Bungie.net, the Bungie Trivia Contest is coming. What better way to study for it than by spending a few months at Marathon's Story?

And now for a brief bit of spam: Don't forget to visit Marathon Resurrection, the ambitious but highly promising project to convert the original Marathon to Unreal Tournament. And in case you still can't get enough of the "Marathon to Something" projects, Marathon Arena's got you covered-- bringing Marathon-style multiplayer action to Quake III Arena.

Myth

If you think you're a wiz, then take the Quiz. The, uh... legendary MythWiz Quiz returns (as reported on our Myth site)-- think you're a MythWiz?

Oni

New screenshots from the Gold Master edition of Oni are appearing around the Internet, and Oni Central's roundin' them up. Also in today's news: A British PS2 magazine takes a look at Oni.

Bongo departs in search of Pierre, but drops some new OniShots on his way out the door. Sacré bleu!

Halo

The Halo SETI Marines need your help! If you're unfamiliar with the SETI@home program, click here; otherwise, what are you waiting for-- we need recruits, soldier, and every hired hand counts. In order to avoid being locked into a hangar with Rex and Ray, head on over to HBO and find out how you can help with the war effort.

Mon, January 8, 2001 3:30 pm
I am the heir of a shyness that is criminally vulgar.


Well, two days without an update, and wouldn't you know it-- we forgot to wish ourselves a happy birthday. Bungie.org observed its second anniversary on Saturday, with a minimum of boozing and quite a bit of frog blasting... things. As we move into our third year, we'd like to thank you for all your support; we're getting bigger and better all the time, and we've no intentions of slowing down just yet, especially not with the Fanfest coming up so quickly!

Marathon

If you thought this weekend's Xbox unveiling was cool, you'll want to tune in to tomorrow's Macworld keynote-- no one does keynotes like Steve Jobs. And what's this? It seems that in preparation for Macworld, a popular Mac gaming site is getting a redesign. Marathon's Story has the details.

Scenario News (previously haunted by the greenish ghost of David Byrne) updates with new Killing Time screenshots and a "Help!" request from one of the Marathon scenario teams. Now that's stylin'...

A new version of Aleph One (Mac) is now available at Marathon Open Source. Also, new word on an upcoming (possibly) Marathon map editor for Windows.

Oni

Oni Central reports on scans of the latest print ads for Oni (thanks to Rampancy.net for the scans)... well, what are you waiting for?; get over there and check 'em out!

New Oni demo scripts and an updated version of OniTools-- all available today at OniRes.

OniShots has everything you need to make your way around a crowded (or not-so-crowded) airport. Also, check out some of Barabas' cool new moves.

Halo

It's time to pull out your "Glock" to "kick some"... no, I can't say that. How black is the Xbox black? You wonder how much more black it could be, and the answer is... none. None more black... Also, could it be that we'll be seeing Halo at the upcoming Gamestock show? HBO looks into the matter.

Bungie Sightings

When the Myth III plot doth Freewill post
And new Bungie vids doth Freewill host
With Fanfest info now online
BS must come again

Sat, January 6, 2001 11:32 pm
Hic!


Before the day disappears forever, we'd like to take a moment and thank all our visitors for two wonderful years. Yep, that's right, bungie.org turned 2 today! Regular news again tomorrow... got a fun story about us? Wanna share?

Fri, January 5, 2001 8:44 pm
We're dipping Franco in the cold water.


We'd like to take a moment to say "Welcome aboard!" to OniShots, the latest site to be assimilated into the B.org Collective. OniShots is a nicely-designed site dedicated to cool Oni screenshots. Managed to pull off an awesome move and want to show the world? Send it in to OniShots. Flash that pretty smile, you just made a million...

Marathon

The latest word on Aleph One's upcoming improvements is available at Marathon Open Source. Today: How do you make Aleph One's OpenGL-enhanced graphics even better? Improve the textures.

First he vidded sixteen Marathon 2 levels without recharging, now he turns his attention to the original game. Head over to the Marathon Vidmaster page to read up on the Vidmaster of the Week.

Merripen finds a new interview with Nathan Bitner (founder of Island Four Software), and new Marathon fan art begins to trickle in. Marathon fan art?; what a fantastic idea! Let Marathon's Story hook you up.

Oni

A new update is available for some Oni scripts for use with the demo's airport level. Get the full word (and the new scripts) at OniRes.

Thu, January 4, 2001 9:47 pm
Always trying something new, that's me...


Marathon

Marathon's Story: Another Marathon reference in Oni; more F'lickta teleportation speculation-- How many rampant A.I.s can you spot in Oni? Marathon's Story starts the count... and will this debate over teleporting F'lickta ever end? One can only hope.

Marathon Open Source: Multiplayer Aleph One design strategy-- What are the problems with making multiplayer work in Aleph One? An Aleph One developer outlines a strategy which will be of use to anyone hoping to implement TCP/IP multiplayer into the open-source Marathon application.

Myth

Myth News: Myth III announced; new download from Creation Games-- Yes, you read that right; Gathering of Developers has semi-kinda-sorta-announced Myth III, all quiet-like. The official unveiling is to take place later, but for now Myth News has all the available info on the game... as well as news about the release of an exciting new WW2 pack for Myth.

Oni

Oni Central: Stomped gets ahold of Oni; enter a haiku contest to win a signed copy-- Find out what Stomped.com thinks of Oni so far. Also, the new PC Gamer brings word of a new haiku contest, with a signed copy of Oni as the prize! Read all about it at Oni Central.

Thu, January 4, 2001 4:44 pm
Yeah, baby - just the way you like it


We've begun the process of making your bungie.org visit more personal. If you look at the bottom of the navigation links to the left, you'll see a new one: "Customize Bungie.org". Visiting this page will allow you to change both the font size and the font face of the news text on this page. Don't worry - if you don't like what you choose, you can always change it again. We'll be adding more customization options as time goes on - this is just the beginning. Hopefully, this will improve your b.org viewing experience. Feedback is always welcome.

Wed, January 3, 2001 11:29 pm
The Sun Always Shines on bTV


Marathon

Could it be? The Marathon Vidmaster site has been updated-- it seems that someone has managed to vid Marathon 2 (sixteen levels of it, anyway) without using a shield recharge. Who managed it? How did he do it? Visit the Vidmaster page for the full report, and of course, the films.

Marathon's Story continues to investigate the mystery of the teleporting F'lickta. I teleported home one night with Ron and Sid and Meg...

An important MML script for Aleph One gets an update. Get the report, and the script, at Marathon Open Source.

Oni

Another Oni box image surfaces-- could this be the final version? Oni Central delves into the matter and discovers more prominent marketing for Oni around the Internet. Check it out!

Halo

Is another Halo demonstration in the cards for this Saturday's public Xbox unveiling? HBO has the report... Also, first reports of two new Halo clans (orders?).

Tue, January 2, 2001 10:02 pm
You still owe me eleven lunches...


Marathon

The Marathon Orphanage returns at last, complete with a very slick new design. For those of you unfamiliar with the Orphanage: Marathon scenarios that have fallen by the wayside submit their material to the Orphanage, where other budding scenario designers can make use of it. If you have something to submit, or need materials for your scenario, stop by the Marathon Orphanage.

First word on an upcoming update to Aleph One is at Marathon Open Source today... you'll definitely want to check it out-- plenty of cool new stuff coming, including idle weapon animations and on-screen text display. Perhaps that Half-Life to Marathon conversion isn't so farfetched...

And on that note, the Marathon Archives has cool new stuff that you can use right now, including Pong for Marathon and a tool to convert M1 maps to Aleph One format.

Are the F'lickta smarter than we thought? Teleport on over to Marathon's Story to see what's got the green men jumpin'.

Oni

Line 'em up! The word came down today-- Oni has gone gold for Mac. Unfortunately the PS2 version hasn't gone gold yet, but when it does, Oni Central will be there with the story-- along with tons of new fanart and more Oni demo reviews!

Halo

Will the Covenant parachute in at halftime? HBO takes a look at the current rumor concerning an Xbox commercial during this year's Super Bowl; said commercial is rumored to feature Halo. Could it be true?; time will tell... (still can't believe the Buccaneers lost this weekend) Be sure to read up on today's report featuring some little-known information about one of Halo's many possible weapons.

Mon, January 1, 2001 1:33 pm
The Chicago Manual of Style can stuff it.


Marathon

Marathon's Story kicks off the new year with more Marathon level name analysis and some interesting new developments (possibly) concerning Cortana.

Halo

HBO brings you the first Halo fan fiction of 2001: a new addition to an ongoing saga, with a bit of a perspective twist.

Mon, January 1, 2001 12:13 am



Happy New Year from everyone at bungie.org!!!