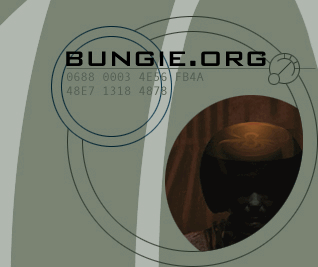 Bungie.org public forums:

Out and about at Bungie.org:

[3815959]



bs | halo | oni | phoenix | ? | marathon | myth | pathways


these aren't the droids you're looking for

---
January 2002 Archived News
Thu, January 31, 2002 2:56 PM
Got Sack?


Marathon

A clarification regarding a link I posted the other day has appeared here. Hopefully, Claude will let me out of this cell one of these days. Probably after he finishes that site.

Halo

I don't know about you,but Inever got to fight the secret backhoe operator when I was playing Halo.




Mon, January 28, 2002 2:18 PM
As if our own soap opera wasn't enough...


Marathon

Whoa. Hey, that doesn't link to an Aleph One screenshot for once!

Don't touch me, you freaks! I won't be like you, I'll die first! Find your own hiding place, the Nar are everywhere! Er, monsters. Same diff.

Halo

HBO? More like MTV, the way these music videos keep rolling in. So where are the counterculture cartoons and dopey reality shows?

Sat, January 26, 2002 7:57 PM
If... You... Only... Knew...


Halo

The Halo artistic community makes the leap to moving pictures on Halo.bungie.org. And it turns out that despite the huge update the FAQ just got, Mark Levin sucks at Halo. We have filmz.

Thu, January 24, 2002 2:57 AM
Those wacky Forerunners... What will they think of next?


Pathways Into Darkness

I don't believe it. I actually got scooped. ME! Time to send in the ninjas, I guess. Uh, you didn't see that.

Halo

There's still a lot of fun stuff to do in Halo. And the fan fiction keeps rolling in!

Mon, January 21, 2002 7:09 PM
Neither Aztec nor Mayan...


Pathways Into Darkness

Eight years on, and Pathways is still giving us puzzles to solve... Or re-solve, as the case may be. But still...

Marathon

At last, the leader in virtual archaeology finds some actual artifacts to examine.

Halo

Cramming vehicles into strange places has become something of a cottage industry, it seems. Find the latest cool places to put them on Halo.bungie.org.

Sat, January 19, 2002 3:33 PM
I HATE SNAKES!


Pathways Into Darkness

Revisit those ancient corridors in the Pathways Into Darkness Demo. And what's this about a Stalker? There are laws against that, you know.

Marathon

The Yota Saga is still going strong at the Archives.

Whoa..

Halo

What does Indiana Jones have to do with Halo? Normally, you'd expect the answer to that question to be "Absolutely nothing. What are you smoking?" However, Halo always defies expectations.

Thu, January 17, 2002 6:09 PM
Attention: Hold Like This


Pathways Into Darkness

It was as though everything was asleep and we woke it up... The Pathways Demo 2.0 is alive again on the PID page.

Marathon

Got UT? Got skillz? Got Resurrection? Uncle Unpfhorgiven wants YOU! Head on over to Marathon.bungie.org for the details.

On today's episode of Sinclair's Believe It Or Not: How far would you go to prove your devotion to Marathon?

Myth

Wow. That's a whole lot of Myth maps.

Halo

NO! STAY AWAY! YOU'RE NOT TURNING ME INTO ONE OF THOSE THINGS! FIND YOUR OWN HIDING PLACE, THE MONSTERS ARE EVERYWHERE!

Tue, January 15, 2002 4:49 PM
la la la


Pathways Into Darkness

Guns. Lots of guns. And bigger ones nearby. All this and more on the PID Page.

Marathon

Silly season starts early on Marathon's Story.

Halo

The art of cramming vehicles in weird places is advanced on Halo.bungie.org.

Sun, January 13, 2002 12:04 PM
Mmm... corn.


Pathways Into Darkness

Machine guns and Cubans and dark crystals (not what you think) abound on the Pathways page.

Marathon

The Marathon crew visits MWSF, their best attempt yet at being as cool as the East Coast. Marathon's Story raises the robots.

Halo

And it's Halo, by a nose! By a hand! By a head! By a horse! Halo.bungie.org has the details.

Fri, January 11, 2002 3:52 PM
"I hate to break up this Photoshop moment..."


Pathways Into Darkness

They wake up whenever a group passes through, and then they stay awake for years... Updates continue on the Pathways page.

Marathon

Apparently Bungie is looking for someone wierder than the Webmaster. ::SNORT:: Good luck! Check it out on Marathon's Story.
Whoa... HEY WAITAMINUTE!

Myth

I left my heart in San Francisco... And fragments of spleen on Proving Grounds... ...when I picked up Myth 3 for the Mac at MWSF! So sayeth Myth@Bungie.org.

Halo

Did James Randi join Halo.bungie.org or something? There's an awful lot of debunking today. PC Halo rumors, fake Xbox emulators, bad jokes about cats... Er, scratch that last one. Whatever.

Tue, January 8, 2002 4:03 PM
Happy Birthday to Me / This Site of Bungie / You Look Like a Monkey / And You Smell Like One Too


On the 6th of January, Bungie.org turned three years old. Unfortunately this event was not commermorated in a timely manner as the janitor was still recovering from his mauling by Fluffy. Anyway, happy birthday to us.

Pathways Into Darkness

"The Google archives have allowed the Pathways site to further investigate myterious dead Cubans." "Aren't you going to shout 'IT'S ALIVE' now?" "But they're dead." "But the site... I mean... Never mind."

Marathon

New stuff keeps pouring into the Archives.

Apparently Simon and Hippieman are the only Marathon mapmakers who have not yet slit their wrists or thrown themselves out of the window rather than face Anvil.

Myth

Stuff still happens at Myth@Bungie.org. There's secrets in them thar rivers of blood...

Oni

31337 H4X0R1N6 takes the spotlight at Oni Central. Very 31337.

Halo

At last, at LONG last, Halo.bungie.org gets a makeover. A little one. There's a Story Page now! And fun tricks! And more screenshots!

Sat, January 5, 2002 9:19 PM
The New Cannonball


Marathon

A blast from the past when Marathon's Story looks at an old usenet post by Jason Jones on saving in PID.

Tito Dal Canton released a new version of his shapes file editor Shapefusion. Marathon: Open Source has more on that.

Fri, January 4, 2002 10:22 PM
Overall Tagline


*Looks at lack of updates*

Hey! I'm just the janitor around here, dammit!

Myth

Myth@Bungie.org makes an update to the Legends & Lore section.

Oni

Fan fiction makes a debut at Oni Central and there is news of various updates on "Oni Payne."

Halo

Details on a chat with Chris Butcher, Mendoza's lonlieness, Truth & Reconciliation updates and more at HBO!

Wed, January 2, 2002 1:02 PM
The Return of the Nose of Dr. Verlucci


"Igor? Igor, where are you?" "Sorry, boss, I was looking for the guy who's supposed to be updating the page while we're on vacation." "Did you find him?" "Sort of... Turns out I forgot to lock Fluffy's cage. He must have been pretty hungry." "Oh, that's just great. How much was left?" "Nothing that could update a web page." "I hope he at least put up a good fight, Fluffy could use the exercize." "I'm sure he did, there were bits all over the place. Oh well, hand me the mop."

Marathon

The haX0ring of Aleph One continues. And there's some new stuff at the Archives.

Myth

Lots and lots of wolfage has poured through Myth@Bungie.org.

Oni

All you forward-looking Mac people can play Oni under OS X now.

Halo

Louis Wu was a bit busy the other day as I repeatedly 0wnX0red him in Halo.