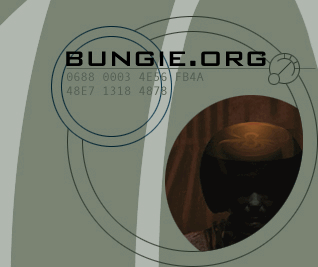 Bungie.org public forums:

Out and about at Bungie.org:

[3815962]



bs | halo | oni | phoenix | ? | marathon | myth | pathways


this sentence is false.

---
January 2003 Archived News
Fri, January 31, 2003 4:38 PM
You see nothing!


Marathon

Reports of Aleph One's death were greatly exaggerated, as a whole bunch of related projects release new milestones.

Not so fast, Hamish! That's not a human throat!

Scenario News has been updated with some story about an email app. Don't believe a word of it. For one thing, it doesn't explain all those sounds I heard through the door over the past month.

Myth

The Myth community is still going strong.

Oni

Oni Central knows that slow and steady wins the race. Well, slowness, steadiness, and fan art.

Halo

He's a simple man, and everyone understands him but his women... Get to know another Bungie guy at Halo.bungie.org.

Wed, January 22, 2003 7:16 PM
Quaternions are fun.


Well, it's neem suspiciously quiet outside HBO for a few months, but that's only because we've been planning something really big. At least, someone's been planning it. Nobody tells me anything, dammit.

Marathon

A MISTAKE? By BUNGIE? Obviously something is horribly wrong here.

Myth

Myth@Bungie.org horns in on HBO's turf with a fan art section of their own.

Oni

Wow, the fan art news is just coming out of the walls today!

Halo

Woohoo! Monty Python! And... fan art. Who didn't see that coming?

Sat, January 18, 2003 3:18 PM
If you can STILL read this, Saf- OK, I'll stop.


Halo

It's as easy as falling off a 'hog!

Tue, January 14, 2003 12:58 AM
If you can still read this, the updated version of Safari also works.


Pathways Into Darkness

Even more secrets bubble to the surface of the bubbling red potion that is Pathways.bungie.org.

Marathon

The Archives get a long-awaited update, with enhanced shapes, massive netpacks, and maps of pain.

A little bird told me there's a doin's a-transpirin' at Marathon Arena. Hard to notice, but them birds have sharp eyes.

Halo

Halo.bungie.org has the results of the Halo 2 Box Art contest. Sadly, the hands-down winner was not part of the contest.

Bungie Sightings

Wed, January 8, 2003 12:55 AM
If you can read this, Safari works.


Pathways Into Darkness

We move closer than ever before to the tru7h that yet lies hidden as the Pathways shapes file is finally hacked. Dark things that have lain buried for nearly a decade are being... awoken.

Marathon

Scenario News is still alive, or will be until the maintainer decides to end it all (and I wouldn't blame him). So now Louis is making me go around gathering all the sharp implements and nailing the windows shut. And it's already too damn hot in here.

Halo

The Halo National Championship finally hits the net at Halo.bungie.org.

Wed, January 1, 2003 8:58 AM
Happy New Year!


From all of us here at BORG, we wish you all a happy and prosperous 2003!!!