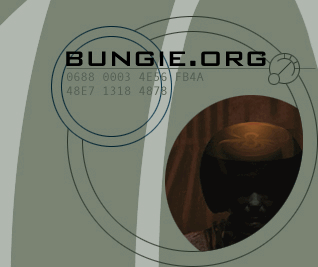 Bungie.org public forums:

Out and about at Bungie.org:

[3815960]



bs | halo | oni | phoenix | ? | marathon | myth | pathways


next stop: 7th floor, ladies Kevlar and combat apparel

---
July 2001 Archived News
Tue, July 31, 2001 8:29 PM
Humans. They're everywhere. Can't stand 'em.


Marathon

Just when exactly does Halo take place? Marathon's Story is on the case.

Aleph One wants your... "input". Get it? Bwahahahahaha! I kill me.

Myth

Deathwhore comes out of the closet, and brings his collection of Bungie goodies with him. Myth@Bungie.org is keeping a close watch on this one.

Halo

Joe's pithy poem
Halo.bungie.org
wants you to read it.

Mon, July 30, 2001 3:55 PM
A little self-criticism is good for the soul.


Marathon

A bunch of lazy bums post an update on the progress of Marathon: Bad Spelling. Can't wait!

Those obsessive idiots at Marathon's Story continue their anniversary journey through the starship Marathon.

Myth

Over at Myth@Bungie.org, a veteran Mythmaster tears through more challenging levels.

Halo

In today's Halo.bungie.org, the Halo SETI Marines make a stand, a Halo developer makes an interactive cutscene, and the Cyborg trades in his assault rifle for a more summer-oriented weapon...

Sat, July 28, 2001 7:59 PM
We have an official color? When did this happen?


Marathon

Map of the Month experiments with time travel as May's map is posted.

Halo

A report from a covert agent who managed to infiltrate Microsoft's testing squad via metal things surfaces on Halo.bungie.org. Along with fan fiction and art and gooey green stuff.

Fri, July 27, 2001 1:51 PM
omg wtf


Marathon

Remember the old days, when Marathon was new? When the levels were only silence and darkness, with Pfhor lurking just beyond? Relive them as Marathon's Story celebrates the -793rd anniversary of the attack on Tau Ceti IV.

Myth

It won't be long now... The floodgates of Mumbo Jumbo's PR have burst and spilled wolfage all over the gaming press. Myth@Bungie.org reports from the front lines. And if you're pining for the return of TFL Bungie.net, they have a story you'll definitely want to check out.

Halo

There's a preview (HALO IS COMING TO THE MAC AND PC) up at PC Zone (HALO IS COMING TO THE MAC AND PC) worth looking at. There's more fan (HALO IS COMING TO THE MAC AND PC) fiction to check out (HALO IS COMING TO THE MAC AND PC). Even a (HALO IS COMING TO THE MAC AND PC) new desktop picture. All this and more at HALOISCOMINGTOTHEMACANDPC.bungie.org.

Wed, July 25, 2001 7:50 AM
Resurrect THIS!


Marathon

Yeah, this press release is on the ScenarioNews page, too... but it's too good to keep quiet.

Marathon: Resurrection Release

July 25th, 2001, Team Unpfhorgiven is pleased to release the first public beta test of its MOD for Unreal Tournament, Marathon: Resurrection. Marathon: Resurrection is based off of the 1994 Mac-only first-person shooter classic, Marathon, developed by Bungie Software, Inc. Marathon: Resurrection recreates the Marathon environment using the capabilities of Unreal Tournament's graphics engine to the fullest, complete with a full, 3D world and fully-animated 3D weapons. Marathon physics and gameplay have been recreated and enhanced where the team thought that the result would be improved gameplay. Marathon: Resurrection is now available for download, free of cost, from the evihcra.com mirrors. More mirrors will follow in approximately one week. The public beta is multi-player only. Single player is present, but it is not meant to be playable at this stage. Team Unpfhorgiven is currently working on a single-player MOD, and it will be released in the future.

Marathon: Resurrection is the result of over a year-and-a-half's hard work, and Team Unpfhorgiven is extremely pleased with the result. More information on Marathon and its sequels, Marathon 2: Durandal and Marathon Infinity, can be found at http://marathon.bungie.org/story. Visit the Marathon: Resurrection website at http://resurrection.bungie.org for updates to Marathon: Resurrection.

Lt. Et'he
Art Director
Marathon: Resurrection
http://resurrection.bungie.org

66 megs of pure carnage goodness. Download it today.

Tue, July 24, 2001 10:05 PM
...and .001% Bill.


The Bungie.org forums are being worked over and given some nice new hardware; unfortunately this results in some of the forums being unreachable by some of their readers for a short time. The payoff, however, will be increased performance once access returns. We apologize for any distress the absence of the semicoherent rantings of random community members may cause you.

Marathon

It's a bird! It's a plane! It's... Marty O'Donnell? Wait, isn't it? Marathon's Story knows...

The l33t MacX0r HaX0rs at Marathon Open Source show off their tools. Don't say it! Just don't.

Halo

Fan fiction, fan fiction. You want it, Halo.bungie.org's got 147 pieces. You got your aircraft carriers, your loss of humanity, your Philadelphia experiments, you name it. And there's a bit about domain names, too!

Mon, July 23, 2001 8:30 PM
I wish that darn cat would tell me something useful for once.


Marathon

Marathon's Story investigates what transpired that Bungie Day so many years past... On second thought, it seems you don't wanna know.

"IT'S ALIVE! Fetch me a brain!" "What's alive, boss?" "Gates of Fenris, Igor! I read about it on Scenario Ne-" "Boss, we already used this joke last week!" "Igor, why don't you ever tell me these things?"

Myth

The Myth@Bungie.org staff have returned from Macworld NY and made a complete recovery (mostly), and they're back to the usual wolfage tracking and preview previewing.

Halo

Halo.bungie.org has some neat new images, and a tidbit from Matt Soell regarding the ultra-mysterious Phoenix. My guess is, that's what Konoko just said to Soulblighter on the Bungie.org T-Shirt.

Sat, July 21, 2001 5:00 AM
Sleep is for the weak.


Marathon

Marathon: Resurrection posts some more mysterious terminals. T-5? I was sure we had more time than that...

More wacky episodes of World's Wildest Webcam Videos are posted at Marathon's Story.

Myth

Myth@bungie.org has the lowdown on a new Myth III preview (including new character animation movies and screenshots!) - check it out!

Halo

There are lots of ways for things to explode, and this week's Halo Update at Halo.bungie.org covers them all: Overcharge them, overload them, throw grenades at them, it's all in there.

Bungie Sightings

Bungie Sightings posts a ton of pictures from all the fun stuff that went down in the Big Apple.

Fri, July 20, 2001 10:53 AM
Do you want any chicken?


Marathon

Marathon: Resurrection kicks it up a notch (BAM!) with mysterious messages. Hmm...



Myth

Ever wanted to break into a community leader's house and poke through his closet? Myth@Bungie.org gives you the same experience, minus the burns and attack dogs.

Halo

Oh my god... They finally did it. They really crossed the line this time. Halo.bungie.org has a report from the front lines of the game design war. And a large Halo preview coming soon.

Bungie Sightings

The B.org staff hooked up with some Clan Plaid doodz and went downtown for after-hours fun. Bungie Sightings has the pics to prove it.

Thu, July 19, 2001 11:04 AM
Where's my Apple Handheld, damn it?!


Marathon

Dur-dur-dur-dur-an-dal.
Dur-dur-dur-dur-an-dal.
He ain't no slouch, pal

(Repeat Chorus 11 Times, changing key with each chorus)

Myth

"IT'S ALIVE! Fetch me a brain!" "What's alive, boss?" "The Myth III site, Igor! I read about it on Myth@Bungie.org! Now where's that brain?!"

Halo

Covenant trooper needs loving home. Pink eyes, plastic body, housebroken, very affectionate. Has had all shots, leash and pedigree included. If you would like a pet that loves you back, contact Halo.bungie.org.

Bungie Sightings

Bungie Sightings posts pics of some of the fun-loving B.org staff. What that G4 was doing in the pool hall we'll never know.

Tue, July 17, 2001 1:15 PM
T - 18 hours...


Macworld Expo is just around the corner, and Bungie.org will be attending as usual. You can recognize many of us from the pictures already posted around this site from other events. Feel free to say hi on the show floor!

But whatever you do, don't get into the same car as Claude.

Marathon

Hamish succumbs to the alien viruses but manages to post the mysterious lost episodes of World's Wildest Webcam Videos at Marathon's Story.

Orbital Arm continues its renovations. Please excuse our dust.

Marathon: Resurrection has a secret.

Halo

Halo.bungie.org tracks the Halo SETI Marines as they prepare to ambush the Austin Shaggers. And there's more poetry!

Mon, July 16, 2001 9:26 AM
Woohoo! MacWorld Week!


Marathon

The Marathon Spoiler Guide gets another entry - Trojan joins the ranks of the online-cheatable. Check the Third Party Scenarios page.

The Marathon Resurrection team is asking story-related poll questions... does this mean that the focus is on Marathon's story? We'll have to wait and see...

Oni

Woohoo! After 2 months of silence, Oni Central is back - with a new look and two news posts in as many days! The Purple One is alive!

Halo

Playing with that Halo Updates database can be dangerous to your eyes. Just a friendly warning from the HBO crew. And what's this... the Halo SETI Marines have a new flagbearer! Check it out.

Sat, July 14, 2001 4:20 PM
All hail Discordia.


Marathon

Marathon's Story investigates the destructive power of monofilament wire, and the wholesale slaughter of bobs via sniper rifle. Kids these days. Why, back in my day, we didn't have no stinkin' rifles. I'd have to kill a hundred bobs with just my fist! Uphill in the snow both ways!

Decapitated models and the applications of LSD to texture design are the focus of Scenario News today.



Halo

Marcus has been pretty busy lately. The Halo Update at Halo.bungie.org reports on all she's been up to.

Fri, July 13, 2001 1:18 PM
They can KIK UR CITYS @$$ MB


Marathon

The second summer season of World's Wildest Webcam Videos is now broadcasting at Marathon's Story.

Although Jesse Simko continus to elude our agents, the Aleph One effort continues, throwing up a new build with some major bug fixes.

Seen any cool Marathon scenarios you couldn't play on your PC? Orbital Arm's porting department wants to hear from you.

Myth

Even Apple themselves enjoy a good bit of wolfage from time to time, as Myth@Bungie.org will tell you.

Halo

Halo.bungie.org posts some... poetry? At least it's not a haiku. And it looks like some games are so popular they're even played on alien planets hundreds of years in the future. Why these aliens speak German we'll never know.

Bungie Sightings

There sure are a lot of hungry Bungie fans out there: Bungie Munchies is full, and sign-ups are no longer being accepted. But, as Hamish reminds us, there's plenty of other stuff to do and see in the Big Apple.

Thu, July 12, 2001 2:19 PM
We are the Seventh Spirit


Marathon

The Bernie Friedin conspiracy is uncovered at last on Marathon's Story. Now all I need is a map editor for my Marathon blamma...

Orbital Arm throws up some new maps for Marathoners of the Windows persuasion.

Jesse Simko has escaped from his containment facility; we believe he is heading for the coast. If you should encounter him, avoid eye contact and notify Bungie.org immediately. Recovery teams are standing by.

Myth

A new filmz mb has been posted at Myth@Bungie.org.

Oni

Halo

There's more than enough fan fiction to go around at Halo.bungie.org. More than enough coffee, too, even though Lorraine Reyes seems to be taking more than her share.

Mon, July 9, 2001 8:16 PM
The Shirts, The Shirts...


We got yer shirt, right here...
Ever felt like you weren't able to show your enthusiasm for b.org intensely enough? Tired of doing laundry, but have no more clean shirts? Wish you had something soft to clean up what the cat just upchucked all over your bed? Well, look no further - the Official Bungie.org T-Shirt has just arrived. It would never have been possible without the spectacular artistic abilities of Ian McConville (of RED and MacHall fame), or the ever-cool-headed efficiency of Miguel 'Freewill' Chavez (who proved he really DOES know how to sling that BS)... but the ultimate beneficiary is you, our visitors... who have a chance to grab the coolest piece of fabric this side of the shroud of Turin. (And if you're gonna be at the Bungie Munchies get-together... you can pick one up with cash, and avoid the shipping charge!) Buy 3 today.

Mon, July 9, 2001 2:21 PM
It's pronounced "nuke-u-ler".


Marathon

The ShadowWraith's Story page still wants to know who Bernie Friedin is. Also of interest are the monomolecular knives.

Myth

"Oh, the humanity!", cries Myth@Bungie.org, as hideous tragedy strikes the entertainment industry. (And before you ask, no, Tinseltown has not been nuked by crazed screenwriters. Besides, that wouldn't be a tragedy.)

Halo

A whole lot of new fan fiction has been posted at Halo.bungie.org, along with a report of the Halo SETI Marines' maneuvers and an interview with Calvin Cooli-uh, Louis Wu.

Bungie Sightings

Mmm... food... ::drool::

Huh? Whuzzat? Oh, right! Bungie Sightings has an online sign-up form for the upcoming Bungie Munchies event at Macworld Expo. Space is tight, so get in quickly!


Mmm... food...

Sat, July 7, 2001 2:43 PM
Happy Bungie Day!


Ladies and gentlemen, there's a new community site on the scene... Please put your hands together for Subnova, an "account based site for the fans of great companies like Bungie".

Marathon

Little monsters invade Bungie at Marathon's Story in a surprising blast from the past.

Scenario News performs its court-ordered community service by reminding us that death is only funny sometimes.

Halo

Halo.bungie.org warns you to avoid the horror of bandwidth-capped mirrors, tracks down Matt's update, and infects you with Halo knowledge.

Fri, July 6, 2001 3:41 PM
Around the World in 77 Days


Bungie wants to know where you live!!! Well, where you're close to. Want a nearby Fanfest? Head on over to Bungie.net and vote!

Marathon

How much does it cost to fly to Orlando? How about Las Vegas? What does this have to do with Marathon? Marathon's Story has the details.

Myth

A new site emerges from the shadows, and Myth@Bungie.org is all over it.

Halo

There's always something to do on Halo.bungie.org. Listen to classical music, dance through timeless realms, get shot by Destiny, we've got it all.

Thu, July 5, 2001 4:13 PM
No, I'm pretty sure it was "kick"...


The Bungie.org forum server will be down for maintenance tonight. We apologize for the inconvenience.

Marathon

The resurrection of Orbital Arm continues.

Halo

More movie mirrors pop up, the fan community starts interviewing itself, and the guzzling of intestines gives way to the breathing of plants. Another fine day at Halo.bungie.org!

Wed, July 4, 2001 3:50 PM
July 4 is... Independence Day


Marathon

Marathon's Story broadcasts another episode of World's Wildest Webcam Videos, with special guest host Richard Nixon.

The Archives throws up a boatload of new maps.

Halo

Mirror, mirror, on the 'net, where's that movie I wanna get? Halo.bungie.org has the list.

Tue, July 3, 2001 4:31 PM
On July 3, They Attack


Marathon

Marathon's Story goes back to the old days, when Bungie was selling copies of Pathways Into Darkness out of The Man's basement. Good times, those... ::sigh::

Halo

A new Halo movie crosses the Atlantic, shows up at Halo.bungie.org, and totally kills our bandwidth for a few hours. Then some some nice people pitch in to help spread it around. Mmm... rooster aliens...

Mon, July 2, 2001 2:25 PM
On July 2, They Arrive


In a strangely hidden message, our sister site Rampancy.net announces a shift in focus. Best of luck to them in all their endeavors.

Marathon

Marathon's Story begins a new month of World's Wildest Webcam Videos. Seems that all the recent fuss over Bungie-related pants has come to the attention of the fashion industry.

Myth

The big boys of computer gaming journalism come up with some wolfage of their own. Myth@Bungie.org has the story.

Halo

This just in: Halo's competitors don't like Halo. Meanwhile, the Halo SETI Marines face unexpected resistance, and the Cyborg beats up Alec Baldwin. All this and more at Halo.bungie.org!

Bungie Sightings

Start spreading the news... Bungie Sightings posts details of the upcoming Macworld Expo New York 2001 shindig. So that's what we needed Italy for! Looks like there won't be a LAN party though. Lucky for them, otherwise Mark Levin would have to kick their arses.

Sun, July 1, 2001 1:44 PM
Our love is real but we are not.


Marathon

Hamish Sinclair returns from a chemically induced haze and updates Marathon's Story.

Flashback Week draws to a stunning conclusion as Orbital Arm lives again. One day all the Windows world will know the greatness of Marathon.

Halo

There's still some expert commentary dripping out of the aging carcass of E3. Halo.bungie.org has the story. Also revealed, at last, the secret of the Marine's time-jumping powers. Man, I bet he gets a killer wedgie when that happens.