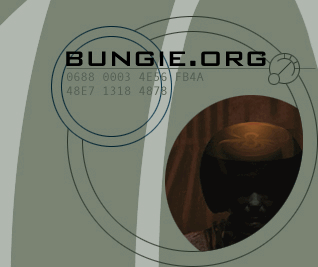 Bungie.org public forums:

Out and about at Bungie.org:

[3815963]



bs | halo | oni | phoenix | ? | marathon | myth | pathways


proud sponsors of realistically proportioned female heroines

---
July 2002 Archived News
Tue, July 30, 2002 10:15 PM
This is the voice of Fate...


Marathon

The Archives just got a fresh dose of Marathony goodness, with new maps and texture packs to play with.

Myth

The equivalent of the Archives shows signs of something that might be life, but we're not completely sure yet. Myth@Bungie.org has the details.

Halo

They say the best humor is funny because it's true. Meanwhile, the fan fiction keeps rolling in, the tricks queue is unclogged again (remind me to get that shovel back one of these days), and the bandwidth drought comes to an end. All this and more at Halo.bungie.org!

Bungie Sightings

Bungie Sightings has the dirt on what went down at the MWNY Halo Lanfest.

Sat, July 27, 2002 1:27 PM
No, pi are round...


Marathon

What does pi have to do with Marathon's Story? A surprising amount. And there's more Halo stuff too. Meanwhile, while no one was looking, someone broke in and updated Map of the Month. We're cooperating with Interpol on this one.

Myth

Myth@Bungie.org is still tracking those easter eggs and fan fiction NORAD spotted earlier this week.

Halo

"Never been better... you can't imagine the wealth of information. Knowledge... so much... so fast. It's- AAAAAAH! LOOK OUT! *SPLAT*"

Sun, July 21, 2002 8:18 PM
I'm Blue Are You?


Right when Macworld throws us all off schedule, two really big Bungie announcements come down the pipe...

Firstly, the Seventh Column site now provides forums for the chapters.

Secondly, and certainly not least, Bungie will be saying goodbye to The Man himself.

Marathon

The smoking of crack continues on Scenario News as people finally start designing scenarios around Aleph One. Meanwhile, secrets buried for seven yearscome to light on Marathon's Story, along with guns. Lots of guns.

Myth

Apparently Myth Master Central is still alive too, because it just got updated on Myth@Bungie.org.

Halo

The HBO crew has returned from NYC and finally cleared out all the fan fiction and movies that had gathered during their absence. So that's where the shovel went. However, when no one was looking, Louis Wu escaped through the window someone left open. Good thing I remember to feed the dogs tonight.

Tue, July 16, 2002 10:12 PM
Mmm... smog


Marathon

Marathon's Story still has a shotgun, and you still still ain't got one. Meanwhile, the haX0ring of Aleph One continues with new tutorials and stuff.

Myth

Halo

Halo may have been out for 9 months now, but that doesn't stop the reviews from coming in. Or the fan fiction. Or the movies. Or the trolls.

Bungie Sightings

At (very) long last, Bungie Sightings relaunches with a newly retro design (heh) and news of the Macworld New York fan event!


Mon, July 8, 2002 2:31 PM
So I didn't update on Bungie Day. Sue me.


Marathon

If things aren't working around Marathon's Story, it's because Hamish is laughing so hard. Meanwhile, mysterious things are happening at Marathon Resurrection. Hmm...

Halo

A man's Halo is his castle, at least according to Robert Redford. Good thing they didn't have rocket launchers in the middle ages. Meanwhile, the Halo.bungie.orgcrew exercises their freedom to kill and it turns out the Halo Soundtrack isn't all fun and games. Wait, what? Never mind.

Sat, July 6, 2002 11:06 AM
So that's what those metal canisters are for...


Myth

Myth@Bungie.org starts up a new eBay tracking section. Well, will soon. Please excuse our dust.

Halo

The fan fiction keeps rolling in, and Halo.bungie.org keeps right on posting it.

Wed, July 3, 2002 1:58 AM
I am not a gun.


Marathon

Aleph One development gets a swift kick in the pants with the release of Pfhorge, a map editor for Mac OS X.

Myth

The Myth community gets a swift kick in the pants from PlayMyth with updated scoring rules. And there's more stuff on eBay. Myth@Bungie.org has the story.

Halo

The Halo tricks community gets a swift kick in the pants with new movies from leading researchers, as well as fan fiction and movies and something about gnomes. But whatever. All this and more at Halo.bungie.org!