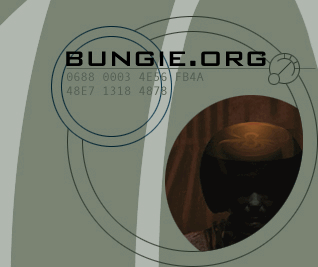 Bungie.org public forums:

Out and about at Bungie.org:

[3815938]



bs | halo | oni | phoenix | ? | marathon | myth | pathways


in the next world war, in a jackknifed juggernaut

---
June 2001 Archived News
Fri, June 29, 2001 1:40 PM
YEAH


Pathways Into Darkness

The Pathways page investigates exploding monsters, as the infra-red goggle conspiracy invades Bungie's old CD publishing department.

Myth

Flashback Week continues as a piece of Myth history surfaces at Myth@Bungie.org. What was Chris Butcher up to before he was Mighty?

Halo

A Halo movie? It's so crazy it just might work! Halo.bungie.org has the details.

It's official: Bungie employees really do wear pants. Don't let anyone convince you otherwise. You can do some amazing things with Photoshop.

Thu, June 28, 2001 9:30 PM
Now rated R for violence. Please have your ID ready.


Pathways Into Darkness

IT'S ALIVE! The Pathways site has been updated several days in a row now. Beware of low-flying pigs. What could have caused this spasm of activity? Loren Petrich's investigation of the Shapes file, for one. And hidden monsters. But we already had plenty of those...

Marathon

Marathon's Story shocks your system with commentary on another of the great classic games.

Gold mines of stuff at Project Orphanage. If you ever need top-quality previously owned Marathon content, you know where to go.

The views of Scenario News regarding the treatment of cats do not necessarily reflect the views and opinions of this website.

Myth

Myth@Bungie.org reports on a new TC based on a well known series of sci-fi LOOK OUT IT'S RIGHT BEHIND YOU ::HISSSS:: ::CHOMP:: AIEEEEEEE

Halo

Today on Halo.bungie.org we have new fanart and expert commentary on gameplay, along with the usual alien creatures, Bungie-endorsed slavery, and guzzling of intestines.

Tue, June 26, 2001 5:21 PM
I'm so cold, so cold...


Pathways Into Darkness

Ye gods! The Pathways page has been updated! After all these years, the infra-red goggle conspiracy has emerged from the shadows.

Marathon

It must be Annual Update Day: A long-silent scenario speaks on Scenario News for the first time in... uh... a while.

The Story Page continues their ongoing webcam video marathon (heh).



Myth

Myth@Bungie.org covers boths ends of Myth history: On the one hand we've got new maps for Myth: TFL, and on the other we have a nice chunk of wolfage in the form of a preview chock-full of info and screenshots. Mi Tr0 hammerX0r u mb.

Halo

I knew it would get to him someday. All the lamers, all the whining, all the misinformation... Sooner or later a man's gonna crack. Halo.bungie.org has the tragic story.

Mon, June 25, 2001 3:03 PM
Hot Needle of Inquiry


Marathon

The latest episode of World's Wildest Webcam Videos is now broadcasting at Marathon's Story.

Marathon Open Source investigates the haX0ring of Deitrich Epp. Work on Aleph One never stops.

Unfit to survive Origin of Species? Stranded midstream in Rubicon? The Marathon Spoiler Guide can lend a helping hand.

Myth

After a record 168 hours without sleep, our man Forrest updates Myth@Bungie.org with news on his delusions. Smile, nod, call the seven men in overcoats.

Halo

The SETI@Home server comes back from la-la land and Halo.bungie.org re-establishes contact with their strike team. What have they been up to?

Sat, June 23, 2001 1:05 PM
Ptavvs. They're everywhere. Can't stand 'em.


Marathon

There's a new scenario on the horizon... A scenario based on the epic saga of... Clerks.

Get resurrected with new art from Marathon: Resurrection.

Halo

The Halo Update has been found, complete with 7-gauge shotguns and a guest appearance by TAFKATMCBBNKSACB.

Despite what the update says, certain Bungie people appear to have no objection to sharing an X-box...

Thu, June 21, 2001 2:40 PM
"Move the mouse! Now click it! CLICK IT! NO, YOU FOOL!!!"


Marathon

The denizens of the Story Forum are busily tearing into the juicy new stuff that appeared recently. As much of it as they can read, at least.

At Scenario News you have a chance to ki-I mean, play, Jar Jar Binks. Head on over and vote!

Myth

Something Italian is going on at Myth@Bungie.org.

Halo

A glimpse into the minds of the Halo team at Halo.bungie.org. And more random acts of modeling. And stretching jelly-like masses. Yeah, you heard me.

Tue, June 19, 2001 11:29 PM
ARRIVAL.BUNGIE.ORG is OPEN!


The Glyphs are solved!

What happens when you put up a helluva puzzle... one that is several layers deep, ingeniously crafted, and give folks hints along the way on how to solve it that are also riddle-like in their form?

You get close to 3000 posts over the span of a few weeks to tackle what was a dormant but very much worthy exercise in group problem solving.

Head on over to arrival.bungie.org, enter in ARCHIVE and OUTLINE for the name and password respectively, and check out all the very cool Marathon development pages/ads/bumper stickers (!) that have never been shown publically until now!

Tue, June 19, 2001 4:05 AM
They say it's your birthday...


One year ago today, Bungie announced that they had been acquired by Microsoft, and were changing their name from Bungie Software Products Corporation to Bungie Studios. In honor of that shortening (which saved us 22 bytes of net bandwidth on every page we bring you), we'd like to wish Bungie Studios a happy first birthday. (And a happy 20th to Harry Al-Shakarchi, maintainer of Oni Central, as well!

Marathon

Time dilation theories, and glyph clues... the Marathon's Story page continues its quest for truth, justice, and fat-free chee-tos.

A new droid model for a Star Wars conversion... and a shining example of what happens when you put too much glue in a paper bag. Check out the Scenario News page for details.

Don't forget - our newly-redesigned Marathon portal covers all this stuff.

Myth

Not that we like showing up our site maintainers, but slackers can't be choosers... or something. The latest Myth news seems to be an interview with Tim Beggs, producer of Myth II: Green Berets - it popped up a couple of days ago on Voodoo Extreme. Interesting read.

Oni

An apology to the masses on Oni Central - don't worry, the site's not dead.

Halo

Oodles of new 3d models, an interview with Ed Fries, and broken links at bungie.com (say it ain't so!) fill the news over at HBO. Some interesting discussions on their forum, as well...

Bungie Sightings

The Fanfest Forum continues to bubble with life, following a new clue from Chelsea Bridges recently. Will you be the first to solve the Mystery of the Seven Dials?

Sun, June 17, 2001 10:03 PM
Happy Father's Day... to YOUR DAD


Marathon

Across the Atlantic, Marathon's Story spots some commentary on Bungie storylines. It's good to be "naff", right?

Black hulks. A Good Day to Die. Man, that takes me back. Why, I remember- Oh, right, the news. The Scenario News.

Fri, June 15, 2001 3:37 PM
It's Marathon for Father's Day!


It's not often there are multiple news posts in a day... but today is special. Since we opened the doors in January, 1999, the Marathon portal at bungie.org has been a collection of links to various bungie.org Marathon sites. Utilitarian... but not ideal. Finally, 2.5 years later, Nathan Kline has redesigned the portal for us, providing space for not only locally-hosted sites, but off-site Marathon links, Marathon-related forums, and most importantly, a news section. Now we're able to post news about ALL Marathon activity, not just that originating at Bungie.org! If you have news you'd like us to post (a new Marathon website, project news that doesn't fit elsewhere, etc), send it to us at marathon@bungie.org. Once again, thanks to Nathan for the design, and enjoy the new resources!

Marathon

They couldn't resist - the Marathon Resurrection team put out another 7 screens, and this time sent 'em over to MacAddict. Sounds like release is just days away! Go check out the screens, and then see if there's anything new at the site!

Oni

For all those messing around with Oni in order to create cool new screenshots for the next OniShots contest, check out the Oni Save Game Editor - it's been updated to version 1.4, and is now compatible with all computer-based versions (mac and pc, all nations). It has a slew of new options, like starting at places you haven't been yet, using the Fireworks gun, and more. Grab your copy today!

Fri, June 15, 2001 12:40 PM
"A-well-a don't you know about the bird? / Well, everybody knows that the bird is the word!"


Chelsea Bridge strikes again on the FanFest Forum. Birds? Clocks? Soffish?

Marathon

If the latest reality TV shows are boring, Marathon's Story has the next installment of World's Wildest Webcam Videos. Meanwhile, Scenario News continues their coverage of the exciting and semicoherent world of Marathon development and cat harassing. Speaking of which, those crazy cats at Marathon Open Source have some news on Aleph One's progress.

Myth

Myth@Bungie.org has your daily dose of wolfage, with a new interview and some new screenshots they found.

Halo

Halo.bungie.org finds a new look at Halo at E3, as well as some new Halo videos that might prove somewhat difficult to get.

Wed, June 13, 2001 10:20 AM
Arrived today. Made very welcome.


The first stage of the Glyphs has been solved! And then solved some more, for good measure! As for the second stage... Where's Chelsea when you need her?

Tue, June 12, 2001 1:32 PM
Clues? You don't need no steenkin' clues!


Down to one... down to one. Check the Bungie Sightings forum or Glyph Central for the latest on the Glyph puzzle! SETI's got nothing on this crowd... distributed computing at its best!

Marathon

Didn't get enough Marathon Resurrection at Rampancy.net yesterday? There's another 7 shots (all familiar, this time) at Inside Mac Games - and these are said to be the last promotional shots before release. Does that mean release is coming up? ooohh...

The Marathon scenario scene is hopping, as evidenced by the frequent updates to the Scenario News page... though not all scenario news makes complete sense. Looks like someone's getting feisty over there!

UESC? USEC? We could USE a CLUE. Stop by the Marathon's Story page for details on all the ins and outs of planetary governing bodies.

A new carbon bulid of Aleph One is available over at Marathon Open Source. It's still not perfect... but it's getting there. You'll also find additions to the Texture Enhancement Project - go check it out!

Myth

Forrest continues his mad work spree over at Myth@Bungie.org - it's like he wants it to look good, or something. (And it does, it does...)

Oni

OniShots makes up for a month of laziness with a massive update - new pics in most categories, plus more info about another contest. Go catch up on what you've missed!

Halo

Overhauled websites, Counterstrike infiltration, and fun with the Bungie Support Database - HBO has all your (almost) Halo-related news!

Mon, June 11, 2001 10:15 PM
...and I gotta Chelsea Bridge to sell yah...


_CCT_LW! Just two Glyphs left. What could it possibly mean? One way to find out...

Marathon

Scholars, linguists, philosophers... private eyes?! The readers of Marathon's Story always crack the case. Bring on the vigilante gaming justice!

Our friends at Rampancy.net have a treat for those of the UTin' persuasion: Brand-SPNKing-new screenshots of Marathon Resurrection.

It's been six years, but the maps continue to pour into the The Archives. There's always something new to satisfy those Marathon cravings.

Myth

Fresh wolfage, hot off the presses, at Myth@Bungie.org. They found an interview with Myth III programming god Andrew Meggs, and some juicy new screenshots to boot!

Sun, June 10, 2001 5:16 PM
Marathon, baby...


This is a special Marathon edition of the front page update. (Not that Marathon is ignored here at bungie.org... far from it. It's just that sometimes, we miss a site or three.)

Marathon

The Archives received a large influx of maps yesterday - a little something for everyone. Stop by and pick up some carnage today!

The Orphanage has been updated for the second time in a month (which also happens to qualify for the second time in six months, I think) - a huge collection from a sadly defunct scenario, and more audio from the Rubicon guys. If you're building a scenario, and are short some pieces... stop by the bungie.org scrapyard and pick up a fender or two!

The Map of the Month page, which had also languished for quite some time, got a SECOND update in as many days - April is now listed. Geez... who knows, we might even get caught up here!

The Scenario News page got an update a few days ago, but we neglected to mention it - one very nasty accident, an add-on pack for Rubicon, and a ready-to-release scenario chapter... the page is humming. See what's up!

Orbital Arm is still dormant. Anyone got a cattle prod... we can see if we can wake these guys up!

The Open Source project continues to barrel along its path towards Marathon Nirvana - there's talk of overhauling the Marathon 1 map format, more discussion about netgames, and signs that folks are getting ready for 3D model compatibility... dig up all the gossip over at the Open Source page.

Over at the Big House, Muerte Machine has been moving along, as evidenced by its development log. An awful lot of work seems to be going into the bathroom... one hopes there's not too much real-world research to back it up.

Marathon Resurrection, our resident Marathon-to-UT project, has put up a links page and a new poll - your choice of ultra, on a hard roll.

The Recruitment page is hopping... at least in terms of folks LOOKING for help. If you're interested in getting involved in the development of a Marathon scenario... stop by, read some of the ads, and JOIN A PROJECT!

Sun, June 10, 2001 1:20 PM
C+T+L+W = 58, 5+8 = 13, 1+3 = 4. Damn!


More and more Glyphs have fallen to our combined intellect. Only three left! Who will discover the secret of Chelsea Bridge? Will it be YOU?

Marathon

Marines are from Mars, aliens are from Pluto. Or, they used to be. What does this have to do with anything? Marathon's Story knows...

Myth

Myth@Bungie.org gets some "Insanely Huge Internal Updates". I mean, like, wow. That's a lot.

Or, if you'd prefer to play myth than study it, one of the most ambitious Myth projects of all time has just been released.

Halo

You've got the questions and Matt Soell's got the answers. Check it out at Halo.bungie.org

Fri, June 8, 2001 11:53 AM
A one, and a two...


Big progress in the Glyph effort as the mystery of Glyph 6 is solved. "Don't sleep in the subway..."

Just a quick rundown: If you want to get involved, Glyph activity centers around the FanFest Forum, Glyph Central, and Marathon's Story.

Marathon

Marathon's Story looks at the terrible secret of space. Or was that the horrible secret of Halo? Plus, a chance to hear the voice of Matt Soell.

Halo

Yes! Halo is coming out for PC! Really! Keep that in mind when you read some new magazine scans at Halo.bungie.org. And while you're there, check out some great new fan art!

Wed, June 6, 2001 8:04 PM
Hey, anyone remember the game Corridor Seven?


Glyph Central is hot on the trail of Chelsea Bridge and her tubulae. Tubulae? What tubulae? And who is the mysterious Elle?

Myth

The Cartographers of Myth have been busy; Myth@Bungie.org brings news of their latest project.

Halo

It's not very often that a wild X-box can survive in captivity, but Halo.bungie.org has some photos of one living at Bungie Studios. It looks nice and frisky, I guess they're taking good care of it.

Mon, June 4, 2001 8:35 PM
Buddy, can ya spare a website?


And they just keep it coming... Marathon Resurrection puts up ANOTHER 8 screens for your enjoyment. Looks like they're getting into net play... And it's interesting, but I don't recognize most of the locations. Maps, anyone? Anyway, check 'em out - these guys are on a roll!



Help Needed

We just got word from the Marathon Rubicon Team that their web host is closing up shop. They need a new home... and they need it soon. Anyone with a small corner of a web server they can donate to this worthy cause... drop Scott Brown, project organizer, a note. (In case you're worried about the overhead, they've been eating up about 6 gigs a month in transfers.)

Marathon

The Marathon's Story page (and its forum) has been swamped with Glyph analysis... but today, there's a nice, off-topic note from Bungie's Matt Soell. Let's never forget the power of numbers...

Looks like the Map of the Month page has been updated... a winner for the month of... MARCH? Wow. Good choice, though... go read about it!

A quick runthrough on recent changes over at some Big House hosted sites:

The Classified 19 has a newly rewritten plot up, and beta testing starts soon.
Raul Bonilla has posted a status report (and an interesting glimpse into the birth of the M1 project) over at the M1 to A1 site.

There are other sites with updates in the past month, but we've covered them on the Scenario News page - if we told you everything here, you'd never read that.

Don't forget the Hosted Site info above, as well as the plea for a new home for Rubicon!

Myth

A new map is close to... beta. Okay, it's not earthshaking, but if it's happening in the Myth world, the Myth team is keeping up on it. Stop by and take a look!

Halo

New sites, more reviews (positive, this time), sightings in newspapers... and a fully updated movies page; the HBO boys are rarin' to serve you.

Bungie Sightings

Tremendous activity on the newly-remodeled Glyph page at Bungie Sightings - do YOU have a theory about one or another of those images? Stop by the forum and make your voice heard!

Sun, June 3, 2001 11:06 AM
Doze Mayans are gunna pay.


Work on the Seven Glyphs never stops. Mmm... pi.

Halo

Oh my god, there's a new Halo video!!! And it's... in Germany. Well, I'm sure we'll see it sooner or later.

Sat, June 2, 2001 5:53 PM
Time for some birthday running punches.


Marathon

An important public service announcement has been posted on Marathon Open Source. But on a lighter note, the creator of an Aleph One-compatible map editor has sent in an update. Check it out!. Of course, good old Forge is still being put to good use, as evidenced by the busy updating of Scenario News.

Myth

The stalking of Andrew Meggs continues at Myth@Bungie.org. Or, it would have continued, without those meddling cops. Once we freed the crew, what did they do but go and update their FAQ! Some people just never learn.

Halo

Halo goes global, spotted in Germany, and on the BBC. Modeling of guns from Halo becomes a national sport. And the weekly Halo Update has arrived. All this and more at Halo.bungie.org! Now with extra geezer jokes!