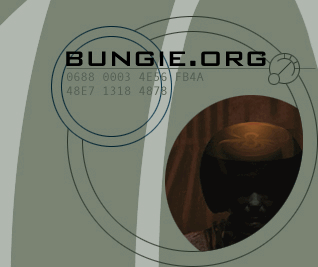 Bungie.org public forums:

Out and about at Bungie.org:

[3815939]



bs | halo | oni | phoenix | ? | marathon | myth | pathways


another one bites the dust

---
June 2002 Archived News
Thu, June 27, 2002 7:51 PM
I pledge allegiance to Queen Frag, and her mighty State of Hysteria...


Marathon

There's Marathoners in Australia, mate! And they're holding a fan gathering, mate! Head on over and sign up, mate! Meanwhile, Hamish Sinclair has been returned and is busily catching up on the Story Forum. There's lots of new stuff to play with at the Archives. And what's this? A mysterious message on the Forum? Crikey!

Myth

GameRanger kicks it old sk00l as support for Myth: The Fallen Lords finally sneaks in. And the Bungie Ebay Watch continues. all this and more at Myth@Bungie.org!

Halo

The Halo in the system goes round and round, round and round, round and round... OK, I'll stop, you can put that down now. We need to save that ammo for Psyrixx anyway. In other news, Halo.bungie.org finds fan art, fan movies, musical outtakes, and some completely insane Xbox players with cars.

Tue, June 25, 2002 2:21 PM
Hmm... so that's where they went.


Marathon

The haX0ring of Aleph One is still continuing, thanks to new Pfhortan commands and a new map editor.

Myth

The sellX0ring of myth stuff on Ebay continues as Myth@Bungie.org keeps up the auction watch.

Halo

Has your Halo addiction turned you into a sad, lonely hermit? Great, join the club! But if that's not the life for you, Halo.bungie.org has the way out. Now where's that 12-step Marathon program...

Sun, June 23, 2002 2:26 AM
A tail? Really?


Marathon

Lots of new stuff hits the Archives as Claude finally gets around to unclogging the queue. Good thing too, it was starting to smell funny.

Myth

The Myth Ebay Watch continues at Myth@Bungie.org.

Halo

"Where does he get those wonderful toys?" ::kicks the museum door open:: "Get in the car!" "Which car?"

Wed, June 19, 2002 10:49 PM
Two years now...


Marathon

Hamish has escaped again, and Marathon's Story updates are on hold. Don't believe that line about "fishing" for a moment.

Scenario News gives us another update on the wild world of Marathon authoring.

Myth

Myth@Bungie.org is taking advantage of Hamish's vacation to muscle in on the Bungie Ebay racket. Also, in case you didn't know, dwarven bones are tasty crunchy.

Oni

Oni Central kicks it into high gear with two updates in a row (they were even faster than me. dammit!). Having trouble playing Oni under Mac OS X?

Halo

The Halo Soundtrack hits the web with a bang as reviews and praise pour onto Marty O'Donnell. Meanwhile, OS X users finally get a chance to play Halo on the 'net, OXM UK posts some crack-addled speculation, and Rob and Lorraine McLees give a whole new meaning to the term "Halo Babies"...

Sun, June 16, 2002 11:36 AM
Hey, where's the Dr. Frankenstein joke?


Marathon

Is that a SPNKR in your pocket or are you just happy to see me? Marathon's Story asks the tough questions. And the haX0ring of Aleph One continues.

Myth

The Myth community is on the way back up with messages boards, classified ads, and lots of other fun stuff. Check it out at Myth@Bungie.org!

Oni

Yes, people are still playing Oni, as the recent Oni Central update proves.

Halo

Videos, fan fiction, fathers, interviews, and more are at Halo.bungie.org, as usual.

Thu, June 13, 2002 1:19 AM
Network icons!


Marathon

The Bungie Cereal Conspiracy kicks into high gear on Marathon's Story as more Marathon stuff hits Ebay. Totally crunchy! Meanwhile, the haX0ring of Aleph One continues.

Myth

The Myth community kicks into high gear as MariusNet updates its rank system and signs of life appear at the ancient citadel of the Mill. Check it out at Myth@Bungie.org

Halo

The Halo Soundtrack conspiracy kicks into high gear as the release of the Halo Soundtrack focuses the world's attention on the legendary Marty O'Donnell. And there's more fan fiction and movies and dog tags and lollipops. And stuff.

Sat, June 8, 2002 12:25 AM
Is it too much to ask to be able to save between 2 consecutive boss levels? Geez...


Marathon

The Bungie Acronym Conspiracy strikes again on Marathon's Story, but they can't stop the Volunteers from continuing on through Rubicon. And did you know that some nuts are still using Pfhorte? Yowzers.

Myth

The haX0ring of MariusNet continues with order support, advanced rank features, and gaming nights. Check it out at Myth@Bungie.org!

Halo

That Halo soundtrack is getting closer by the day, and it's already been reviewed... Meanwhile, the Story Page finally gets updated, lots of people post Halo walkthroughs, and Bungie needs for a few good men for their alien pants department. All this and more at Halo.bungie.org!

Wed, June 5, 2002 1:34 AM
Why are all the bugs named from Norse mythology?


Marathon

Yep, there's still Marathon scenarios coming out! News of the latest just hit Marathon's Story. Why not Scenario News, you ask? It's all a massive conspiracy.

Myth

If those other tournaments weren't royal enough for you, now we have the Tournament of Kings! And there's some stuff about Mythforums too. Check it out at Myth@Bungie.org!

Halo

Music videos out of Denmark... Commercials out of Cananda... Magic out of China... Castles hermetically sealed... Dead men in little boxes... Sorry, wandered off for a second. Anyway, the first one was accurate as Halo.bungie.org posts yet more movies, the Chief puts in a few laps at the track, and Frogblast gets kicked in the balls - hard. All in a day's work...

Sun, June 2, 2002 1:59 AM
Why does no one ever recognize Spiderman's voice?


Marathon

Hamish Sinclair returns from wherever he went. Meanwhile, the Volunteers are tackling Rubicon and more Marathon stuff shows up on Ebay. All this and more at Marathon's Story!

Myth

Somebody needs to track down Sibrax and get him to repost (or at least release to the public domain) his Reset Riots pages. Those were damn funny. Why did I suddenly say that? Myth@Bungie.org reports that PlayMyth fills Bungie.net's shoes a little bit more as they revive the old reset tradition. Also, there's some brutality and the return of the Picks Of The 150 Forthcoming Weeks. Check it out!

Halo

Randall Glass kicks it up a notch with the sequel to Warthog Jump, a ton more fan fiction comes pouring in, and the community is getting better at those brain teasers. Those wacky Halo fans... What will they think of next?