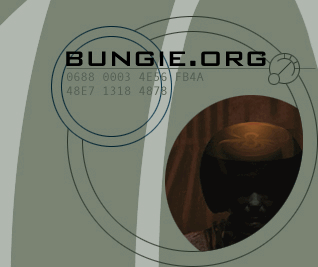 Bungie.org public forums:

Out and about at Bungie.org:

[3815978]



bs | halo | oni | phoenix | ? | marathon | myth | pathways


I'd chat, but I'm too busy hacking this server

---
March 2001 Archived News
Sat, March 31, 2001 6:02 AM
Oooohh, that Cat...


It's not often that a major new Marathon site appears... but this one's been a long time coming. Evihcra, the home of the Mill, the largest Myth file archive in existence, has just brought the Lh'owon Ar'kives to life. I'll let Gary 'the Battle Cat' Simmons, PR rep for Evihcra, tell it:

Yow!

Good news for Marathon gamers everywhere! Marathon is entering a new age. It has passed the test of time in the hearts and minds of its loyal fans and it deserves a place of honor. In an attempt to provide just such a pedestal, Evihcra.com, in cooperation with Bungie.org, is opening the Lh'owon Ar'kives. Enter the ancient Citadel of Lh'owon once again. This time you are not on a mission for Durandal, but to plunder the Citadel's treasures and resources for your own reward and glory.

The Lh'owon Ar'kives is more than just another archive, it is a fully interactive, highly organized, and customizable online database COMMUNITY where you can present your own hard work to the world as well as submit reviews of the work of others. This is the perfect place to get feedback on your Marathon creations. You have FULL PERSONAL CONTROL over your own gaming files. Submit them when you want, removing or replacing them as YOUR need arises. This site is designed to be very creator friendly. We are gaming authors ourselves, we built our "dream machine" for the love of gaming and now we want to let you in on it too.

Membership in Evihcra is absolutely FREE and only requires an easy registration process for full member benefits! Non-members may download any of the files as well as rate them for the community. Map makers of a posted archive get more than just a credit line, the archive description itself can link directly to their home page. Even the creators profile can link to their home page. There are various means for creators to exploit their work, and their presence with us.

What has 11 eyes, 28 fingers and 3 butts? A squad of Pfhor Troopers in a teleporter accident... but how would you know that answer unless you asked, and what better place to ask than in a public forum? Introducing the Marathon Forums where you can discuss the ins and outs of Marathon. Share your expertise with others, learn from the experts, or just make your voice heard.

In addition to the standard forum elements we provide:

Private Messaging
Online Polls posted by moderators
Find out who's online in the network and where.
Seamless integration into your Evihcra.com account.
Email reminders when people respond to your postings.
Forums available to creation groups (that qualify).
Full text string searches for ease of locating information.
Identification of recent threads and posts since your last log in.



Immortalize your work, download your next favorite Marathon map or shout out to the world! Visit the Lh'owon Ar'kives today at http://marathon.evihcra.com/

Gary Simmons
the Battle Cat

(This went out yesterday, but due to our outage, we missed it.)

Pathways Into Darkness

Missing screenshots? What does the PID page know that you don't?

Marathon

Anime and Marathon, an old site with a new makeover, and more on jump pads... all at the Marathon's Story page today.

Halo

Matt's Halo Update has good news for carpal-tunnel sufferers... check HBO for the details.

Fri, March 30, 2001 8:42 PM
and c) I'm w iting anuwau


camels camels hundreds of camels thousands

Marathon

Where are monsters in dreams? They're talking about themselves over at Marathon's Story, where the Dedicated can pick up today's family-free editions of The Bungie Show.

Halo

When in doubt: LL Cool J or 'N Sync? HBO ponders these issues with Marty O'Donnell's blessing, and posts some Xbox news from 'round the web as well.

Fri, March 30, 2001 4:12 PM
Bang Bang Boom


We apologise for the downtime, bungie.org was down since 1:30 AM EST due to problems beyond our control. Seems like we're back up again but we're unsure for how long. However, a probable long-term fix is in the works.

Thu, March 29, 2001 7:30 PM
It's a Silent Hill...


It's all butts on the Bungie Webcam right now, guess they're working on stuff we're not supposed to see?

Marathon

Dreaming in Bungie games and hybrid war machines... Marathon's Story looks at these and more.

Marathon: Ressurection gets an update too...

Myth

The Mythmaster Central gets one of them YAMMCU's at Myth@Bungie.org.

Halo

It's fan art and PC Gamer time at HBO!

Tue, March 27, 2001 11:25 AM
I'm not here; this isn't happening...


Marathon

Carrots! Sevens! Vacuums! Bizarre happenings and merchandisings! And more analysis of the Cortana letters in light of the latest Halo revalations. You'll find it all at Marathon's Story.

The first build of Aleph One for Mac OS X hits the streets today and it's, well, untested-- but still, a good first effort and well worth the (free) (small) download. Get it at Marathon Open Source.

Myth

Tactical warfare, check... Medieval setting, check... Giant hulking robots of destruction, ch-- what the hell?! MythWarrior, the MechWarrior scenario for Myth, is now available-- and whether you're a fantasy or a sci-fi kinda guy, if you're interested in a beautiful, fun scenario, you gotta have this one. Check out the press release at our Myth site. Be sure to download it quick before Microsoft gets word of this and files suit!

Halo

Get your latest Xbox news (and tons of new Halo desktops) at HBO.

Sun, March 25, 2001 1:30 PM
The Pretty Things Are Going To Hell...


Marathon

Sevens, sevens. Marathon's Story is full of sevens!

Oni

A bunch of new Oni fan art to be gazed upon at Oni Central.

Sat, March 24, 2001 1:07 AM
Timberrrrrrrrrrrr...


Sorry for the recent bungie.org downtime, a tree caused some ruckus for the line between the servers and a tranmission station. Then some water made a cable conduit filled with water which fried. Sigh. Anyhow, we're back and regular updates will resume!

Oni

Oni for OS X - Oni Central has some news about this.

Halo

Matt's weekly update, round two of the Q&A session... HBO has the tasty tidbits!

Wed, March 21, 2001 8:08 PM
BWAHAHAHAHA I HAVE NO HEAD. HAHAHAHA ARGH


Marathon

On the eleventh hour there will be death and death and people with large baskets of biscuits. KILL them, KILL them with life! Only life in a pure glass jar can vanquish them... BACK, BACK to Marathon's Story we go, in search of the lost QuickTime movies-- they must be found... THEY MUST BE FOUND...

Oni

We carried him forth unto OniShots wailing, "DAMN YOU ALL, DAMN YOU ALL", and then we dumped him into a volcano... and for our vigilance we were granted the new OniShots Quick Reference Card, and La Bongo Bongo came before us and spoke, "Gooooooo to OniShots and downlooooooooad this new card..." And so we did.

Halo

The lost movies! THEY HAVE BEEN FOUND-- and what is CONTAINED, CONTAINED within these glorious films?! Looks to be more Halo footage of a sort... what's this-- split-screen technology?!; magnificent indeed, indeed! HBO... because you need... to know...

Tue, March 20, 2001 9:08 PM
EF = dork


Bungie's homepage has been updated with a new look and new content. It's kinda weird to look at a new page, seeing how I'm so used to the old look. But I digress, make sure to check out the new stuff including new Halo footage and new Letters to the Webmaster!

Marathon

Marathon hits Gamespy's hall of fame! That and more at Marathon's Story.

Halo

A great hands-on report and other items of interest at HBO.

Mon, March 19, 2001 8:55 PM
That's "oxidize" on a triple word score...


Marathon

Hints on the Bungie webcam? Secrets contained within Braille? And the Stargate Conspiracy? Cruise over to Marathon's Story to begin your own analysis-- personally, I think the only conspiracy pertaining to Stargate concerns why the movie had to suck so badly.

What's new at the Marathon Archives? Two netpacks and an updated utility to convert Marathon maps to Aleph One-- in short, stuff you gotta have. So, go get it!

Myth

A new Myth challenge has been issued by the folks at Clan MacGaming. Think you're up to the task? Read the details at our Myth site.

Halo

The Halo fans keep churning out the great material-- another fantastic Halo desktop and some new Halo fan fiction today over at HBO. Snap into it, brother...

Sun, March 18, 2001 1:56 AM
Las puertas van a cerrar. Por favor el movimiento fuera de las puertas.


Marathon

The long, long, long, long, long, long, long, long-awaited Marathon scenario, Rubicon (formerly known as Chimera), is finally available for download. Scenario News reports.

The latest version of the awesome MML editor, Cranberry, is now available-- if you don't already have it, get on over to Marathon Open Source to find out why you should. Get some!

Warning! Opinion approaching rapidly! Shields at maximum... The Fifth Element may have been a lousy movie, but it looked great-- so the news that one of the film's storyboard guys is doing storyboards for Halo comes as good news indeed. This, and the latest batch of episodes of The Bungie Show at Marathon's Story-- get into it!

Halo

"Old news but still good news" indeed. In case you haven't seen it yet, the Baron has sent his Halo update for this week to the fine folks at Rampancy.net. Read all the analysis at HBO, along with tons more Halo impressions from around the 'net.

Fri, March 16, 2001 8:22 PM
*****RAP BREAK***** Yo b**** I gots what you need I gots my homies wit' me We gots toberollin'C'mon, rollin' It's like I said baby ya drivin' me...crazy...ya makin' me lazy....(burst of gunshot fire)*****RAP BREAK OVER*****


Marathon

Marathon's Story has the latest theories concerning the "Pillar of Autumn" as well as today's four newest episodes of The Bungie Show. If you don't go over and check it out then I will personally make sure you don't get any dessert tonight.

Halo

More analysis of the latest Halo screenshots, more new Halo previews, and first word of upcoming (new) Halo movies-- all available at HBO if you smell what the B.org is cookin'.

Thu, March 15, 2001 7:53 PM
I got shot in the Hilton, wa-BAM!


What the-- Matt Soell clears up some confusion in a question/answer session exclusive to our boys at HBO. Pair this with a new Jason Jones interview and you have an update you absolutely must not miss! Get your butt over to HBO now, private, or face the wrath... of Charles.

Marathon

What the-- Dr. Sinclair changes the text font on the Marathon's Story front page in honor of today's batch of QuickTime movies from The Bungie Show. And in case I don't see ya-- blam, your Mom, and Dink...

Myth

What the-- Some screenshots of editing programs for the upcoming Myth III have been leaked onto the Internet and our Myth site's caught word of 'em. Go check 'em out! And while you're there, don't forget to pick up the latest map from the guys at Creation.

Wed, March 14, 2001 7:13 PM
MoonStone Cannon... FIRE!!!!!


Marathon

One day after the newest Halo media comes the latest bits of recap and analysis at Marathon's Story-- and is it just me or is someone watching that webcam a little too closely?

Marathon Open Source posts a new Aleph One icon set-- and it seems that someone's working on a new heads-up display for Aleph One. Great potential here there is! Go check it out.

Halo

A second Halo movie pops up on the 'net and gets mirrored all to hell. Gaming sites all around the Internet weigh in with their thoughts on yesterday's playable Halo demonstration. Some of Halo's symbols undergo the first stage of analysis. And the post-carnage report is available, as always, at HBO.

Wed, March 14, 2001 2:42 AM
Oh, somebody kill me, please...


Marathon

They say it in the East and it holds true here-- you can tell a lot about a man (or woman) (or large corporation) (or world-conquering game development studio) by his/her/their business cards. Marathon's Story investigates.

Myth

One of the newest and best Myth archives on the Internet gets some snazzy new forums for your posting pleasure. Check out the press release at our Myth site.

Oni

PS2 Oni fans, fear not-- Oni Central is here with all the codes to help you make your way through the game. One-hit kills, invincibility, play as any character-- it's all here! Check it out now.

Halo

In case you haven't heard, Halo was shown at Microsoft's Gamestock event yesterday. A good bit of new media-- some screenshots and a brief movie-- was released, new previews began popping up 'round the 'net, and top gaming sites gave their impressions of the now-playable Halo. Head on over to HBO to catch up on what you may have been missing.

Mon, March 12, 2001 11:26 PM
Lights out, Guerilla Radio!


If you're reading this and it's Tuesday, break out the champagne: Microsoft's Gamestock event starts today and Halo is slated to appear at the event. It's the first time we've seen Halo since last year's E3 and since that time, the game's engine has been rewritten to take advantage of the new per-pixel rendering technology found in nVidia's NV25 chipset (the graphics processor for the Xbox). Not excited yet? Go check out the Doom III video floating around the Internet-- amazing, eh? That's the power of per-pixel rendering, and now, Halo's got it-- and at Gamestock, we're finally going to see it! HBO will be reporting all Halo-related news as it happens throughout the day, so stay tuned to Bungie.org for the latest news and media.

Oni

You want updates? You got 'em! New for you at OniRes is an updated version of OniTools (updated for both Mac and Windows) and the latest version of the Oni Save Game Editor. If you haven't yet installed these must-have Oni editing utilities, you should.

Sun, March 11, 2001 10:24 PM
Motherf...ridgemover


Sunday is lazy day for us bungie.org-ites. And that rampant perl script is running amok. Help.

Marathon

A shocking revelation, more on jump pads and an update to a mysterious site... at Marathon's Story.

Sun, March 11, 2001 6:20 AM



#spider##PublicDoc.256(pdEng) == [ for kibbles. I told you we should have been there but you insisted on this !!HARPY H!! I remind you who first suggested the meeting? I was the one who arranged the meeting in the first place; now you're telling me th!!HARPY HARPY HARPY HA!! doesn't make much sense to me, Robert. We'll discuss this in further detail at th!!HARPY HARPY HARPY HARPY HARPY HARPY HA!!e late, or I'll kill you. ]

Sat, March 10, 2001 2:41 PM
Walkin' with my baby down back in San Francisco Bay...


Marathon

More Power of Seven / Psychosonik music connections today over at Marathon's Story-- and what sort of college initiation procedure is this?

Myth

The wonderful guys at GameSpot take another look at the history of real-time strategy games-- and what would a strategy game feature be without the inclusion of Myth? Our Myth site reports.

Halo

Plenty of Halo goodies today at HBO, including a Halo marine model (for the game Rune), a preview of Gamestock, new Halo fan fiction, and more. More!

Fri, March 9, 2001 8:06 PM
Meanwhile, behind the facade of a normal bookstore...


Marathon

Italian aeronautics engineers take the first step in the journey to Tau Ceti and Marathon's Story is there with twenty-four-hour-a-day coverage. Head on over for your daily dose of the tru7h!

Halo

Baron Matt Soell has submitted this week's Halo update to the fine folks over at Haloplayers. It looks like not even the Baron can escape the latest craze-- latest Time Magazine, anyone? Go check it out!

Thu, March 8, 2001 11:30 PM
..if you smell what the B.org is cookin'.


The OniShots Contest has closed and winners have been selected! Head over to OniShots to find out who won-- as always, the winning entries are amazing.

Marathon

Who is the Bungie Webmaster? What are Marathon's jump pads? Is there any hope for Michael Keaton's film career? All this and more today at Marathon's Story.

Myth

A new interview with the leader of the Myth III project reveals some new information on how the scoring system and online gameplay will be improved in this upcoming sequel. Any man with any balls will get right on over to our Myth site now and check it out.

Oni

Throw your hands in the air, and wave 'em like you just don't care; now get the gun and make it go blam, right into your head, now you're a REAL man... Now, then-- get on over to Oni Central and read the many new reviews of the game.

Halo

Today, a Halo shirt appeared on the Bungie Webcam. I must have this shirt. If this shirt is not made available for sale, frogs will fall on Bungie Studios. I guarantee it. Those of you who saw the movie Magnolia cannot imagine the extent of my wrath. Songs will be written about the beauty of the pain that I will dish out if this shirt is not made available for sale. Rap fans will install new speakers just for the CD recording of the aftermath. Rand al'Thor just might blink.

Anyway, if you'd like to see the shirt for yourself, some fans caught it on "video" and HBO has the pictures. Go check 'em out!

Thu, March 8, 2001 12:07 AM
Dead? Yes, sir... Keep moving.


Marathon

Calm down, everyone; there's no need to panic-- all your base are still belong to us. All your base will be belong to us for the rest of eternity if Marathon's Story has anything to say about it. And wait... what's this about a "jump pad" in Marathon?

Halo

What's this? Those of you looking to play the Xbox version of Halo on a dialup connection should check out the latest update at HBO-- your prayers have been answered. ...Well, they're going to be answered if all goes according to schedule, anyway.

Tue, March 6, 2001 7:10 PM
Smile for me now, brother...


Marathon

It's a QuickTime movie extravaganza at Marathon's Story! Those of you who are too cheap to pick up the The 13th Warrior DVD can go three warriors down and get the new 10th Warrior movie at the Story page. Are you not entertained?!

And when you die, and die you shall, your transition shall be to the sound of... Marathon Open Source, where the latest report on the forthcoming Aleph One CD is now available. Check it out!

Myth

Today at our Myth site: A bitter and sarcastic MythMaster Central update. If you swing by and check it out, it would be like the sun on my heart for a thousand years.

Oni

A brief reminder: The OniShots Contest ends tomorrow! If you haven't submitted your entry yet, you need to hurry up and do so before you're Left Behind. These are the last wishes of Marcus Aurelius. For more information on the OniShots contest visit OniShots.

Halo

Old news is new news, Australian Halo sites come back online, the Bungie.com redesign is nearly upon us-- that's enough for the provinces, but not for Rome. Get all the latest Halo news at HBO.

Sun, March 4, 2001 9:55 pm
Grapes of Wrath


Regular updates have resumed. We need to fix that rampant perl script soon...

Marathon

More time lapsing Bungie cam videos for your enjoyment at Marathon's Story. Viddy well, little brother. Viddy well.

Myth

Holy! Another Myth Master Central Update!!! Check it out at Myth@Bungie.org!

Halo

Halo news! Actual news! HBO has it! Woo!

Sat, March 3, 2001 12:02 pm
We're busy. You KNOW we're busy.


Marathon

More mistakes (this time on the Story Page T-Shirt), more webcam movies, some interesting clarifications, all at the Marathon's Story page. Does that guy ever sleep?

The Scenario News page gets a monster update - one wonders how long the boys were sitting on this stuff... (just kidding guys, we know you're on top of that news on an hourly basis)

A reworking of a pretty cool netmap shows up on the Archives this week - definitely fun for bigger groups.

A new Aleph One CD project is getting off the ground - details can be found on the Open Source site. Swing by and see what you can add!

Myth

Plugin propaganda and 3 (count 'em, three) new films at MythMaster Central... get your piping-hot Myth news ovah heah.

Oni

The first PC version of WinOni has been released - it's a basic port at this point, but keep your eyes open. You'll find it at OniRes.

OniShots has the latest copy of the Oni Save Game Editor - v1.3.1. Check it out! (This works with the final version of Oni.)

Halo

HBO is hopping with Halo news, from Matt's latest Halo update to a new week-in-review feature started by a fan, to more fan fiction... the news just keeps coming.