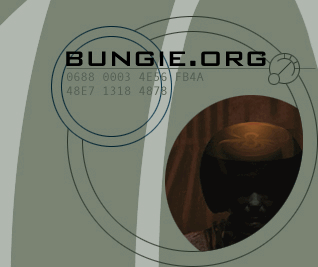 Bungie.org public forums:

Out and about at Bungie.org:

[3815982]



bs | halo | oni | phoenix | ? | marathon | myth | pathways


no flickta were harmed in the making of this production

---
March 2002 Archived News
Sat, March 30, 2002 2:39 PM
A theoretical "third" dimension...


Pathways Into Darkness

Sgt. Eddings was a vintage gun collector? Or maybe they just don't make handguns like they used to. The PID Page has all the details.

Myth

The guide to Myth III gets under way as Myth@Bungie.org digs in, fires up Vengeance, and... gets stuck and asks for help. Wanna contribute? Head on over!

Halo

Halo.bungie.org heads over to the land of the rising sun for Halo tournaments. Is a rubber silencer anything like a food nipple? Maybe I don't want to know.

Wed, March 27, 2002 7:04 PM
Luckily, Boston came by and picked me up...


Our comrades at Fileball have announced that the site is switching to a subscription-only model. This is especially relevant to Bungie.org readers as Fileball serves the Marathon and Myth communities, with Halo support planned to coincide with Halo's computer release.

Myth

Some people are not happy about the above announcement. Good thing there's a new tournament opening up soon. We all need some stress relief.

Halo

"Hey, wanna see how high I can jump?" "Hmm... " "I can jump high! I can go real high!" "[Laughing ] No, I thought maybe you were joking." "Okay, here goes! Weeeeeeeeee!!! Like G.I. Joe! With his pants blown off! In the war!"

Mon, March 25, 2002 9:32 AM
Evil Undead Drop Bears Must Die


Marathon

The haX0ring of Aleph One continues with new editor progress and an accident involving a nuclear power plant. We deny everything.

Marathon's Story knows what thees Quake eez. Yeah, yeah, tell me "dude u suk quake roolz", then wipe your chin.

Myth

The haX0ring of the Myth 2 Metaserver continues at Myth@Bungie.org.

Halo

The haX0ring of Starcraft continues on Halo.bungie.org with new maps and new exploits for old ones. And we finally find out what marines do when they're bored. Mmm...

Bungie Sightings

Miguel's BSing skills are put to the test in an interview on the Bungie.net portal. See where all the craziness began...

Thu, March 21, 2002 4:34 PM
The elusive Covenant Prophet class is finally revealed...


Marathon

More fun stuff has appeared at Marathon Resurrection. Hulk smash!

Myth

The haX0ring of the Myth II metaserver continues at Myth@Bungie.org. Also, at this time I would like to remind you all that official Bungie.org policy states that Zandervix is not "stoopid". The proper term is "OMG L4M3". Thank you for your cooperation.

Oni

Oni Central kicks it up a notch with new remixes of Oni music.

Halo

A Halo.bungie.org staffer, obviously deranged, reports that Halo is "just a game". These views do not necessarily represent those of Bungie.org. I am not authorized to make further comments at this time, but rest assured that this situation will be rectified as soon as possible.

Tue, March 19, 2002 2:11 PM
Beware of low-flying pigs.


Pathways Into Darkness

Cool! A Pathways Into Darkness shirt!

Marathon

It's not easy, being green... Having to spend each day the color of the Pfhor... When I think it might be nicer, being red, or purple, or blue... Or something much more dangerous like that...

Myth

Lots of fun stuff adorns Myth@Bungie.org as maps get ported around and music gets rediscovered.

Halo

TitaniumPez, that's disgusting. Although I guess it's healthier than going for the Grunts like some of the people we've got around here...

Sat, March 16, 2002 12:16 AM
Where in the World is Xbox Sandiego?


Marathon

Hey, wait a minute! There are only 6 Marathon T-shirts! Something is terribly wrong here!

Myth

Lots of stuff keeps on getting added to Myth@Bungie.org.

Halo

Wed, March 13, 2002 9:27 PM
Wonder if he knew who I was on HL...


Marathon

"Hey, you know what we haven't done in a while?" "Eh?" "Take a look at Scenario News." "What about it?" "Notice anything?" "Huh? I don't- Oh! IT'S ALIVE!!!" "I'd almost forgotten what that sounded like." "Ah, the good old days..."

Myth

The strange story of Marius.net winds on at Myth@Bungie.org.

Halo

My word, those Bungie programmers are a cheeky lot! Whatever will they think of next, porting Halo music to cell phones? Oh, wait, someone else got there first. Lizard sacrifices? Damn, same problem. Secret thirsty grunts? Sexy holographic AIs? Well, they'll think of something... Just another day in the trenches at Halo.bungie.org.

Sun, March 10, 2002 1:47 PM
Ghasts Gone Wild


Pathways Into Darkness

The Pathways Into Darkness section has finally been updated with important tips on fighting in your sleep, harassing Jason Jones, and buying drugs from zombies. The Pathways Uncensored Hintbook. It's too hot for TV!

Marathon

Myth

The Myth world is getting back into world domination. Or Maybe That's Just What They Want You To Think(tm)...

Halo

Louis Wu returns from Halo fun and begins to sweep the floor clean of all the news that overflowed the incoming bin while he was gone.

Wed, March 6, 2002 3:26 PM
No, Jon. the show I'm talking about has skeletal dogs.


Marathon

BRING ME THE HEADS OF J.E. AND EMILIE SINCLAIR! Wait! No, don't! Just information will be fine, thanks. And Marathon Scrapbook PDFs.

Halo

Halo.bungie.org busts out their Interviews Database. Who wants to go in and count how many times Matt confirmed the PC Version? (And then post on the forum demanding it once more...)

Mon, March 4, 2002 2:14 PM
I send you this SELECT statement in order to have your advice.


Marathon

Scenario News has news of a new, finished, released scenario. This unprecedented crisis seems to have irreparably damaged the minds of the remaining project leaders, judging by their emails.

The Marathon Scrapbook, greatest treasure of Marathonians everywhere, is heading onto the Story Page at last. The tru7h will set you free.

There is STILL new Marathon stuff being released. Here's to another seven years.

Whoa. Nothing in particular, but cool stuff is starting to happen.

Myth

The haX0ring of Myth continues with interviews, new and old tools, and silly songs.

Halo

OK, it's over, folks. There is no intelligent life in the universe. You can all go home now. Meanwhile, Crazy Ernie's Used Car Emporium is having a clearance on Shades, warthog launching inches closer to being an olympic sport, and there's tons more fan fiction to read... Just another day at Halo.bungie.org.

Fri, March 1, 2002 10:11 AM
Bah weep granah weep ninni bong!


Marathon

Bob never has it easy, does he? People are actually feeling nostalgic for the days when they could bust out a Bob Cannon and hurl screaming civilians at their enemies. What kind of wackos do we have here anyway?

Myth

The land of Myth metaservers is in turmoil (again) (still) as Mariusnet loses its leader and MythMaps tries to pick up the slack. All this and more at Myth@Bungie.org.

Halo