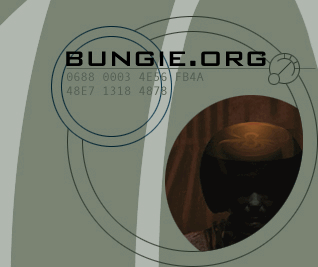 Bungie.org public forums:

Out and about at Bungie.org:

[3815950]



bs | halo | oni | phoenix | ? | marathon | myth | pathways


the real joke is that the punchline is the same for all of us

---
May 2001 Archived News
Wed, May 30, 2001 2:46 PM
Three Wheels Turning


Things are heating up as the Seven Glyphs get a page dedicated to the decryption effort. What are they? What do they mean? Somewhere out there, Chelsea Bridge is watching. And waiting.

Marathon

Old mysteries, new tidbits, none shall escape the scrutiny of Marathon's Story. And on the action side, the Archives has just posted some new (4th-party?) maps for the epic scenario Rubicon. You can even grab a brand new copy of Aleph One to play them with.

Myth

Myth@Bungie.org has dug up a Myth III progress report. Seems that Andrew Meggs really needs to get some sleep. But the die is cast!


Mon, May 28, 2001 1:55 PM
Happy Memorial Day (and, three days late, happy Towel Day)


Marathon

A new Aleph One progress report has been posted. At long last, the goal is in sight: Work on one of the most wanted features is about to get under way. The sleeper has awakened!

Myth

The B.org forum munkies have overhauled Myth@Bungie.org's forums. Now u can hav acct mb.

Sun, May 27, 2001 9:36 PM
UT or AO? Marathon Lives Everywhere!


Marathon: Resurrection continues its rapid pace of development (though they want it to be faster - they're looking for one more animator)... Rampancy.net got hold of 7 exclusive screenshots, and man, does it look pretty. There's also a new poll on the site (the old one was a bit of a shocker, the way it turned out)... go see what you can find!

Sat, May 26, 2001 10:33 PM
Who let the Hounds out? (Hoot! Hoot! Hoot-hoot!)


Marathon

Holy carp! There are still new scenarios being created for Marathon!. Astounding. And of course Marathon's Story is still going strong. Today's secret word is "Bobs".

Myth

Myth@Bungie.org trains its sights on a web poll. You know what to do...

Halo

Lots of new fan fiction on Halo,bungie.org. I mean, a LOT of new fan fiction. Also the Halo Update has been found. And post-E3 gaming media commentary. Did we mention how much new fan fiction there is?

Thu, May 24, 2001 11:49 AM
I don't see a seven in there...


That wierd little image at the top of this page has been up for a while; some people are getting curious. Maybe if you multiplied this squiggle by seven...

Marathon

A real blast from the past hits Marathon's Story in the form of a new old Bungie product. Well, semi-Bungie product. Eh? Secrets abound.

Myth

Myth@Bungie.org continues to monopolize our amphetamines, as the renovation and updating of Legends and Lore continues. Today's updates include Myth movies and magic teleporting peasants.

Tue, May 22, 2001 9:25 AM
Who put the Phan in the Phan Pfhar Sfaern-Wsawn Tshah?


Myth

The Myth@Bungie.org crew have given Legends and Lore a redesign, and found some info regarding Myth III and its rivers of blood. Yummy.

Halo

Louis almost escaped at E3, but now he's back where he belongs and updating Halo.bungie.org again. New art, new fan fiction, and what's this? New clans?

Bungie Sightings

Processing has begun on the huge piles of fun media that were recorded at Fanfest V. First up is the Bungie Trivia Contest, 2nd Edition. Give your m4d 7r1v14 sk1llz a workout.

Sat, May 19, 2001 11:20 PM
Post E3 Trauma


The E3 Page continues to sift the wheat of Bungie news from the chaff that is E3. The latest: Giant plastic cyborgs and... Britney Spears? I'm not here to judge.

Marathon

The Story Page's brand new Forum has been busy. So how about that lava?

Myth

Tons of wolfage from Myth@Bungie.org as Myth III: The Wolf Age hits the big time at E3. They've found news everywhere, from Gamespot to MSNBC. Check it out!

Oni

Oni Central has news of a version of Oni for Mac OS X. And what's this? It's not by Bungie? The plot thickens!

Thu, May 17, 2001 2:46 PM
I got shotgun, man!


Halo bonanza! Check out our E3 Coverage page for Halo movies and fanfest pics!

Wed, May 16, 2001 1:27 PM



Almost forgot... Be sure to check out bungie.org's E3 coverage page for the latest on Bungie and Halo!

Wed, May 16, 2001 1:10 PM
yalp "hola"


Marathon

Marathon Open Source reports on an update for the Texture Enhancement Pack.

Bungie Sightings

Today's the fanfest, keep an eye on the official Fanfest V page for updates...

Tue, May 15, 2001 1:17 PM
Faaip De Oiad


Marathon

Loren slacking off? He has his reasons, and they are explained at Marathon Open Source.

Myth

Myth@Bungie.org reports on a new site opening. Too bad they're slacking and haven't posted about some new Myth III pics over at Gathering of Developer's E3 page...

Halo

Happy Birthday to Jaime "Case" Griesemer, a recently vocal member of the Halo development team. Oh yeah, check out HBO for other stuff too.

Bungie Sightings

Tomorrow's the fan fest. Are you going? You'd better be...

Mon, May 14, 2001 12:14 PM
Busted Bicycle


Marathon

Marathon stickers and Bob's Big Date in Wonderland? Marathon's Story may lead you to believe the connections between our favourite screaming civilian and a story of insanity.

Ay! Missed posting about this. Scenario News got a big update on five scenarios two days ago.

Myth

Mythmaster Central and Field Guide updates at Myth@Bungie.org. Busy bees over at that site, I must say.

Halo

Lots of Halo stuff over at HBO, including news of a Halo Developer's Diary where someone at Bungie can FINALLY speak out against pundits and whiners (in my opinion). You know who you are.

Sun, May 13, 2001 1:39 PM
What if the hokey-pokey really is what it's all about?


Happy Mother's Day... to YOUR MOM.

Marathon

More of that marine 3D model plus progress is made on something that may radically change Marathon mapmaking. Marathon Open Source is the place to go.

Halo

More new wallpaper and a cleaner scan of that interview with Joe Staten at HBO.

Sat, May 12, 2001 3:09 PM
I know the pieces fit,
because I watched them tumble down...


Marathon

Marathon's Story, after all these years, gets a radical addition. No... not a search feature, but a forum. And I thought I've seen everything...

A more "refined" version of the marine 3D model and a MML Script Library at Marathon Open Source.

Halo

A scan of a magazine interview with Joe Staten pops up in HBO's upload folder as well as Matt's latest Halo update which appeared at Haloplayers late last night.

Fri, May 11, 2001 11:45 AM
updated = updates


Yikes. Yikes. Yikes. Here's yer update!!

Marathon

More shots of the new Marathon Marine model at Marathon Open Source. I dunno.. Marathon is better with sprites...

A ton of reader-submitted content along with the usual bunch of speculation that you will find at Marathon's Story.

Myth

The Field Guides at Myth@Bungie.org are now complete, along with news of the first Myth III in-game screenshot.

Oni

Oni Central gets an update, new fan art and new details on the new Oni game in development.

Halo

Sometimes HBO's forum gets some real gems amongst all the pointless whine and rant posts. Check it out! (Other interesting Halo items are there too, of course.)

Sun, May 6, 2001 12:49 PM
Am I doing this right?


The Bungie.org Hotline server has been experiencing technical difficulties lately. Rest assured that our crack support team is working full-time to resurrect it.

Myth

Forrest Cameranesi continues to pile on the updates at Myth@bungie.org. The Field Guide for Myth II is nearly complete, and somehow while doing that he added a new film to Myth Master Central and cranked out a new article for Delusions. The man is nuts, I tells ya!

Oni

Over at OniShots, the results of the second screenshot contest have been posted. Free... Your... Mind.

Bungie Sightings

Bungie Sightings continues to investigate allegations that Bungie d00dz were seen at Sakura-Con, and finds that Apple is putting their new iBooks to good use.

Sat, May 5, 2001 5:31 AM
It's all just a game...


Okay, so it looks like b.org's been slacking, eh? No updates here for almost a week - what, did they all go to Colorado for a Hari Krishna retreat? No... the action at the various b.org sites has been furious recently, it just hasn't been documented here. We apologize - we're trying to convince Dave Winer to jump in and help.

Marathon

Marathon.org is back up (again!) - not really b.org news, but Marathon news is Marathon news. The Forums are pretty quiet right now... maybe because all the regulars moved over to Evihcra. Hmm... Go visit - there's some good stuff there, and Squeaky has hope that this new home will stay live for a while.

The Archives continue to add new files - the latest includes a really cool little 7-poly map that is being released about a year late to be considered for the Simplici7y contest, but is absolutely worth checking out anyway. (And other stuff, of course.)

Scenario news continues to pour in - there've been two multi-item updates to the ScenarioNews page in the past three days alone. Recent news covers two Big House inmates, and discusses the fate of some Marathon Orphanage material - the far-flung corners of the bungie.org Marathon empire are coming together.

Speaking of empires coming together - we'd like to remind our readers that there are two pretty big conversions hosted at bungie.org - the Marathon-to-UT conversion Marathon Resurrection, and the Marathon-to-Q3A conversion Marathon Arena. Our Marathon portal page, cool and slick when it was first put up, is showing its age, and we're still working on getting it overhauled to better reflect the offerings available here. (If you're interested in helping, drop us a line.)

The Marathon's Story page has been a bit light on Marathon news this week... but the Bungie Webcam movies have been piling up at an alarming rate - go visit for your inside view of the Bungie offices.

Myth

The Myth@bungie.org site continues to hold up under the furious attack of Forrest Cameranesi - far from confining himself to MythMaster Central these days, he's been feverishly overhauling the Field Guides, adding new Journal material, and (for the first time in a long time) has written a new Delusions article - Principia Mythica. (Forrest calls it 'perhaps the single most complex, convoluted and far-reaching theory in all of Myth's short existance'... we just think he's insane.) Go check out all the stuff he's been doing.

Oni

The OniShots contest ended recently - the judging continues, and hopefully winners will be announced soon. Sounds like some good stuff got submitted!

Halo

Halo, as always, continues to be well-covered at HBO - there are new print articles scanned for your perusal, crazy flamewar threads for your amusement on the forum, new submissions to the various collections of fan-produced materials, and a call for questions for a fan-conducted interview - go visit for all the details!