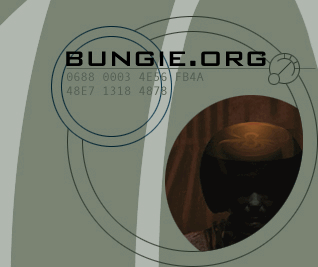 Bungie.org public forums:

Out and about at Bungie.org:

[3815955]



bs | halo | oni | phoenix | ? | marathon | myth | pathways


made from the best stuff on Earth: people!

---
May 2002 Archived News
Wed, May 29, 2002 12:07 PM
omg halo soundtrack mb


Marathon

"Sir?" "Yeah?" "What are we still doing out here? It's been weeks since he tried anything." "Those are our orders. Besides, command thinks he's gonna make his move soon. Scenario News fits his MO perfectly." "Yeah, but while we're stuck out here the Volunteers are starting back up at Marathon's Story and the haX0ring of Aleph One continues." "Sorry, but we have our orders."

Myth

The WW2 community is alive and kicking at Myth@Bungie.org.

Halo

Reports from the Fanfest are starting to pour in, as we see the secret origins of Halo, the full extent of Miguel Chavez's psychosis, and Songs About Buildings And Babes Wearing Leather. People are making plans for haX0ring the computer version of Halo. And there's the usual flood of fan fiction and new videos. All this and more at Halo.bungie.org!

Sun, May 26, 2002 2:42 AM
Cleanup in aisle 7...


Myth

The haX0ring of Myth III continues on Myth@Bungie.org with the release of the first 3rd party solo map for Myth 3, updates on Marius.net r4nk support, and more tournaments. Check it out!

Halo

Even though E3 is providing far from the expected news, the community content factory keeps on sending in fan fiction, art, and movies. Check it out at Halo.bungie.org!

Thu, May 23, 2002 12:18 PM
So when will they announce the real Grunt plushies?


Marathon

The Marathon section is back with a vengeance with a new Fan Fiction site, plenty of action on the Story Forum, rumors of scenarios yet to come, and films of the Battle Cat landing face first in a gigantic pile of poo. Check it out!

Myth

It's your last chance to die in 2002, so sayeth Myth@Bungie.org. And while you're waiting to die, make sure to read all the stuff about Tolkien.

Halo

The haX0ring of the Halo Forum continues as reports pour in from E3 and people are still writing fan fiction anyway. Check it out at Halo.bungie.org!

Mon, May 20, 2002 1:34 PM
This news update is not late. You want to go home and rethink your life.


Halo

Through all the Obvious Total Lies™ surrounding E3, some good news breaks through as the final solution to the Screen 81 puzzle appears, Tenacious D trades in the giant flaming goat head for some copies of Halo, and Joe Staten and wife give a whole new meaning to the term "Halo Babies". All this and more at Halo.bungie.org!

Thu, May 16, 2002 1:26 PM
Next on Fox: When Clones Attack!


Pathways Into Darkness

The Pathways Into Darkness page reports on some petrified Banshees.

Marathon

Rumors of the Marathon collector's market's death have been greatly exaggerated, as Marathon's Story keeps up the auction watch. And it looks like it's that time of the month again as the Marathon Movie returns to the forum spotlight.

Myth

Myth@Bungie.org tracks down David Letterman's Myth site for today's pick of the week.

Halo

Apparently not content with submerging Louis in vast amounts of new fan fiction, the Halo community has started to submit the same fan fictions several times. Meanwhile, the Halo Soundtrack shambles ever closer, more movies and clans appear, and the haX0ring of the site's news database continues. All in a day's work at Halo.bungie.org!

Mon, May 13, 2002 12:50 PM
Strangely enough, Maya Angelou was actually a decent speaker...


Marathon

Hey, he's shooting at us! You killed the Marathon collectors' market! Traitorous pig!

The Archives gets a long-awaited update with new scenarios, ongoing scenarios, side trips in the Tempus Irae universe, and lots of other fun stuff.

Myth

The haX0ring of Marius.net continues with the addition of r4nk h00ring and a new messaging system. Get the dirt on Myth@Bungie.org.

Also, w00t.

Halo

Halo continues to pick up steam overseas as a Japanese Halo tournament hits the web. Wonder if it'll end up like Lineage...

Thu, May 9, 2002 9:41 AM
So fast...


Marathon

Lots of fun stuff hits the Archives and the Story Page keeps up the auction watch. And it looks like the Mark Levin conspiracy is running into some unexpected resistance...

Myth

The Myth world is still ironing out the kinks in the alternate Bungie.nets, as the lamer hordes seize the opportunity and leap into the breach. Don't let them win.

Oni

The haX0ring of Oni continues as the Oni Save Game Editor gets revved. Now you can ch33t with the brand-new copy of Oni you got from the Bungie Store...

Halo

Some of the best Halo movies yet have hit the 'net at Halo.bungie.org. That wacky Spark...

Mon, May 6, 2002 4:00 PM
Damn, what happened to those Grunt plushies?


At last, at long last, the much-anticipated Bungie Store goes live. Pick up your copies of Bungie's classic games, ass-kicking T-shirts, and Fishin' Bob hats, and get a FREE Making of Halo DVD with your order! Wheee! I'm buying 7!

Myth

The gigantic list of Myth sites has picked up some new ones... Try to find them at Myth@Bungie.org!

Halo

What? You don't have an Xbox yet? You're not as silly as you appear at first glance, looks like there's a price drop coming up. All this and movie insanity at Halo.bungie.org!

Sun, May 5, 2002 8:58 PM
Aaaaaah where's that computer already...


Oni

The haX0ring of Visual Oni continues at Oni Central.

Halo

Things go crazy at Halo.bungie.org as more fan fiction and wallpaper shows up, along with tons of other cool crap and some ravings about marshmellow peeps. Check it out!

Thu, May 2, 2002 1:39 PM
Mmm... new computer... ::drool::


Marathon

"Sir, we've got a situation here." "Give it to me, private." "Well, um... it's alive." "What?!" "Map of the Month, sir. I was just told that it's alive." "Quit saying that, soldier." "But it's alive! IT'S ALIVE!" "How the he-" "IT'S ALIVE! IT'S ALIVE! MUHAHAHAHAHA!" "Security to the command center, on the double!"

Myth

Myth@Bungie.org will keep you busy for the next 150 weeks with a mammoth pile of cool Myth stuff.

Halo

It had to happen sooner or later... The Halo readers embarks on the quest to create the ultimate fan fiction. Phj34r!

Wed, May 1, 2002 11:03 AM
You've gotta make a statement of intent.


Marathon

The Marathon world gets a swift kick in the pants as long-awaited scenario The Classified Nineteen hits the streets. Bring on that story-driven gameplay...

Myth

The saga of Fileball.net enters another chapter as the site goes down for a switch to new service providers and another re-evaluation of their membership strategy. Myth@Bungie.org has the details.

Halo

Holy crap that's a lot of fan fiction. But hey, they've also got fan art, fan movies, and even fan music now. And what's this? A new Halo movie from Bungie? Halo.bungie.org has the dirt.