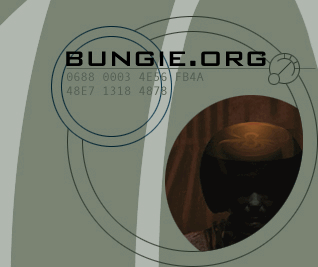 Bungie.org public forums:

Out and about at Bungie.org:

[3815951]



bs | halo | oni | phoenix | ? | marathon | myth | pathways


this sentence is false.

---
November 2000 Archived News
Thu, November 30, 2000 7:50 pm
We must eat this cheese sandwich to save humanity.


Marathon

The people demand Marathon 2 for Windows, especially now that it can be played with Aleph One. Where can a copy of the Windows Marathon 2 be found? Well... that's just the thing; we don't really know. But someone out there must know-- and Marathon's Story wants to know about it! Also: Craig Mullins doing new Marathon artwork? Naaaahhh....

Scenario News proves once again that it's the place to go for killing time. Lots of new info in today's update, including word on the possibility of an upcoming demo for a Marathon scenario that seems to have been in development forever.

What does the Cro-Mag Rally demo have to do with improved Marathon performance? Marathon Open Source can tell you all about it...

Halo

Halo, bundled with the Xbox console? HBO says, it could happen... although one tends to forget that no console has been launched bundled with a game since the Super Nintendo. Also, Halo gets a mention in a recent online New York Times article. Get that PR machine a-kickin'!

Wed, November 29, 2000 6:40 pm
Today's update is brought to you by a madman.


Going to this year's FanFest in San Francisco? The boys at Bungie.net have a new poll that you should view. Go vote now!

Hams... bacons... sandwiches... lies and insidious falsities... WHY GOD WHY?!

Marathon

Listen, I hate to break it to you, but there isn't any nature. All this nature stuff you keep watching is just a big... well, a big lie, really. A malicious half-truth. In fact, I-- *BLAM* Hello, Truman. Good to see you today. Have you been to Scenario News? You know, they have some really great news over there about a new Marathon scenario, and some new information on the Marathon to Infinity project. Scenario News! That's right, Truman.

They did it. They redesigned the Pfhortran manual. Thank God. I thought this day would never... GAAAAH!! DOWN, GET THE F... AAAAH!!! ....*cough* ...go.... to... Marathon... Open Source... *giggle*

Halo

Hey. Lookie here. Old Halo footage. Incite movie. Bet you want it, don'cha? C'mere... here boy... jump for it, b--- AAAAH!! YOU LITTLE *KICK* ... ah, what the h..eck. You can pick up your Incite movie over at HBO...

Tue, November 28, 2000 10:53 pm
...zzzzz... wha..? ...update the page... time to make the donuts...


For those of you who haven't seen this yet: Max at Bungie.net posts that the Myth TFL server is back up, along with word of a possibly Myth II fix for Win2K/ME users. Thanks, Max!

Oni

Some new screenshots from Oni have been made available. Check 'em out-- Oni Central has the details.

Halo

HBO has tons of new Halo media-- new fan fiction, new wallpaper... yeah... lots of stuff.

Tue, November 28, 2000 8:16 am
Not that we want to bury the post about our contest, but...


We've gotten a sizeable amount of mail recently, asking if we know anything about what's happened to the Marathon: Resurrection project. Well, we checked with Damien Sorresso, the project coordinator... and it seems they're having some website problems. The project still exists, but the site seems to have died. (No, they don't know why.) What they REALLY need, though, are some 3DSMax animators... so if you fit that bill, and want to help bring Marathon to Unreal Tournament, drop Damien a line - he'll be extremely grateful!

Mon, November 27, 2000 6:14 pm
How I am strong... is to know what makes me weak...


Hey, everyone. Mikey-San here again.

To drive in cheap hits, we've devised a bit of a challenge. Actually, we didn't devise it; it happens to be a convienient coincidence. What the heck are we talking about?

The Bungie.org "We have too many copies of Pathways Into Darkness lying around" contest! We looked around the office recently and found we had a lot of spare copies of PID, and could spare some to the public. How do you get one of these copies? After putting our new site up, a few people decided to determine what the hexadecimal at the top of the page meant. They all failed.

So I got cocky.

Here's the plan, loyal readers of Bungie.org: if you can tell us what that hexadecimal is, you will win a copy of Pathways Into Darkness. (Click here for the rules.)

So try your not-so-hardest and make me look like the arrogant fool I truly am. If you've the answer, let us hear it at contest@bungie.org. If you're correct, you'll be famous, baby. If you aren't correct, your email will be deleted as we laugh at you.

So get to your hexadecimal decoders, and don't let anyone throw you off the trail by hitting you with a brick or another equally blunt object (a rock, a stone, a log, a sock of pennies, a bigger rock, a Nar, a piece of PVC...) or something before you win.

   Mikey-San

Marathon

Throughout my grizzled Bungie career I've heard many people try to give a brief synopsis of Marathon's story. If you want brief, don't visit Marathon's Story, visit Ben Reiter's Marathon pa.... hey, it's not here anymore. Will Hamish pick up this old site? All signs point to yes...

Today's Scenario News update is pretty massive; you definitely owe it to yourself to check it out. There's first word of another new scenario, a new website and Hotline server for an existing scenario, and new screenshots of another existing scenario.

The Marathon fighting game is closer than ever to completion. "AAH! ...Thank God it's you! SHOOOOOORYUUUKEN!!" ...OK, is this true or have we all gone insane? Visit Marathon Open Source to find out how insane you really are.

Halo

Today at HBO: Some clarification is provided today as to when we can expect the recently-unofficially-announced Halo strategy guide from Sybex. And the latest Halo SETI Marine stats are available... what's this? Our Marines are being pushed back? By God, men, send in the reinforcements!

Sun, November 26, 2000 2:40 pm
That day... did you see anyone driving a black car?


Marathon

Help! Marathon Arena is in need of 3D modelers, texture artists, and mapmakers. If you have experience with 3D Studio Max, Q3Radiant, or a related program, get on over to the Marathon Arena site right away and apply!

Mr. Watson drops the bomb on our man Hamish today at Marathon's Story. Just how many fat men are there in Marathon?

Marathon scenario authors, you're gonna love this. A new feature has been added to Aleph One: QuickTime Movie playback at the beginning of any level! OK, so you still can't recreate Final Fantasy VII in the Marathon engine, but it's a great new feature nonetheless. Head on over to Marathon Open Source for the full story.

Myth

Two more updates to MythMaster Central in the past two days? We're definitely on a roll-- so roll on over to our Myth site and read all about it.

Oni

Harry Al-Shakarchi asks us to report the following: "Accusations!! Wicked hoarer of time!! I shall regurgitate no peas!! Hear me, shiny rectal tick!!" Thank you.

Halo

A new Halo clan is looking for very 31337 gamers; also, new Halo fan fiction, and word on a not-so-real Xbox mockup picture over at HBO.

Sat, November 25, 2000 2:45 pm
If you are reading this, it means you are in Elysia-- and you are already dead!


Marathon

Bungie.net moves to Geocities! ...well, maybe. Also, yet another Myth/Marathon parallel is discovered today at the Story page. Ahh, but you forgot about the dwarves on "Beware of Abandoaned Rental Trucks"...

Oni

Find out why Oni will not be a blood-filled gorefest today at Oni Central. Next week: why the word "Glock" cannot appear in future Harry Potter novels...

Halo

A goodly amount of new Halo media to go with your Thanksgiving leftovers: HBO has some new Halo fan fiction, and word of a new song inspired by Halo. (No, it's not John Lithgow's "At the Codfish Ball"...

Fri, November 24, 2000 7:46 pm
Rodents of Unusual Size? I don't think they exist.


In case you misses the news: The Myth: TFL (aka the original Myth) server at Bungie.net is currently down and will be for the next few days until the boys at Bungie can a-fix it. Hang tight, everyone-- and in the meantime, you can still play Marathon Rampancy.

Oni

OK... so you can't play Oni over the Internet. But how would you like to play through the game with one of over fifty different characters? It can be done, and Oni Central has the details. (Can I play through it with Aika? "Back off... Alpha STOOOOOOORM!" *shpack shpack shpaaaaack*)

Halo

It's Thanksgiving, so you should've expected some interesting new items at Amazon.com. Hmm... backstage passes to the Apocalypse... wave motion cannon... 272-page Halo strategy g-- huh? Read all about it at HBO.

Thu, November 23, 2000 3:27 pm
Happy Thanksgiving to all US Bungie fans!


Seems like the voice of Bob, Doug Zartman, is webmaster of an upcoming MechWarrior site. Check out this forum post on rampancy.net.

Marathon

Today is not only Thanksgiving, but the 6th anniversary of the Marathon Demo! Marathon's Story has details.

Marathon Arena has returned from stasis. Check out the site for more on this!

Marathon Open Source has word on work in progress done on the SDL version of Aleph One.

Myth

Mythmaster Central gets a much-needed update at Myth@Bungie.org!

Wed, November 22, 2000 7:00 pm
Covet no silver, covet no gold...


When Claude "Jennifer" Errera asked me if I wanted to write the first news update for the redesign, I said, "Sure." Man, what a stupid move. I'm barely literate to begin with, and he's going to exploit my ignorance like he exploited those nude photos of Hamish. (What, you didn't see those? Man, you wouldn't believe his... biceps.)

I remember it as if it were yesterday, except that it was just an hour ago, so it doesn't seem to make much sense...

Claude: "Hey Mikey, wanna make the first post?"

Mikey: "Sure."

Claude: "Okay."

Well, it doesn't really get more complex than that.

The basic format of what you're seeing hasn't really changed that much. You still have your navigation links, your news, and your streaming Konoko porn. (You don't see that? I guess you're using the wrong browser.) Something new that you might note is the seven random links over there. No, over there. It's a list of random places around Bungie.org. Each time you load this page, you'll have seven different links, one or two of which you might not have seen before. Take the chance to check them out if you can.

Really, little has changed. The news is right here, the links are over there, and Pierre is hiding somewhere around here.

I.e., the comfortable format hasn't changed, but its look has. I, personally, welcome your comments and G4 donations, as does the rest of Bungie.org. Feel free to email me at mikey-san@bungie.org and tell me what you think.

Mikey-San, Scenario News Dork

Tue, November 21, 2000 9:23 pm



Marathon

A number of levels that's divisible by 7, where else could you find such trivia but at Marathon's Story!

Myth

Myth@Bungie.org has news of a new forum.

Oni

Big news at Oni Central: 16 new shots AND an exclusive interview. Plus news of a new preview with new shots. Oni is getting the attention it has longed for!

Mon, November 20, 2000 8:53 pm



Marathon

Marathon|Rampancy has released version 1.5 of its Marathon for Unreal Tournament mod. Demand is high, and currently the only mirror is over at Clan Mac Gaming, so we've added a copy here for grabbing. It's 5 megs big, so if you're having trouble, check back at M|R's news page for other mirrors.

Buried M1 music, hidden pics in Deux Ex, and authentic PID packages for sale... the Marathon's Story page is chock-full of past-blasting goodies today.

A new netmap is available at the Archives... feels like a solo, until your buddy blasts you from behind!

Textures of unlimited size... check out the Oni poster on the wall in the latest Aleph One screenshot, over at Marathon: Open Source! Oh, what the Tempus Irae boys could have done with this...

The newest Big House inmate, the M1 to Infinity project, has just added a new endpoint... there's now a version for Marathon 2: Durandal! (Consequently, we've added a second link for the project on the Big House pages, to make it easier to find.)

New screens, and a new scenario, hit the streets at the ScenarioNews page... check it out!

Myth

So when was the last time you went dumpster-diving behind the Myth shop at bungie.org? There are some real gems to be found buried in the Legends and Lore section... check out the Myth page for details.

Oni

The forum at Oni Central has taken front row in the traffic department... seems all the new info has got people excited. (That's the point, I suppose.) Join in and make your opinion heard!

Halo

More fan fiction, some great forum discussion about weapons, and SETI stats, all over at HBO. Get your links while they're hot!

Sat, November 18, 2000 8:49 pm



Bungie's Letters to The Webmaster have been updated! Hilarious as ever, including the winners of the Bungie Webmaster's Poetry Slam And Hootenanny!

Marathon

A new inmate to the Big House: Raul Bonilla's M1 project. Pay him a visit and see what he's doing to make Marathon levels be playable in Marathon Infinity. Perhaps you'd like to lend a hand?

Scenario News has new screenshots and some e-mail confusion.

Myth

Myth@Bungie.Org has word of a new WWII map by Creation.

Oni

Oni certainly is gaining more spotlight these days; with previews, movies and shots left and right. Oni Central has Matt Soell's latest Oni Update as well as news on another preview of Oni.

Halo

Chain reactions and news on Matt Soell's latest Halo Update at HBO.

Fri, November 17, 2000 7:20 pm



Marathon

Yeats? (No thanks...) Frain? Frane? Get the lowdown on whatever the hell I'm talking about over at Marathon's Story.

A while back, the Marathon Arena project (hosted here at Bungie.org) closed shop for a number of reasons. Today, though, we noticed that there has been some activity on the site. What could it mean? Burglars? Hackers? Claymation tree sloths?

The boys at Marathon Open Source have cleaned up another one of their many sections. You owe it to them to pay a visit. C'mon, free marshmallows...

It's a massacre today at Scenario News! The only survivor was Michael Watson, found hiding underneath a barrel wearing a Ricky Martin shirt... oh wait, this is just a new scenario called Massacre. Well, hey, at least it's good news.

Myth

Top-secret maps go public. Where are they?; they're top secret. But they're public now. Still top secret though. Huh? Get the latest word at our Myth site.

Oni

A new poll at Oni Central asks: Was the latest Oni media worth the wait? Head on over and see... perhaps by next Christmas we can have a similar poll for Halo.

Halo

Today at HBO: "Diamond" Dan Rudolph spots more Xbox info, sorta. There's also a ton of new fan fiction, and word of a new Halo poll at a new Halo site.

Wed, November 15, 2000 9:57 pm



Marathon

Oops, we did it again-- we updated our news page. Marathon's Story has first word on more unspeakable rituals at Bungie.

This will probably end up flooding our Marathon section; who cares. With all the hubbub about Marathon-to-Something-Else conversions (like the project to convert the original Marathon to Marathon Infinity), we decided to go directly to Bungie to get a definitive answer to the question: Is any of this legal? Today we received a reply from Matt Soell, after he checked with Alex Seropian and the Microsoft Legal Department:

"We're not worried (and neither is MS Legal; I checked) about copyright violation with this stuff since it's squarely targeted at people who are already fans of the game and probably bought their copies long ago. As long as the two golden rules you mentioned (no money changes hands and all copyrighted Bungie content is explicitly denoted as such) are adhered to religiously, people who develop these types of projects (old Bungie game in a new Bungie skin) may distribute them with our approval. If they choose to distribute their revamped Bungie stuff with an Aleph One app, they must make clear that the GPL that covers the Aleph One app does NOT apply to the copyrighted Bungie content in the art/sound/map/etc. files. We're allowing people to use those copyrighted works because we're nice guys and so are they. The only way we'll get pissed and reverse ourselves on this would be if someone started selling something deriving from our copyrighted work, or claiming it as their own."

Great news for scenario designers! Thanks, Bungie.

Today's Archives update is huge. Monstrous. Gigantic. It's of epic proportions. Following the end of the recount we found a bunch of new Marathon scenarios that have been converted to Aleph One SDL (Windows Aleph One users, this means you!). There's plenty of other cool stuff here as well whether you use Aleph or just good ol' vanilla 'thon. Sho' 'nuff.

Myth

This is posted on Bungie.net as well as on our Myth site, but some Myth gamers have reported that the game is incompatible with Windows 2000. Bungie.net webmaster Max Hoberman (aka "yeroen") has addressed this as follows, to paraphrase him: As Take 2 Interactive now owns the Myth franchise, Bungie is no longer responsible for technical support of the games-- that will have to go through Take 2. However, don't despair; the guys at Bungie are still working on the situation, and a possible solution may be in sight sometime soon.

Oni

Hmm... Final Fantasy IX or Skies of... oh, screw this! Oni Central has word on not just ten new Oni screenshots, but ten new Oni movies as well! And if you haven't seen it yet, be sure to also check out Oni Central's exclusive guide on "How to Draw Konoko".

Halo

There's a new Halo desktop over at HBO. My mind is thoroughly boggled by the sheer volume of Halo news flooding into the community today.

Tue, November 14, 2000 9:32 pm



Someone wake me when we have a President. In the meantime, check this out.

Marathon

You wanted more, you got it-- more sevens, more threes, more polls, and more Halo-Marathon parallels today at Marathon's Story. Bon appetit!

Some new information today in the Aleph One FAQ. If you've ever had a frequently-asked question that hasn't been frequently answered, you might want to frequent Marathon Open Source.

Myth

Myth? You want a myth? OK, here goes... Someone told me about this guy who had lunch at a Taco Bell upstate. He ordered three Chilitos (now known as Chili Cheese Burritos). When he bit into the first one, he got a mouthful of some guy's disembodied finger. They say the finger had a ring on it. I say he should have taken the ring and sold it on eBay, then sued Taco Bell... cha-ching!

Oni

Alex Okita, artist for the Oni team and original designer of Konoko, has left Bungie West to pursue other interests. Find out more at Oni Central.

Halo

Lots of stuff today over at HBO. There's some new fan fiction, new information on the Xbox... and what's up with Halo-Net today?

Mon, November 13, 2000 9:10 pm



Pathways Into Darkness

Looks like the Myth/Pathways connections are strengthening... go see what's up at the Pathways Into Darkness page!

Marathon

Yet another version of Aleph One for the mac - it's all about texture substitution. (Don't know what the heck texture substitution is? Check this out.) This, plus more on the M1 to Infinity project, and MML to allow another major scenario to be played under A1, and... aw, man, just go visit the Source.

Ringworld/Marathon ties? Nahh... or is it? Check out the Story page.

Several months ago, bungie.org ran a Mapmaking contest to see who could make the coolest map that used exactly 7 polygons. The winning entries have been in the Archives since June... finally, you can see what the rest of the participants tried. (Some of 'em are pretty darn clever...) Stop by and pick 'em up!

Myth

Myth III... it's not a hoax! Check out Myth at bungie.org for more details. Plus funny movies of funnier-looking people, and a new (old?) net resource for discussing the future of Myth. Swing on by!

Oni

New screenshots! Oni Central's got the dirt. Woohoo... look at them moves!

Halo

Wads of new fan fiction, new sites, interviews, SETI stats... HBO's full to the brim today. Go visit for your daily Halo fix.

Sat, November 11, 2000 2:17 pm



Bungie.org would like to take this opportunity to say "Welcome Back" to Jim Ruiz, who returns to Bungie Software to man the Bungie Store, which should be returning shortly. Welcome back, Jim!

Marathon

A new poll on first-person shooters offers Marathon as a choice for Favorite First-Person Shooter- and you know what that means... Marathon's Story has a job for you. Check it out!

An update on two Marathon scenarios today at Scenario News, including first word on a new project to convert the original Marathon to Marathon Infinity. There's even a demo available!

Oni

This week's Oni update is available at Oni Central, and it's short... in a very good way. The game's so close, I can almost taste it... (cue "Delicious" from Dr. Demento)

Halo

In today's Halo news at HBO: Two Aussie Halo sites join forces, and... uh... anything else here? Nothing except for this delectable new Halo update directly from Matt Soell, probably the most intriguing one to date... ah, but who cares about that?

Fri, November 10, 2000 6:14 pm



Marathon

Did Doug Zartman really have a starring role in the last Alien movie? Also, it looks like Jim "Jazzman" Ruiz is back at the soon-to-be-returning Bungie Store. Keep your eyes peeled to Marathon's Story for the full, well, story.

Oni

Yet another Oni cover art concept is up today at Oni Central.

Halo

Another new Halo fan site comes online, and the debate continues over whether Verant's new title is really all that similar to Halo. Survey says... head on over to HBO and check it out!

Thu, November 9, 2000 5:40 pm



Marathon

First they found a Marathon logo in Halo, now they find Marathon sounds in Halo. Next thing you know, they'll be finding the number seven in Halo! Sheesh... See how many sevens you can find at Marathon's Story.

Incoming transmission from "Mark Leven" (yes, "Leven")... looks like something's up over at Marathon Open Source.

Some new files today at the Marathon Archives... Another update to the Dissent scenario; this one fixes a bug with the Sounds file. There's also a ten-map netpack for use with Marathon EVIL. Check it out!

Oni

The big news today is at Oni Central- Oni fans, you won't want to miss today's update! The official Oni site has gone live, complete with a brand-new movie of Oni in action. Also, check out a scan of the latest ad for Oni- two full pages this time!

Halo

Today at HBO: New fan fiction, and the continuing debate over whether Verant Interactive's latest title has been "inspired" by Halo.

Wed, November 8, 2000 9:47 pm



Marathon

More findings of the number seven (what a shock), lost emails and the true(?) meaning of Fist of Legend today at Marathon's Story.

A new version of Aleph One will be here soon, and Marathon Open Source has the first word. Also, be sure to check out the new Ideas section for the site.

Oni

Big news today at Oni Central... Gathering of Developers announces an Oni fan art contest, and the Oni release date is pinned down, to the day.

Halo

Further installments of the Halo MPZ interviews are up. HBO has the details.

Tue, November 7, 2000 9:45 pm



On this, Election Day, Bungie.org would like to remind its readers that... today is the third anniversary of Myth's release! There are various celebrations occuring around the Internet in honor of the occasion. In case you're missing out on the party (because we updated so late), check out Rampancy.net for details.

Marathon

Today on the Marathon's Story page, find out for yourself how other various Bungie games begin to tie in to Marathon. ...or do they?

Orbital Arm updates with a request to users of Marathon Aleph One. Head on over and help get this puppy off the ground.

New information on Marathon Death Ecstasy and Marathon Portal of Sigma is available today at Scenario News.

Oni

Oni fan art contest! Oni Central has the details...

Halo

Today at HBO: a big juicy news item that has absolutely nothing to do with Halo. Gotta be an election year...

Mon, November 6, 2000 5:05 pm



Remember, tomorrow is Election Day. Don't forget to get out and cast your vote! (Two words: "President Sinclair"...)

Marathon

Today at Myth's Story... eh? Take a look and see for yourself...

Is Marathon Nightmare truly dead? Perhaps not. Scenario News has the full story.

Oni

A new poll is up over at Oni Central... but that's not all! We get a glimpse at what could very likely be the box art for the Mac/PC version of Oni... and what you'll find may surprise you. Check it out!

Harry Al-Shakarchi asks us to report that "I THINK MILK IS GOOD. YUM.". Currently he is flying around the neighborhood trying to be mistaken for a pterodactyl. If you find him, please bring him home.

Halo

In today's Halo update: the latest Halo SETI Marines report, and news of a possible final design for the Xbox. Get your daily dose of Halo news at HBO.

Sun, November 5, 2000 2:42 pm



Pathways Into Darkness

What could Myth have to do with Pathways Into Darkness? More than you may realize... or does it? But wait... maybe it does... or maybe it doesn't...? Get your own ideas at the PID site. "So what's at the bottom of the hole, Matt?"

Marathon

Guess the Bungie Quote today at the Marathon's Story page! If you guess correctly, you may just win one of these.

We've chosen a new Map of the Month for the month of... OK, so we're a little behind. ;) But the map chosen is certainly worthy of the award.

What could this be? A revamped section at Marathon Open Source? Hmm... that and the Marathon's Story quote... it's a day for Mara-mystery.

Myth

Wanna check out Bungie.net from your cellular phone? It may be possible sometime soon-- though it's doubtful you'll be playing Myth on the thing. Check out Myth site for the details.

Halo

HBO has word on the latest Halo news update, along with information on a new movie based on the Ringworld books.

Fri, November 3, 2000 7:24 pm



We apologize for yesterday's lack of an update, and today's late update; our normal news person is a bit under the weather. With luck (he / she) should be back tomorrow. Today's update will be brought to you by "2 STR8 SUPA PHAT BAPTIST".

Marathon

DA BUNGEE STORE IS RETURNIN... DIS IS SO TIGHT!!! MARATHONZ STORY IZ GUNNA TELL YA ALL ABOUT IT PEEPZ......... OH AND THERE'Z A BUNCH OF OTHER STUFF THERE TOO

Myth

SUM BIG HONKIN NEWS 2-DAY AT DA MYTH SITE...... CAN I GET A WITNESS 2 SUM NEW JINN SCREENS AND MAYBE A COOL FANFEST THING TOO, PRAISE DA LORD

Oni

A RELIGUS MANZ WORK AIN'T NEVER DONE..... ONI CENTRAL GOT DA LATEST WORD ON ONI FROM MATT SOELL 2 NITE..... AND NEW WORD ON DAT ONI COMIC!! PLUS SUM FANART 2. GET DAT S*** DAWG..... AT ONI CENTRAL..... (Editor's Note: Mr. Phat Baptist will not be back tomorrow.)

Halo

R U DOWN WIT XBOX PREORDERS OUT THERE???? BUY 1 NOW 4 $500 DAS A LOTTA $$$$ U KNOW???? N E WAY HBO HAS DA NEWS AND DOUG ZARTMAN IS IN DA HOUSE YALL!!!