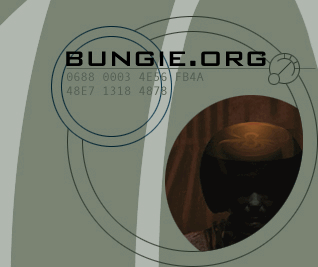 Bungie.org public forums:

Out and about at Bungie.org:

[3815956]



bs | halo | oni | phoenix | ? | marathon | myth | pathways


a source of 7 essential vitamins and minerals

---
November 2001 Archived News
Wed, November 28, 2001 2:10 AM
Mmm... path...


Marathon

Gaze in stunned disbelief as Marathon's Story posts a shocking revelation that will shake the Marathon world to its very foundation: If you look at it the right way, Marathon Infinity's plot actually makes sense.

Halo

At last, we see what the great Louis Wu thinks of Halo. Also, there's some stuff about Halo's sound. And the usual zany hijinks and moments of tenderness. For as we all know, like the sands of the hourglass, so are the Days of Our Forums...

Mon, November 26, 2001 12:21 PM
[some joke involving eating way too much, even though it's 3 days late]


Marathon

There's always room for JELLO! Er, new Marathon maps. From the Archives. Mmm, jello...

Halo

Man, if I had a nickel for every site that reviewed Halo, I'd have... oh, about $1.80.

Fri, November 23, 2001 5:47 PM



Marathon

A new version of Marathon Resurrection has been unleashed! The word on the new version, straight from the team:

Marathon: Resurrection beta 1.1.1 is now available for download. This update is a patch for b1.1 ONLY and will NOT work with b1. Anyone wishing to use this patch MUST download the FULL b1.1. Consequently, anyone wishing to host the MOD must host both the full b1.1 and the b1.1.1 patch. This update includes a large number of bug fixes, as well as gameplay tweaks, 2 updated maps and 2 new maps.



If you are killed while invisible you no longer have the invisible skin for the rest of the game.
You can now kill an invincible person with the fusion pistol.
The HUD score display now truncates player names to 11 characters.
You can no longer recharge your health while feigning death.
You can no longer toss weapons.
Extravision fixed.
Hypervision now does something worthwhile.
Fixed a problem in King of the Hill that cause 'Accessed None's in non-KOTH play.
Modified the map select code in all three games to not append '?game=blah' to the map name if it is already there.
Modified the staff to shoot a different projectile when wielded by a player or a bot. New projectile is faster than the standard one. Hopefully this will make it a slightly more useful weapon in net play.
Modified the staff to swing in a wider arc.
Added a MarathonHealth class and Marathon1xHealth, Marathon2xHealth, Marathon3xHealth, and MarathonO2Powerup power-ups.
Added default Health=150 to MaraSkelPlayer and MaraSkelBot for use by health power-ups.
Grenade and SPNKR double explosions fixed.
Fixed green bob pants texture
TOZT no-ammo-use exploit fixed
SPNKR/AR grenade explosion tweaked
Weapon reloading can now be interrupted by switching to another weapon
Although probably no one but another scripter cares, I finally tracked down an "Accessed None" in the MarathonThingFactory that has been hanging around for at least a year.
FOV forced to 90 on login and logout, made necessary by Extravision (Extravision changes player FOV setting).
Fusion water damage now done by projectiles in postbeginplay to actors in same waterzone (previously by fusion gun, checking actors in range and in water)
Increased fusion projectile water damage too. They use default damage values now.
Better magnum net code.
Dimmed the HUD textures so they look better translucent.
(Hopefully) Fixed serverside player skin error in SkeletalPlayer.
New Maps:

DMMRK-Route66
DMMRK-OneHitWonder

Fixed maps:
DMMR-CarnagePalaceDeee-luxe

Halo

The master Xbox HaX0rs emerge from the shadows on Halo.bungie.org, giving us mere mortals a way to play Halo over the Internet.

Thu, November 22, 2001 2:42 PM
"...we would have never had Thanksgiving if it weren't for the talking squirrel..."


Marathon

It's not dead yet, folks. Scenario News has a bunch of updates.

Hey, wait a minute, what game is this anyway?

Myth

Myth@Bungie.org tweaks its design, and posts news of a new Myth site.

Halo

Halo.bungie.org makes great strides in the science of game reviewing, posts a fun new movie from the Launch Party at last, and reports on some promising if difficult Xbox haX0ring.

Tue, November 20, 2001 12:39 AM
Not all stories have happy endings.


Marathon

God, Mark Levin has a lot of time on his hands. Also, find out what bad spelling has to do with Marathon's Story.

Myth

Some unfortunate news at Myth@Bungie.org.

Halo

Mmm... Cortana...

Fri, November 16, 2001 1:21 AM
Collect ammo to increase firing speed. Aim gun with mouse, fire with mouse button.


At long last, the new Bungie.net launches, with a ton of new stuff to play with. Also emerging from the shadows is Seventh Column, the official Bungie fan club and underground army. Check it out!

Marathon

A whole bunch of Halo stuff hits Marathon's Story. And what's this? ABUSE?? Man, that takes me back...

Halo

The Halo reports continue to roll in. You'd think the game came out today or something.

Wed, November 14, 2001 7:13 PM
another time... another time...


Huhuhuh... You said 7...

Marathon

The Archives gets some new mapmaking tools from one of the ancient and revered Forgemasters.

Marathon's Story, well on its way to becoming Halo's Story, reports on mysterious things.

Myth

Myth@Bungie.org puts up its own contribution to the general atmosphere of game-spoiling these days.

Halo

BEEP. BEEP. BEEP. This has been a test of the Emergency Spoiler Concealing System. Had this been a real spoiler, the signal you just heard would have been followed by more information on Halo than you wanted to know. You may now return to your regularly scheduled... whatever.

Mon, November 12, 2001 12:56 AM
Were you at the Launch Party?


Marathon

There's a new Marathon mod on the scene: Check out Marathon|Rampancy for Unreal Tournament. Some competition for our own Resurrection.

Halo

The Halo Launch Party is over and done (that's why this page hasn't been updated since Thursday, I was there. If you ask why I didn't post on Friday, I'll ignore you.) Halo.bungie.org has lots of fun stuff reported from it.


Wed, November 7, 2001 12:46 AM
...and that is where all stars end...


Marathon

The Mark Levin conspiracy emerges from the shadows on Marathon's Story. And there's a lot of stuff about Halo too.

New maps are still being posted at the Archives. Reverof nohtaram.

Myth

Myth@Bungie.org disturbs you with shaky rumors. Oh, the humanity!

Halo

Halo.bungie.org kicks into overdrive as Halo approaches. They've got commercials, fan creations, tidbits from the Fall of Reach, and some good old-fashioned Bungie mysteriousness for your viewing pleasure.

Sun, November 4, 2001 8:26 PM
Some people call me the space cowboy...


Marathon

The discussion continues at Halo's Spoilers.

The Archives always has fun new maps to play with.

Myth

Myth@Bungie.org reports on the progress of the Mac version of Myth III: The Bu-er, Wolf Age.

Halo

Tons and tons of new Halo stuff at Halo.bungie.org. Flawless cowboys, beautiful grass, epic battles, horrendously long threads... It's all there.

Fri, November 2, 2001 12:02 PM
Oh, how we loved thee...


Special update

This news is 2 days old now, but it's still important. Some of you may have noticed that the Evihcra Network is no longer responding. Here is the official word from Fm, the man behind the family of file archives:

The Public Archive Network is experiencing difficulties that has resulted in a temporary loss of service. We apologize for any inconvenience this may be causing our users but this is as temporary as it is unavoidable. Please be patient and we will be back online as soon as possible.

This affects a number of bungie.org sites:

The Lh'owon Ar'kives provided a home to all Marathon-related files, including a number of categories not covered by the Archives, as well as user-written reviews.
The Mill was the ONLY truly comprehensive Myth file archive on the net.
The Liandri Depot was by far the biggest site for downloading betas from the b.org-hosted Marathon: Resurrection mod for Unreal Tournament.
Fm had stated that a new site, dedicated to Halo mods, would go live as soon as content for it was available.

The loss is huge, and will be felt strongly by the entire community. Hopefully, the downtime can be held to a minimum.

Fri, November 2, 2001 2:27 AM
OK, we missed Halloween. So sue me.


Marathon

Scenario News continues to set records for slack.

Halo novel mysteriousness abounds at Marathon's Story. Enhance your calm, John Spartan...

Whoa.

Myth

Give Myth III a spin with the PC demo, as Myth@Bungie.org tracks down box shots and more.

Halo

Lots and lots and lots and lots and lots and lots of Halo news at Halo.bungie.org.

Bungie Sightings

Only seven?! Why, I must have run Marathon a thousa- Oh, you said "run a marathon"... Anyway, that's what The Man's up to these days. Bungie Sightings has the details.