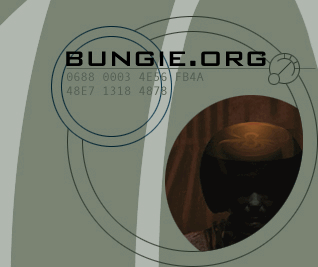 Bungie.org public forums:

Out and about at Bungie.org:

[3815957]



bs | halo | oni | phoenix | ? | marathon | myth | pathways


this sentence is false.

---
November 2002 Archived News

Tue, November 26, 2002 4:19 PM
Shoveling more BS


Bungie Sightings

Would you believe it, those wacky guys over at BS have some new content, and a new design. What is it with this blog thing anyway? They've been 'filling' it up for a while now, so go and check out the new entries for the past month or so!

Wed, November 20, 2002 7:09 PM
Whose side are you on? That would be telling...


Marathon

Arrrrrrrrrrgh... He updated the day RIGHT AFTER I did! I know he did that deliberately!

Myth

Myth@Bungie.org prepares the big mac attack as the Myth III editor Vengeances finally goes cross-platform. And it looks like the mighty Craig Mullins is up to his old tricks...

Halo

Have you got a WHAT?

Fri, November 15, 2002 6:36 PM
Someone buy me Steel Battalion please.


Marathon

The Marathon's Story community joins in the slandering fun with Son Of Scenario News.

Myth

The Fall Classic Tournament kicks off on PlayMyth, and Myth@Bungie.org is all over it like lame on Bnet.

Halo

"IT'S LIVE!" "Very funny, Igor."

Sat, November 9, 2002 2:25 PM
Useless Super Thing


Marathon

The Sland- uh, Scenario News page has been updated. 173? Amateurs.

Myth

While I was lost in the depths of extreme laziness, Myth@Bungie.org marked the 5th birthday of the Myth: The Fallen Lords demo, and the release of some important tools.

Halo

I say we take off and nuke the site from orbit. It's the only way to be sure.

Fri, November 1, 2002 11:21 AM
Now to eat candy until my teeth fall out.


Marathon

The sleeping giant has awoken as Aleph One gets a major update featuring major performance improvements and non-experimental TCP/IP networking.

Myth

Myth@Bungie.org tracks server stats, wallpaper, and crocodiles.

Oni

Oni Central is still alive, or at least one of the forums is.

Halo

"::GASP:: He does exist!" "::GASP:: They do exist!" ::falls over:: ::falls over::