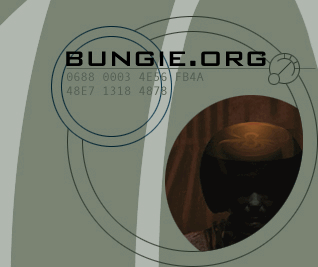 Bungie.org public forums:

Out and about at Bungie.org:

[3815949]



bs | halo | oni | phoenix | ? | marathon | myth | pathways


not intended for children under 18 months

---
October 2001 Archived News
Mon, October 29, 2001 1:00 AM
The butler did it.


Marathon

Another site has joined our Marathon section: Please welcome mega-scenario Marathon: Rubicon to the Bungie.org family. (They've still got their own domain, but now it's brand-name B.org gear behind the scenes.)

Myth

One down, one to go... The waiting shifts to the Mac version of Myth III: The Wolf Age, as Myth@Bungie.org is all too happy to tell you.

Halo

Looking for a way to while away the hours waiting for Halo's release besides going through your entire Halo movie collection frame by frame for the umpteenth time? Halo.bungie.org has just the thing. And if you want to drive yourself even crazier with impatience, they also have rave (and raving) reviews of the game from tons of gaming sites.

Fri, October 26, 2001 12:30 AM
X, X, baby...


Marathon

There's always something good to play at the Archives.



Myth

Can't wait for Myth III? Get a taste of it by throwing its music on your brand-new iPod. Details at Myth@Bungie.org.

Halo

Not even the impending release of the actual game will stop the flow of fan fiction and fan art into Halo.bungie.org.

Wed, October 24, 2001 5:57 PM
I rode a tank, held a general's rank, as the blitzkrieg raged...


Oni

Oni Central has a note on how to haX0r Oni to work with your Saitek gear.

Halo

It's surprisingly hard to chase down those Official Xbox Magazine Halo scans, but Halo.bungie.org is keeping up as well as they can. And, just for once, there's a reason to actually read MAxim for the articles. Seriously.

Bungie Sightings

"It's alive, Igor!" But seriously, folks, Bungie Sightings rides again, bringing with it a revamped forum. So how about that Halo launch party?

Mon, October 22, 2001 6:15 PM
There is no future. There is no past. There is only the word. And the word is...


Myth

Myth@Bungie.org looks on as a Myth TC takes to the 'net.

Halo

Contact has been re-established with the Halo SETI Marines, who have been retrieved from their unauthorized shore leave and put back to work. And put away that gas mask, it's now safe to read the upcoming Halo novel. Get the scoop at Halo.bungie.org!

Sun, October 21, 2001 9:44 PM
"Now that's a name I haven't heard since..."


Marathon

Hamish Sinclair goes... uh... jogging or something, judging from the gasps. A real Marathon man.



Halo

The only thing about Bob is the way he walks... So says the mighty Chris Butcher. See what the fuss is about at Halo.bungie.org.

Fri, October 19, 2001 11:20 AM
"Bring out the Master Chief." "But the Master Chief's sleeping." "Well I guess you'd better go and wake him up then..."


Marathon

Marathon's Story finds sevens in Halo. What a big fat surprise. ::sarcasm meter explodes::

Marathon Open Source has new information on Aleph One running under OS X and how to make the Marine fire grenades from his crotch, as well as programmer gobbledygook about SDL.

Myth

Myth@Bungie.org continues to delve into the dank and moldering crevices of Myth's story, and reports a major milestone in the creation of Myth III.

Halo

There's some new Halo movies out. But, uh, don't watch them. So sayeth the venerable Marty. Halo.bungie.org has all your news, fan fiction, and old-people-joke needs.

Wed, October 17, 2001 11:20 AM
Anthrax Ripple


Marathon

Marathon's Story has a new vid film, showing off a never-before-seen trick from Marathon 1. Man, that takes me back...

Four websites and a funeral makes the news on Scenario News.

Whoa.

Oni

Interesting developments from a l33t haX0ring Oni fan. Oni Central has the story.

Halo

There's no way I could possibly cram all the cool Halo and Xbox news over the past five days into this little box, so just go to Halo.bungie.org.

Fri, October 12, 2001 2:29 PM
New records are broken every day...


Marathon

Missed in the confusion (that'll teach them to update on such a wierd schedule) is a new chunk of Scenario News.

There sure are a lot of people named Eric involved with Halo. Marathon's Story has the details.

Woohoo! The next version of Marathon: Resurrection is out!

Myth

Myth@Bungie.org brings you news of more free stuff from our friends at Evihcra.

Halo

Some lucky bas... er, people have begun sending in reports of Halo demos. Halo.bungie.org has the dirt.

Wed, October 10, 2001 8:36 PM
I've got seven tickets to paradise...


Marathon

Dave? What are you doing, Dave? I'm scared, Dave...



Halo

A lot can happen in two days... Halo launch party! Halo rated M! Halo Movie rumors! And more fan fiction and fan art! (Well, OK, that last one happens every two days. But still...) Check it all out at Halo.bungie.org!

Mon, October 8, 2001 11:29 AM
la la la


Marathon

Now that the Marathon symbol is everywhere, what exactly is it? Marathon's Story knows...

It seems to have slipped through the cracks, but Marathon Open Source has an explanation of animated-model formats.

Myth

A Myth TC gets updated and the wolfage continues to spread on Myth@Bungie.org.

Halo

Fan artists are having a field day with the Pillar of Autumn. Get the latest at Halo.bungie.org.

Sat, October 6, 2001 10:55 PM
We Cram Fun Down Your Throat


Marathon

I spy, with my one little eye... A Marathon symbol! They're everywhere!

Myth

Myth@Bungie.org tracks the alliance between Mumbo Jumbo and Gamespy.

Halo

The Halo Update puts the smack down with supreme screenshot goodness. See what the big fuss is about at Halo.bungie.org.

Thu, October 4, 2001 10:08 PM
Because seven eight nine.


Marathon

The first rule of Scenario News is: You do not talk about Scenario News.

Marathon's Story does another recap episode, with venerable classics such as the Halo Developer Diaries and the wild ramblings of the forum-goers for your reviewing pleasure.

Halo

It's been a bittersweet day at Halo.bungie.org. There's a bit of disappointing news from Matt, some old screenshots, tales of Halo testing, and Bungie's ninja assassin department get some much needed practice on a hapless IGN poster...

Tue, October 2, 2001 7:13 PM
[self-effacing reference to lateness]


Marathon

Not content with analyzing the Marathon series down to the last details, Marathon's Story starts analyzing parts of the game that don't actually exist.

Name-calling and unexpected coups are the theme of the day at Scenario News. Four hundred quatloos on Gates of Fenris!

Myth

Win a green beret at The Mill!!! Uh, make that Myth II: Green Berets. Myth@bungie.org can explain this much better than I can.

Halo

Gigantic Covenant commanders invade Halo.bungie.org. And there's some Swedish stuff too. I'd make more stupid comments but I can't get the accent right.