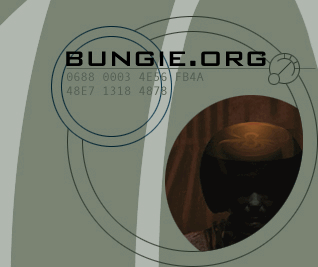 Bungie.org public forums:

Out and about at Bungie.org:

[3815953]



bs | halo | oni | phoenix | ? | marathon | myth | pathways


the Internet's alternative to useful gaming information

---
October 2002 Archived News

Mon, October 21, 2002 2:03 PM
Wait... who is THIS guy?


Chappy has sent in a pretty cool collection of MacOSX 10.2 boot images; you can replace that grey apple with some good old Bungie lovin'. There are a whole bunch of options... this animated gif (61K) will cycle through them, so you can see if the whole download is worth your time. The included readme will explain how to install one (including a link to the tool needed). The archive (stuffit format) is 484K.

Phoenix

Phoenix, she eez dead... but she lives! (Funny how you have to kill a game to get people to create fan stuff for it, sometimes.)

Marathon

The Project: Found Delivery team has finished up the Marathon 2 terms... go check the Marathon's Story page for details.

The Scenario News page hasn't been updated in weeks, and is getting irate mail about the situation. My guess? Something'll happen soon.

Orbital Arm is going nuts with SDL ports of M1A1 stuff. Those guys would port Pong to SDL if they could...

New fan-written stories at the Marathon Fan Fiction page - no updates REALLY recently, but we forgot to tell you about the last few, so here you go.

Speaking of forgetting... did we mention that Marathon: Resurrection made the most recent MacAddict cover disc? Finally? Or that the boys over there are stupid enough to post, on a public page, their plans for the kidnapping of a beloved icon? (Okay, so he's not beloved... but it's still a crime.) Go buy the mag. Maybe you'll make enough of a difference that they won't press charges.

Halo

Some games aren't dead, and STILL get lots of stuff created for them - witness Halo.

Thu, October 17, 2002 9:14 PM
Spinning the Grid


Marathon

Marathon's Story gets its first major overhaul in a very, very long time as the terminal pages are adorned with pictures, screenshots, information tables, and... music?!

Myth

Sites go up, sites go down, but the Myth world will always remain...

Halo

Well, we were so distraught over Louis's absence that we forgot to lock the window he escaped out of, and someone climbed in and posted a few news updates while we were out in the woods. At least he actually wrote about Halo. God, don't make me think about last time...

Mon, October 14, 2002 9:45 AM
Am up early or late? Your guess is as good as mine.


Pathways Into Darkness

Out of the depths, it rises...

Marathon

Marathon's Story is finally receiving something of a design overhaul, with pretty new terminal pictures. What next, a search engine?

Whoa.

(No, seriously, Whoa.)

Halo

Last night, Louis Wu locked himself in his office and then went suspiciously silent. Only this morning did we discover this was due to his complete absence. Not for nothing does he reserve the compound's sole window for himself. Efforts are under way to recover him, but for the next few days Halo.bungie.org will be in the capable hands of our own Count Zero, as soon as someone can wake him up.

Wed, October 9, 2002 8:59 PM
Yeah, so I'm a bit late. Sue us.


Marathon

Mark Levin unearths a discovery of such unparalleled horror that Marathon's Story readers are gouging out their eyes left and right with various blunt implements. Rumor has it the heart of darkness lies on the forum. Meanwhile, the Archives have been updated with even more Marathon stuff.

Myth

Bloody Aegis? Muddy Blood? Myth@Bungie.org has the, uh, dirt.

Halo

Every time someone declares Halo completely played out, someone else comes along and proves him wrong.

Tue, October 1, 2002 9:13 PM
I wish... that I could turn back time...


Myth

Oni

Somewhere deep in the Bungie.org compound, deep beneath the basement and reactor complex and abandoned mines, is a door. A sign on the door reads "Beware of the leopard". Behind the door is something that we had long thought locked away forever... but it's stirring.

Halo

What? The torrent of fan fiction has slowed? I don't believe it!