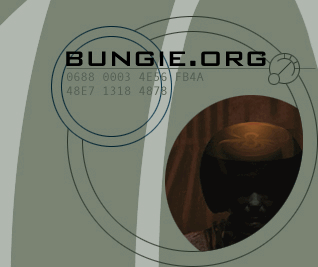 Bungie.org public forums:

Out and about at Bungie.org:

[3815942]



bs | halo | oni | phoenix | ? | marathon | myth | pathways


smarter than your average bear

---
September 2001 Archived News
Sun, September 30, 2001 1:15 AM
Hard to type with nine fingers :\


Marathon

Tons of new maps constantly pour into the Archives, as usual.

Scenario News reports on a scenario that, for once, is not ashamed to admit that its author is on some serious crack.

Halo

Whoo, Cortana! ::wolf whistle:: ::panting:: ::eyes bug out:: ::jumps on table:: ::bashes himself with giant mallet::

Thu, September 27, 2001 9:41 AM
One more of these late days and I start losing fingers :(


Marathon

Marathon fans. They're everywhere. And boy, do we mean everywhere. Marathon's Story has the details.

The Archives are still going strong after all these years, with new solo maps being posted for your vidding pleasure.

Scenario News, as always, keeps an eye on the front lines of the scenario design war.

Myth

Myth@Bungie.org tracks down a report on a k3wl new feature of Myth 3.

Oni

Oni Central posts some brand new fan art. Neato.

Halo

A whole lot of stuff has happened at Halo.bungie.org while I was being lazy. More information on bots in Halo, the storyline, the Eric Trautman conspiracy, as well as the usual tons of fan art and fan fiction.

Mon, September 24, 2001 3:11 PM
Hmm... this would explain a lot...


Marathon

A very long and technical rant has been added to Marathon Open Source. Will Aleph One ever support my cupholder?

Myth

OMG MITH 3 SITE MB

Halo

The Halo SETI Marines human resources department has been working on their turnover rate, and the fan fiction section gets an overhaul. All in a day's work for Halo.bungie.org.

Sun, September 23, 2001 1:20 PM
Sunburn sucks. But 34-10... Wow.


Marathon

Aw man... Halo isn't that close to Marathon after all. Now Cortana and Durandal will never have their chance at happiness together.

Halo

Pigs take flight, Satan takes a sweater, and I take the throne of England as Microsoft starts to think about the PC version of Halo. Also, it looks like Halo will carry on the venerable Bungie tradition of exploding enemies. And there was much rejoicing.

Thu, September 20, 2001 7:42 PM
Annie, are you OK? Are you OK, Annie?


Marathon

Hamish Sinclair has returned, subverted the largest Pfhor ship in the system, and is making the rest of the fleet drink vacuum. As well as recapping the past 20 days of Marathon tidbits.

Myth

The Myth mega-scenario The Seventh God finally hits the Mill. Get the details at Myth@Bungie.org.

Halo

HALO IS COMING TO THE MAC AND PC HALO IS COMING TO New wallpaper! THE MAC AND PC HALO IS New fan fiction! COMING TO THE MAC AND PC HALO IS COMING TO THE MAC AND PC HALO IS An update on the Halo Launch Party! COMING TO THE MAC New movie mirrors! AND PC HALO IS COMING TO THE MAC AND PC HALO IS COMING TO THE MAC AND PC HALO IS COMING TO THE MAC AND PC HALO IS COMING TO THE MAC AND PC

Wed, September 19, 2001 11:24 AM
Halo Forum, meet Godwin's Law.


Marathon

"I'm back."

The Aleph One project picks up speed with new engine technology, new Mac OS X builds, and new maps to play with.

The Orphanage is still diligently collecting the shards of scenarios.

Myth

"The wolfage must flow!" cries Myth@Bungie.org, as new Myth III screenshots pop up all over the 'net.

Halo

How many Microsoft employees does it take to change a lightbulb? Probably not nearly as many as it takes to convince people that Halo is coming to the Mac and PC.

Mon, September 17, 2001 11:07 AM
You can roll with this, or you can roll with that...


Marathon

Work continues on Aleph One, with the long-awaited addition of... better error handling. And fun 3D stuff.

Myth

Myth@Bungie.org has some new Mythmaster filmz, and plenty of news from around the Myth world.

Oni

Oni Central revamps its fan art area, and puts up some new images.

Halo

Silly Halo fans, .wmv files are for PCs... Halo.bungie.org takes the new Halo movie to more formats for your viewing pleasure.

Sat, September 15, 2001 12:14 PM
Life must go on.


Each member of Bungie.org must decide for himself how to balance the demands of their web sites against the tragedies of the past week. As you can see, I myself have returned to updating this page, but I cannot, and will not attempt to, speak for the rest of the Bungie.org family. Our webmasters are people too, people who mourn like any other. Expect all site updates to be irregular for the foreseeable future, at the sole discretion of their individual operators.

Oni

The Oni Soundtrack Contest winners have been announced.

Halo

During the past few days, Microsoft's official Halo site was temporarily online, revealing some new media and information.

Tue, September 11, 2001 4:20 PM
Terrorism sucks.


Here's what I think:

Killing a whole bunch of innocent civilians is about the most cowardly act I can think of. Maybe, though... maybe something good will come out of this. Maybe it'll bring people together, make us realize that in the face of such horrific indifference to human life, little things like graffiti, or traffic jams, or your neighbor's dog crapping on your lawn, are pretty irrelevant. Maybe... just maybe... we'll be nicer to each other after this. We can't bring back the dead... but maybe we can make something good from this evil. Maybe.

Take a break from video games for a little while. Go outside and enjoy the sunshine. (Or the rain. Enjoy what there is.) See you back later.

Sun, September 9, 2001 10:43 AM
That's impossible! That's inside the room!


Myth

The total conversions are just coming out of the walls now! Myth@Bungie.org tracks them all down. And what's this? Something Google can't find? Beware of low-flying pigs.

Fri, September 7, 2001 2:15 PM
Dinosaur Act


Marathon

Somehow it slipped through the cracks until today, but a ton of new maps have been posted on the Archives.

19,648? Darn, it's not a 7. Pretty impressive anyway...

Halo

Franz Kafka returns from beyond the grave to write ad copy for Microsoft! Details at Halo.bungie.org! And don't miss a special peek behind the scenes of everyone's favorite gaming website...

Wed, September 5, 2001 10:18 PM
This may... sting a bit. Tee-hee!


Marathon

Oni

Oni sure has great music, doesn't it? Want some? Head on over to Oni Central!

Halo

Halo.bungie.org always has the late-breaking news, from wacky fan fiction to funny fan art to tips on how to get killed by an X-box. Check it out!

Tue, September 4, 2001 9:33 PM
Those responsible for the lateness of this post have been sacked.


Marathon

Aleph One kicks it up a notch with 3D model support. Those toilets look better than ever...

Once again, the Vidmasters' Page pays tribute to those who have so much time on their hands it should be illegal.

Myth

Myth@Bungie.org tracks down some new screenshots of Ravanna Warrior Princess- er, Myth III.

Halo

The venerable Marty O'Donnell drops by to tell Halo.bungie.org how great it will sound when you turn tail and run from the Covenant like the sniveling weakling you are.

Sat, September 1, 2001 13:13 PM
Things we lost in the fire


Sorry for missing the update yesterday. As a result I was put on overtime and now must clean the bungie.org toilets with a toothbrush. Sucks to be the janitor... In other (sort of unrelated) news; Xbox pre-orders have begun today.

Marathon

Marathon's Story is closed until September 19th while Hamish goes to sit in small cafe's sipping wine from Bordeaux.

Scenario News reports that the creator of the scenario Killing Time has ceased development of this promising addition to the world of Marathon.

Myth

Wanna read up on some Myth III editing? Myth@Bungie.org has the link.

Halo

Halo updates will cease very soon, but for now we get to read Matt's latest update. That and other tidbits from Matt at halo.bungie.org.